Thai Curry Chicken and Rice Bowls
Diced chicken is combined with crisp spring snow peas, red pepper, carrots and cilantro, served on a bed of jasmine rice and sprinkled with sweet and salty cashews for a family-pleasing dinner.
By Amy Casey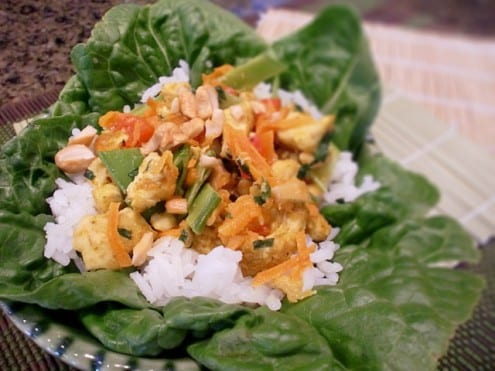 Take a trip to a foreign land from the comfort of your own kitchen and prepare Thai Curry Chicken and Rice Bowls.
Thai Curry Chicken and Rice Bowls
Diced chicken is combined with crisp spring snow peas, red pepper, carrots and cilantro, served on a bed of jasmine rice and sprinkled with sweet and salty cashews for a family-pleasing dinner.
Ingredients
1 teaspoon salt
1 tablespoon flour
2 teaspoons curry powder
1 pound chicken breasts, boneless and skinless, cut in ½ inch pieces
2 teaspoons olive oil
1 cup snow pea pods, chopped
½ cup red pepper, chopped
1 (13.5 ounce) can light coconut milk
1½ cups carrots, shredded
¼ cup fresh cilantro, chopped
⅓ cup cashews, chopped
4 cups of hot cooked jasmine rice
Instructions
Combine salt, flour, and curry powder in a medium sized bowl. Add the chicken and toss to coat. In a large sauté pan over medium high heat add the oil. When it just begins to shimmer, add the seasoned chicken and sauté for 5 minutes or until it begins to brown. Add the snow pea pods and red pepper and toss to combine. Stir in the coconut milk and reduce heat. Simmer for 7 – 8 minutes or until the chicken is done and the sauce slightly thickens, stirring occasionally. Stir in the carrots and cilantro and sprinkle with the cashews. Serve in bowls on top of the rice.
Amy Casey
Amy Casey, of northern New Jersey, is a food columnist for the New Jersey Herald and cookbook author. She has developed a wealth of recipes as a personal chef and also while cooking for her own family of five. See more of her recipes in her just published cookbook for e-readers Dinner for a Year – 52 Easy and Delicious Recipes to Spice Up Your Family Menu Planning.