Red curry, lemongrass, and black forbidden rice makes this Thai soup something truly special and soothing.
By Emily Nelson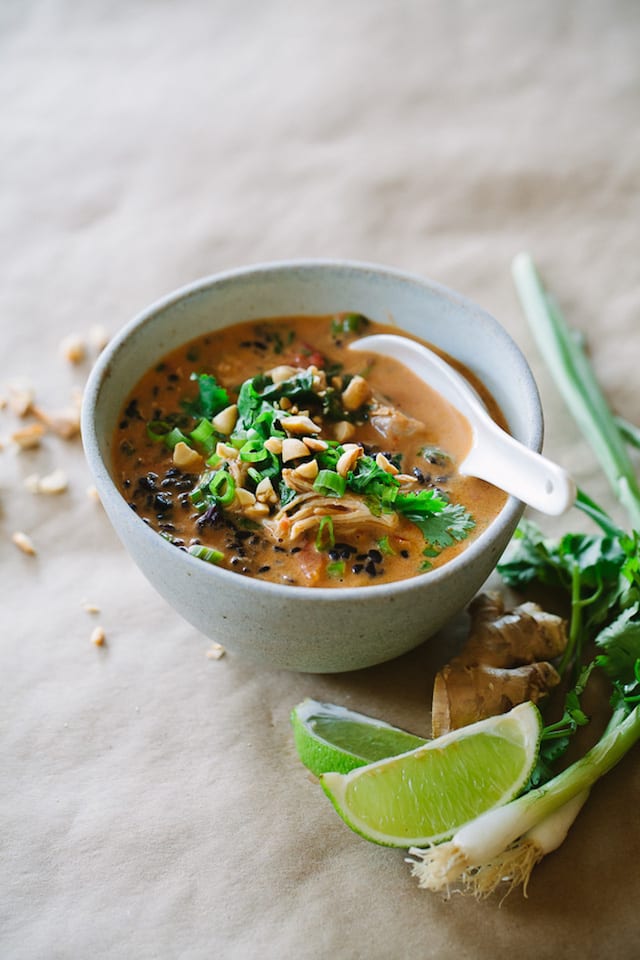 Several years ago we lived very near a small yet quite outstanding Thai restaurant. It probably had no more than 8-10 tables, but the service was always friendly and the food was authentic. Now that we've moved we have yet to discover a place for Thai that we enjoy as much, so when I find myself craving Thai I often resort to making it myself.
Admittedly it's not quite the same as eating at our old favorite restaurant, but there is still so much to love about this soup. Using store-bought curry paste keeps the preparation simple while the lemongrass and ginger elevates the flavor from decent to great. The black forbidden rice adds an exotic flair with its deep color and fragrance. And since black rice also happens to have the highest antioxidant level of all of the rices, you can feel extra good about serving heaping bowls of this soup for dinner.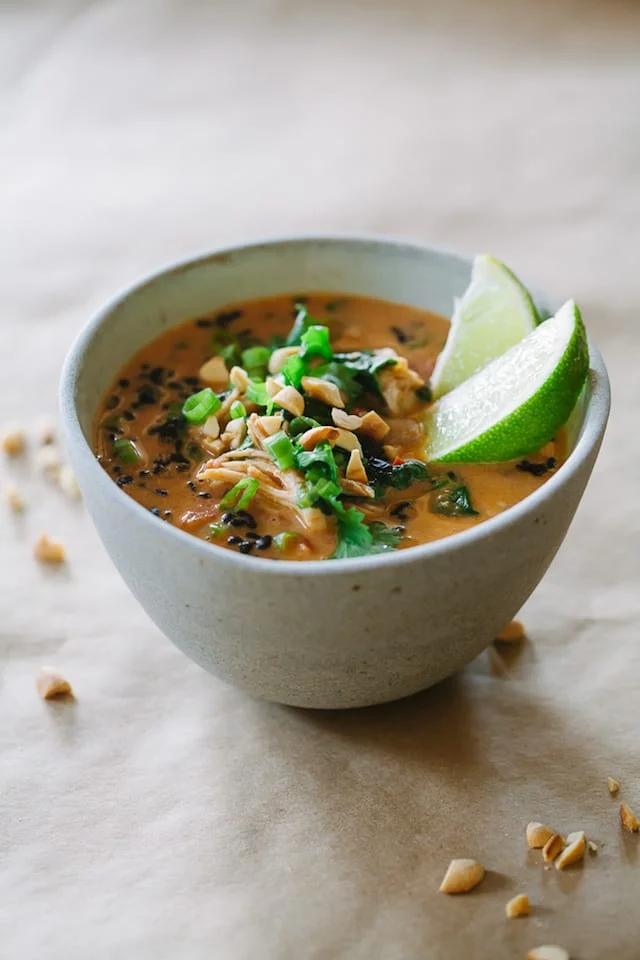 Thai Chicken and Rice Soup
Red curry, lemongrass, and black forbidden rice makes this Thai soup something truly special and soothing.
Ingredients
2 cups low-sodium chicken broth
1 (15-ounce) can coconut milk, preferably full fat
2-3 teaspoons Thai red curry paste
2 teaspoons finely minced ginger
1 teaspoon fine grain sea salt
1 (15-ounce) can diced tomatoes
1 lemongrass stalk
4 scallions, white and light green parts separated, thinly sliced
1¼ pounds boneless, skinless chicken thighs
2 cups cooked Black Forbidden Rice
½ red pepper, small-diced
4-6 cups baby spinach
¼ cup chopped fresh cilantro
2 tablespoons freshly squeezed lime juice
1 teaspoon fish sauce
TO SERVE:
crushed peanuts
extra cilantro
lime wedges
Instructions
In a large pot, stir together the chicken broth, coconut milk, curry paste, ginger, and salt over medium heat until curry paste is well-blended.
Trim the top and very bottom off of the lemongrass, leaving only about 4-5 inches of stalk. Remove any damaged outer layers and lighlty bruise the stalk with the side of chef's knife. Cut into 2 pieces and add to the pot.
Add the tomatoes and scallion whites to the pot. Nestle chicken pieces into the soup, making sure that the chicken is completely covered by liquid. Bring soup to a simmer. Cover and continue to simmer on low heat until chicken is cooked through, about 20-30 minutes.
Remove chicken pieces and lemon grass. Discard lemon grass and allow the meat to cool slightly. Tear the chicken into bite size shreds with 2 forks (or use hands) and return chicken to the soup. Stir in cooked rice and red pepper and simmer for another 5 minutes. Add the spinach, cilantro, lime juice, and fish sauce and heat until spinach is just wilted. Serve with crushed peanuts, extra cilantro, and lime wedges.
Notes
loosely adapted from Whole Grains Every Day and Every Way by Lorna Sass
Emily Nelson
Emily is a self-taught cook and photographer with a passion for creating beautiful and wholesome food for the family. Her focus is mostly on whole grains, fresh and seasonal produce, and naturally raised meats. When she's not in the kitchen, she loves playing music and spending time with her husband and two children.