Ten of The Most Iconic Restaurants in America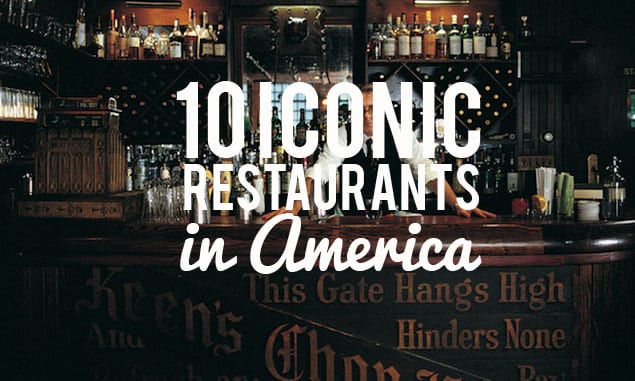 Celebrate the united tastes of America at these historical (and delicious) stops.
By Jennifer M. Wood
This article has been posted with permission and originally appeared as 10 Most Iconic Restaurants in America on Relish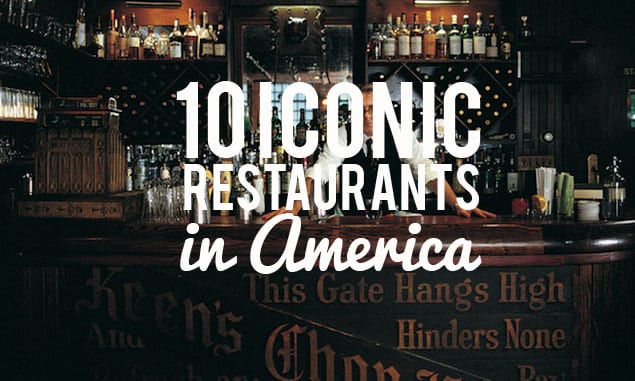 When it comes to America's best-known eateries, there are famous restaurants and then there are the truly iconic ones. In the former group, you'll find six-month-long reservation waiting lists and more celebrity chefs than the Food Network has time to program. In the latter category are the legendary American eateries that transcend both time and geography. The kind of restaurants, like New York City's 21 Club, that are brand names unto themselves—world-renowned dining destinations with famed menu items and tales of many memorable diners who have patronized them in the past. Here are just a few of them—our picks for the 10 Most Iconic Restaurants in America.
Keens
Location: New York, NY
Website: Keens
New York City has its fair share of iconic steakhouses—Peter Luger's and Bull and Bear among them—but Keens has remained a standout for more than 125 years. "The restaurant has stood the test of time," says general manager Bonnie Jenkins. "It has prospered as a warm and welcoming destination where people have celebrated life by simply having a good meal with friends or loved ones. When a guest enters the restaurant today you can still feel that same warmth, which transcends time."
Unsurprisingly, the restaurant's lineup of dry-aged steaks and meats are among its most popular offerings. But its signature dish is the world-famous mutton chop. To give you an idea of just how many they've served up: the restaurant's website includes an article from The New York Times announcing the official serving of their one millionth mutton chop…an article published in 1935! But Keens offers as much history to take in as it does food to consume, including the world's largest collection of churchwarden pipes (90,000 of them), which have been smoked by everyone from Albert Einstein to Babe Ruth.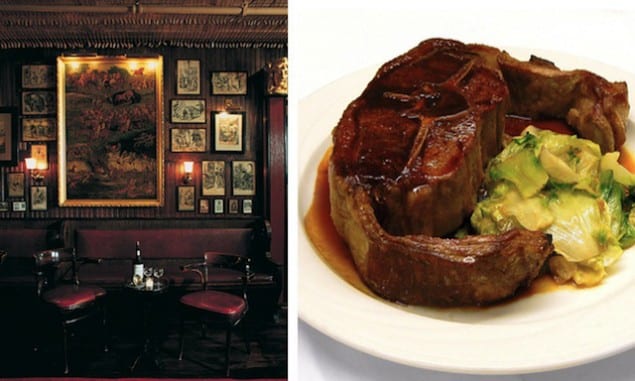 Courtesy of Keens
21 Club
Location: New York, NY
Website: 21 Club
Sixteen blocks north of Keens, the 21 Club is just as storied a Manhattan eatery. "With 84 years in the making, 21 Club has a history lesson behind each corner, from wining and dining the most notable American celebrities such as Ernest Hemingway, Bill Gates and the Kennedys to surviving the Prohibition era as one of the most famous speakeasies," says general manager Bryan McGuire. "We have continued to reinvent ourselves year after year to perfect our impeccable and delicious ode to American fare and cater to a sophisticated yet fun demographic."
McGuire is right about the "fun" part. As if spotting Donald Trump a few tables away wasn't exciting enough, the restaurant couples fine dining preparations with a casual menu of traditional American grub, including the world-famous 21 Burger, a freshly ground 10-ounce patty served with preserved tomatoes, sautéed onions and a signature 21 Sauce, and the "Speakeasy" Steak Tartare, which is prepared tableside and served with rye toast and mesclun greens with a Champagne vinaigrette.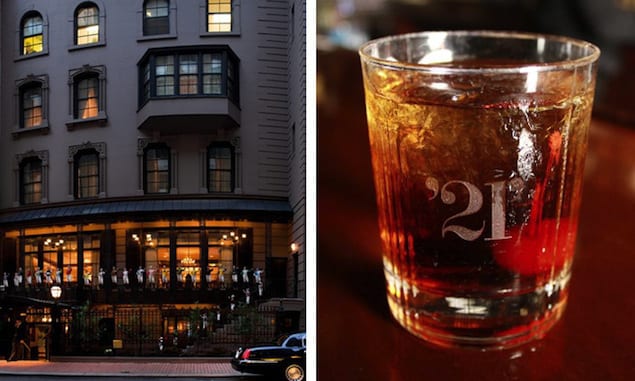 Courtesy of 21 Club
Parker's Restaurant
Location: Boston, MA
Website: Parker's Restaurant
Located within The Omni Parker House hotel, Parker's Restaurant is the birthplace of two of America's most iconic baked goods: the aptly-named Parker House roll (the dented origins of which are rumored to have begun with a frustrated chef carelessly throwing a batch into the oven) and the custard-based Boston cream pie, which was officially declared Massachusetts' state dessert in 1996, a full 140 years after its invention. It's within The Omni Parker House kitchen that the term "scrod," used to identify a young Atlantic codfish or haddock, was also coined. Today, under the guidance of executive chef Gerry Tice, the restaurant continues to honor the eatery's inventions of the past while bringing Boston's haute dining scene into the future.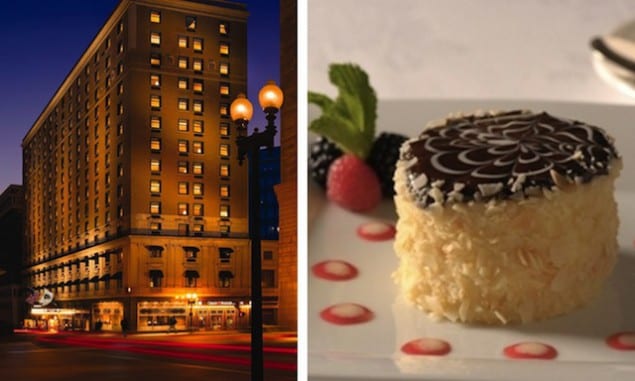 Courtesy of Parker's Restaurant
Commander's Palace
Location: New Orleans, LA
Website: Commander's Palace
There's no shortage of fine dining options in The Big Easy, but the first name in first-class eats is Commander's Palace, the landmark Victorian restaurant—decked out in a can't-miss turquoise—that has occupied the same Garden District corner for 133 years. It's here that legendary chefs from Paul Prudhomme to Emeril Lagasse have honed their culinary skills, establishing a tradition of American-influenced Creole cooking that chef Tory McPhail continues today.
Dubbing his preferred preparation style as "dirt to plate within 100 miles," McPhail makes use of his unique geography to unearth only the freshest seafood, meats, fruits and produce from local growers. The result is a frequently changing menu of thoughtful entrees and well-loved signature items including turtle soup and Creole bread pudding soufflé with warm whiskey cream. But if the restaurant's longstanding reputation as New Orleans' top restaurant intimidates you, here's a great (wallet-friendly) tip: Commander's Palace offers a two-course lunch menu starting at just $16, which can be washed down with 25¢ martinis. (No, that is not a typo. Just one of the city's best-kept secrets.)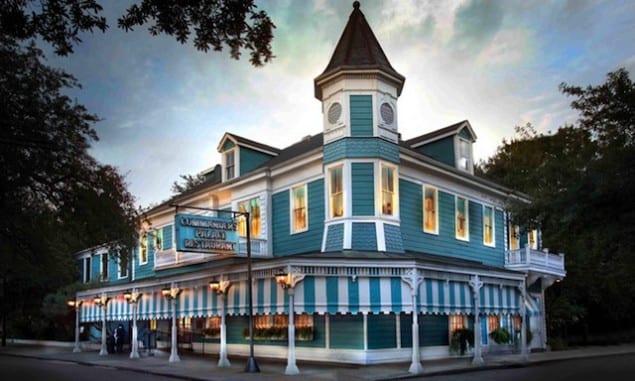 Courtesy of Commander's Palace
Louis' Lunch
Location: New Haven, CT
Website: Louis' Lunch
It may not be fine dining in the traditional sense, but Louis' Lunch offers some truly fine dining. And it will always have a place in the culinary history books as the birthplace of America's favorite meal: the hamburger! "We are recognized by the Library of Congress as making the first hamburger sandwich in America," says Louis' fourth-generation owner, Jeff Lassen. "The stoves are the originals dating back to 1898. When you have a burger at Louis', they are being cooked on the same grills my great grandfather made the first one on."
They're also being served in the exact same fashion: Louis' burgers are ground fresh daily with a secret five-blend recipe, and are prepared medium-rare unless otherwise requested. Options for toppings are limited to cheese, onion or tomato, and sandwiches are all served up on two slices of Pepperidge Farm toast. It doesn't get much simpler—or delicious.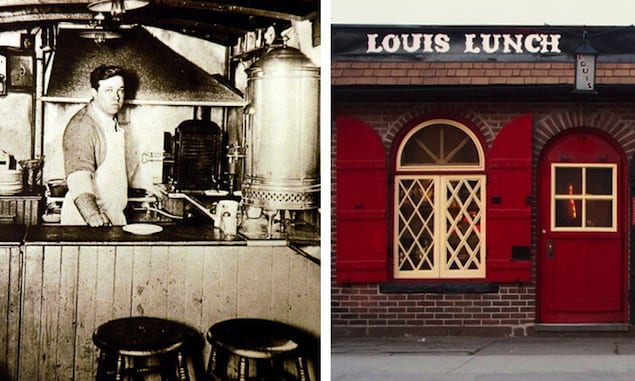 Courtesy of Michael Franzman
Old Ebbitt Grill
Location: Washington, DC
Website: Old Ebbitt Grill
Like any D.C. veteran, Old Ebbitt Grill's rise to power hasn't been without a few shakeups. Originally opened as a boarding house and the city's first saloon in 1856, the guest register reads like a high school history book: Ulysses S. Grant, Andrew Johnson, Grover Cleveland, Teddy Roosevelt and Warren G. Harding were among the bar's regulars, while William McKinley and his wife took up residence throughout his congressional career, a span of about 13 years. As word grew, Old Ebbitt Grill moved locations a few times in order to keep up with its popularity. Less important to the saloon's owners, apparently, was the duty to pay their taxes, leading the IRS to close the restaurant down in 1970. (It was subsequently purchased at auction for $11,200.)
In 1983, Old Ebbitt Grill made its final move, into a former Beaux-Arts theater just a few steps from The White House. The restaurant's prime location and rich history make it a continued stomping ground for the world's most powerful politicos, who appreciate the restaurant's upscale saloon fare (especially its fantastic oyster bar) and appreciation for history.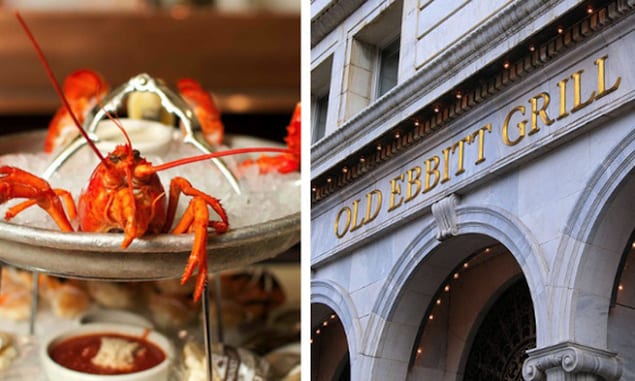 Right: Tim Evanson / Left: Courtesy of Old Ebbitt Grill
Canlis
Location: Seattle, WA
Website: Canlis
For more than six decades, Canlis has been at the forefront of the Pacific Northwest's fine dining scene, even going so far as to import executive chef Jason Franey from New York City, where he was an integral part in turning Danny Meyer's Eleven Madison Park from a culinary newcomer to one of Manhattan's hottest tables. It's not a position that Franey takes lightly, as he's only the fifth person to take on the title within this family-run restaurant in its more than 60 year history. Both the Canlis family and Franey would agree that it was a perfect match.
Since his arrival in Seattle, Franey has been named both a Best New Chef and The People's Best New Chef Northwest by Food & Wine and is currently a finalist for the James Beard Best Chef: Northwest Award. Franey is more modest, describing his cooking style as "Comfort Geek," which he defines as "easy-to-like, delicious food prepared and presented in contemporary ways." But the Canlis experience goes beyond the culinary; original founder Peter Canlis' desire to create "the world's most beautiful restaurant" is evident, with diners getting 180-degree views of the city, Lake Union and the Cascade Mountains.
Courtesy of Canlis
The Griswold Inn
Location: Essex, CT
Website: Griswold Inn
1776 was a year full of historical moments: General George Washington's hoisting of the Continental Union flag, the publication of Thomas Paine's Common Sense, the formal signing of the Declaration of Independence and, in the town of Essex, Connecticut, "The Griswold Inn opened its doors for business offering fine food, drink and a spirited experience to guests traveling by land and by sea," says co-owner/innkeeper Joan Paul. "Over 237 years later we continue to welcome visitors from all over the world."
In addition to being one of the country's oldest continuously operating inns, The Gris is a culinary destination, featuring a series of historic dining rooms that put imaginative twists on classic American dishes. The on-site restaurant's Historic Dining Menu offers old-school staples, including a signature roasted prime rib of beef with baked potato, au jus and fresh horseradish plus a roasted cod fillet with crab and butter crumb crust. Don't forget to save room for a little artifact-gazing; prints by Currier & Ives, illustrations by Norman Rockwell and a collection of firearms used during the War of 1812 and the Revolutionary War are among The Gris' most intriguing decorative flourishes.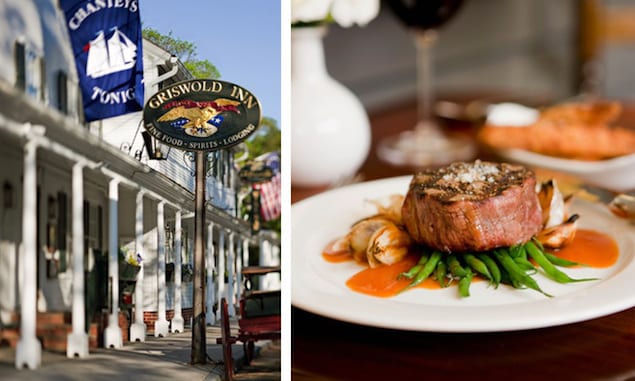 Courtesy of The Griswold Inn
Ralph's Italian Restaurant
Location: Philadelphia, PA
Website: Ralph's Italian Restaurant
Not much has changed about Ralph's Italian Restaurant, the country's oldest Italian restaurant, which Francesco Dispigno opened in Philadelphia in 1900 (and named after his son). And that's exactly the way Ralph's patrons like it. Still family-owned and operated by the Dispigno family, Ralph's dedication to creating a comfortable neighborhood restaurant where food is both filling and fabulous remains true to this day.
Among the Philly institution's most popular dishes are a handful of homemade pastas, from gnocchi to ravioli to manicotti, a variety of steaks and chops (all of which can be served with or without mushrooms) and a menu of classic Italian dishes that have been a part of the restaurant's history, including eggplant parmigiana, sausage with peppers, sweetbreads with sautéed mushrooms, and chicken livers, mushrooms and broiled sausage with broccoli rabe. Mangia!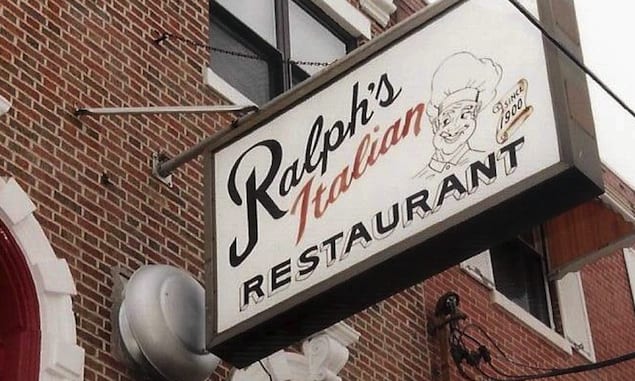 Courtesy of Ralph's Italian Restaurant
Buckhorn Exchange
Location: Denver, CO
Website: Buckhorn Exchange
If you're looking for a side of history with your prime-grade steak, buffalo, elk, salmon, quail, game hen or baby back ribs, Denver's Buckhorn Exchange is the place. Not only is it Denver's original steakhouse, but it's located in the city's oldest neighborhood and housed within a National Historic Landmark building and Western Museum.
Now celebrating its 120th year, Buckhorn Exchange keeps its menu traditional but also offers a few surprises, including such exotic fare as fried alligator tail, smoked buffalo sausage with red chile polenta and their signature Rocky Mountain Oysters, which can be ordered as a half or whole order and are served with a horseradish dipping sauce. If you don't know what part of the bull's anatomy those Rocky Mountain Oysters are, you may want to opt for the fried artichoke hearts. In between courses, don't miss the restaurant's museum-quality collection of historic goodies, including tributes to the five presidents who've dined here (Teddy Roosevelt, FDR, Dwight Eisenhower, Jimmy Carter and Ronald Reagan).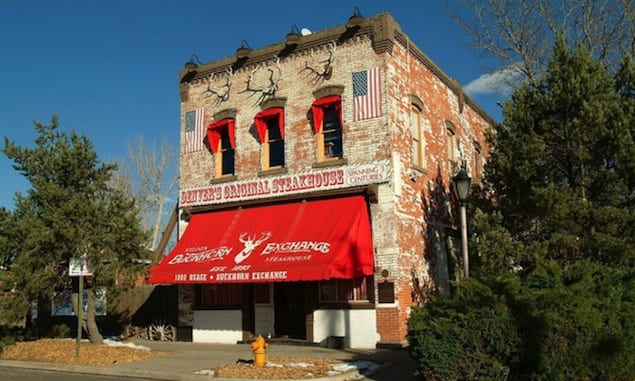 Courtesy of Buckhorn Exchange
Relish
Offering more than 14,000 recipes plus features and DIYs on cooking, dining and entertaining, Relish celebrates America's love of food. Relish is about honoring cooking traditions while exploring new trends and ideas, which is why millions of people turn to both Relish.com and Relish Magazine for special occasion recipes, quick and easy weeknight suppers and culinary adventures.