Tea Time: Dried Apricot Scones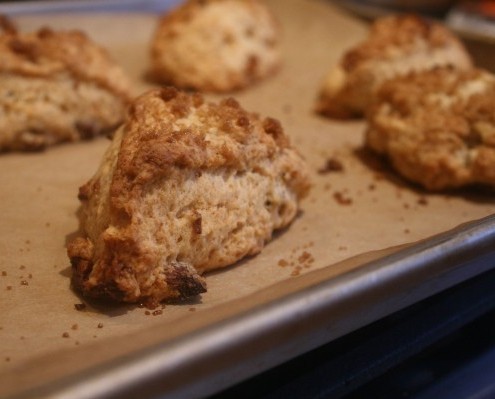 Although scones are traditionally made with lots of thick, rich cream, there's no reason you can't make scones with creme fraiche or sour cream.
By Sara Clevering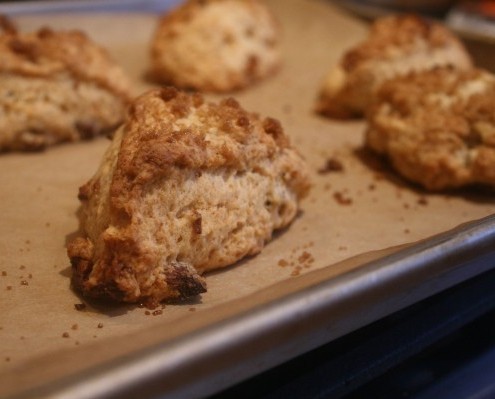 Like all of us, I have to plot and plan a bit to  make sure I use up perishables before they go bad.  It's always good to have a few "go to" recipes for these cases, as often enough the clock is ticking!  Take sour cream, for example.  I often buy it, with the knowledge that "it's good for baking, and it keeps a while"–but soon enough, I find that the generous-sounding three weeks I had to use it have flown by.   I also buy a lot of cream without really thinking it through, and when I inevitably haven't used it, I make creme fraiche, a French cultured cream that is very similar to sour cream (though preferred by many chefs).  I just add a  little buttermilk to my cream (about a tablespoon per pint) and let it sit out until it thickens (up  to 24 hours).  Rather surprisingly, this actually extends the life another week or even more, leaving me with something rich and lovely to either cook with or dress up berries.  But soon enough, that extra time I've bought myself has evaporated, and I'm scrambling to put that creme fraiche to good use.
Enter these scones.  Although scones are traditionally made with lots of thick, rich cream, there's no reason you can't make scones with creme fraiche or sour cream–it's the same basic item, after all.  In contrast to cream, however, these ingredients are slightly acidic, so you use both baking powder and baking soda (in contrast to just baking powder for a sweet cream scone).  Baking soda needs an acid to react with in order to create rise and lift in dough.  Remember the school science project where you make a volcano erupt with the help of vinegar and baking soda?  Kind of like that, but not so dramatic.  Well, unless your measuring is way off.
This same acidity creates tenderness and tempers the sweetness of the resulting scone.  But thanks to the sprinkling of brown sugar on top and the bursts of intense apricot flavor studding each bite, these are unmistakabely a morning treat (or brunch, or afternoon, or…you get the picture).  These are delicious served with lots of sweet butter, but I didn't have to tell you that.
This recipe is easy to retro-fit to sweet cream if you'd prefer–use a tablespoon of baking powder instead of the baking powder/baking soda combination.   For just one delicious example, check out Laura's Pear Ginger Scones featured here on Honest Cooking.

A simple scone recipe using sour cream or creme fraiche.
Author:
Sara Clevering, adapted from Bon Appetit (via epicurious)
Ingredients
2 cups (240g) all purpose flour
¼ cup (50g) light brown sugar
2 teaspoons baking powder
½ teaspoon baking soda
½ teaspoon salt
5 tablespoons (71g) cold unsalted butter, chopped into ¼-inch pieces
⅔ cup (160mL) sour cream or creme fraiche
1 teaspoon vanilla extract
½ cup (85g) chopped dried apricots
1 egg, beaten (for glaze)
Additional brown sugar for sprinkling
Instructions
Preheat oven to 400°F.
Mix dry ingredients.
Add butter and rub it into the flour mixture (or use a pastry blender) until it resembles cornmeal. (Alternatively, pulse until desired consistency in a food processor).
Stir sour cream and vanilla together, then quickly stir into the dry mixture to form a rough dough.
Turn out onto lightly floured surface and sprinkle with chopped apricots. Knead dough just until apricots are incorporated.
Flatten dough into 8-inch round and cut into 8 wedges.
Transfer wedges to a parchment-lined baking sheet. Brush with egg. Sprinkle with brown sugar.
Bake until golden, about 20 minutes. Serve warm or at room temperature.
Notes
To make dried apricots easier to chop, either chill them in the fridge first, or lightly oil your knife. Try to work butter into the flour as quickly as possible: keeping the dough cold is the key to light and flaky scones. These scones are a good fallback because nearly all the ingredients can be kept in the pantry. You won't be put in the slightly absurd situation of buying more food in order to use up food you already have, and you can substitute in other kinds of dried fruit or nuts to use what you already have.
Sara Clevering
Sara sees cooking and baking as a delicious way to connect with the past and travel the world from her kitchen. She is commited to preparing homemade, unprocessed meals for her family and is always looking for tricks to fit this into a busy schedule. Sara is currently in the Boston area after several years living in London, Spain, and the Czech Republic, and travelling extensively in Eastern and Western Europe, always making sure to experience local culture through food. She also blogs with her sisters at www.threecleversisters.com