The inner circle of specialty coffee is small, interconnected and intimate. Budin ("the shop" in Icelandic) is a welcoming co-op style, specialty Scandinavian coffee bar in Greenpoint, Brooklyn that also imports Scandinavian goods.
By Marisel Salazar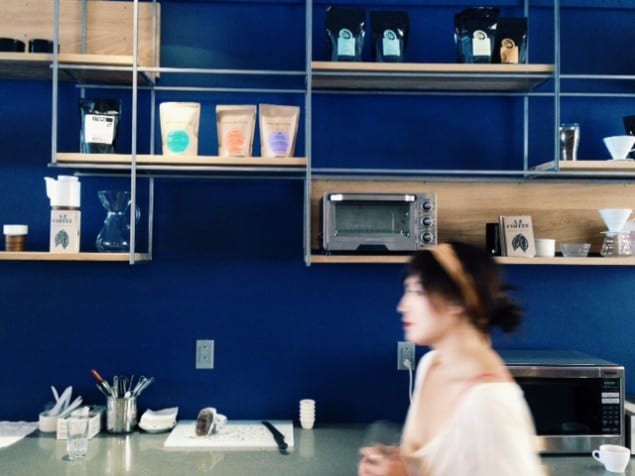 Rut Hermannsdóttir would never invite you to her home if she didn't have coffee and a pastry ready. There are no guests over unless it's prepared.
In Nordic culture, you never say, "Can I come hang out?" Instead it's "Can we have coffee?"
Rut met Crystal Pei at a craft club in Reykjavík. They were the only two people that didn't know how to knit. Instead, they would drink wine and talk about design.  Both worked in film for a time and Crystal still dabbles as a film colorist.
The inner circle of specialty coffee is small, interconnected and intimate. Rut and Crystal, along with their partner Elliot Rayman, are the owners of Budin ("the shop" in Icelandic), a welcoming co-op style, specialty Scandinavian coffee bar in Greenpoint that also imports Scandinavian goods.
Elliot plays and sings in two rock bands. One, an 'atmospherical' group and the other more pop. Crystal met Elliot while he worked at Variety Café in Brooklyn. Turns out a mutual friend toured with him in Iceland. All three work in the arts or design and decided to bring that creativity and shared Scandinavian background to life in the form of coffee.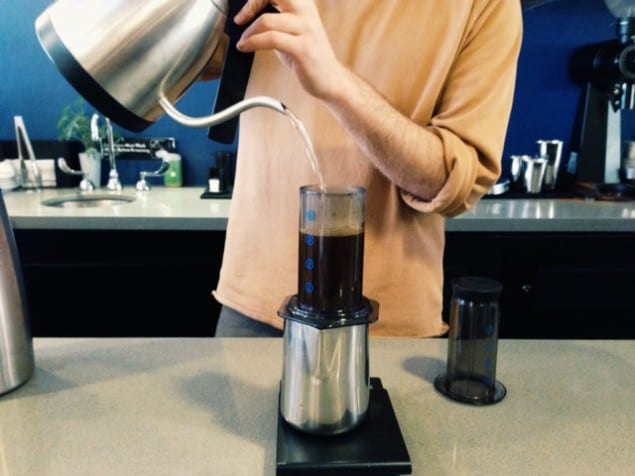 Elliot carefully grinds and pours a cup of coffee from an Aeropress. "This particular Tim Wendelboe roast is juicy and peachy, with a smooth mouth feel. We recommend serving it lower than room temperature. The cup size is specifically used for temperature change; instead of drinking it all at once, drink it in several cups. It's light, perfect for the hot summer weather."
It's an unexpectedly juicy cup of coffee. Tasting notes that normally get lost whilst speedily gulping down the best of pours actually exist when drank slowly, at ease. There is clarity in each cup.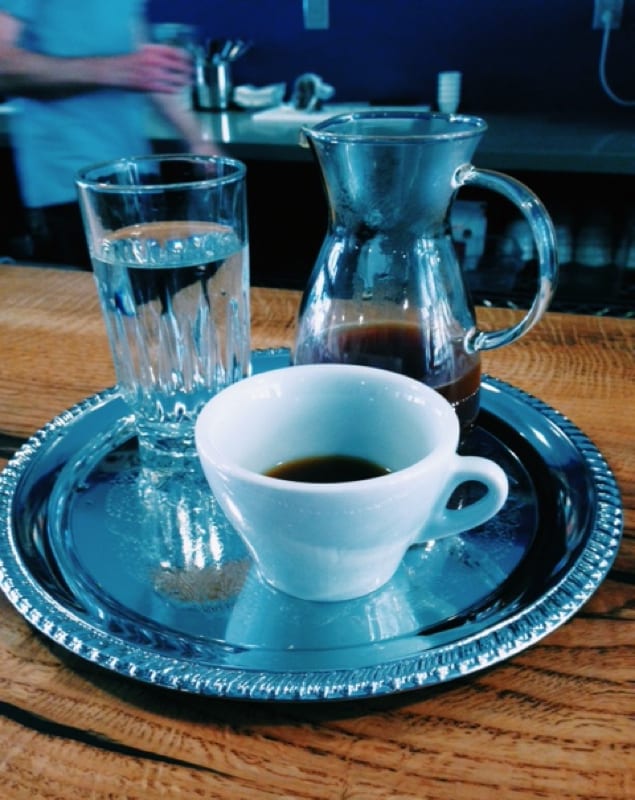 Craft coffee is small world. Everyone is really supportive of each other. And everyone cares about quality. Those in the industry were especially encouraging of the fact that Rut, Crystal and Elliot wanted to bring Scandinavian coffee to the United States. Elliot has worked in the coffee industry since graduating school, previously serving as a trainer at Stumptown.
There is a focus on the details and accuracies at Budin, particularly in extracting the flavors of coffee to the fullest extent. While most coffee consumers in America are accustomed to dark roasts, Scandinavian roast coffees are really light with subtle taste qualities and characteristics. But since they are a lot more volatile, it takes more accuracy to get the flavors correct. And that's where highly skilled baristas- that are key to the specialty coffee world- come into play. All of Budin's baristas are trained how to prepare Scandinavian roasts and learn to identify specific tasting notes.
The enthusiasm behind craft coffee is contagious. Isaiah Jones, a barista at Budin, says he's not in it for the money – he's in it for the shared knowledge. "I'm learning everyday how to do new things with coffee. We all teach each other things. I am constantly learning from my surroundings."
Like a sommelier describing a wine's terroir and fermentation process, Isaiah explains how you can slow down the pressure in an espresso machine to pull a shot that extracts a different flavor quality from coffee and individualizes them by playing with the parameters of the water. That's craft coffee. That doesn't exist in a $2 to-go Styrofoam cup of java during morning rush hour.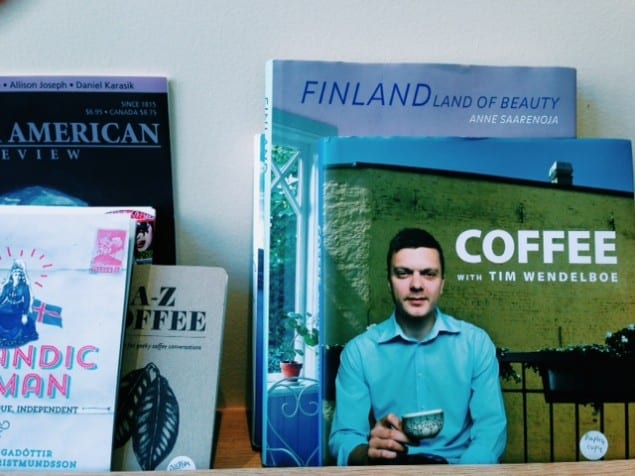 Budin's sensational $10 Lakrids licorice latte got people talking about specialty coffee. Although the imported powdered licorice latte started off as a serendipitous joke, it spurred people to pay more attention to the finer, slower side of coffee. Small cafes like Budin pay a lot of money to bring high quality roasts stateside- and a product with such great quality deserves its pricing. Unlike specialty beer and wine where you pour and drink it, specialty coffee requires the extra step of the barista preparing it for the customer. The types of customers that walk through the doors are coffee enthusiasts. Everyone, from consumer to creator, cares about the process.
"There is more effort to make it look and taste great. It deserves its recognition. There is the preparation stage and level of skill and art – love – that is being put into it," says Crystal. "The coffee industry is picking up specialty coffee like crazy. It's nice to be a part of the dialogue of what coffees people are choosing, how they are roasted and what countries they come from."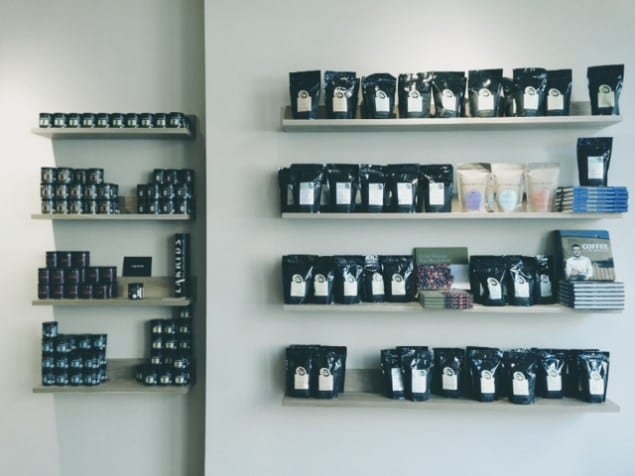 Budin itself reflects a Scandinavian way of living.  Every part is multipurpose, a community gathering space – a place of sharing, support and collaboration. There is the spacious wooden coffee bar leading directly to Rut's imported Scandinavian goods shop in the back, filled with Finnish licorices, Artek lamps, and warm woolen Scandinavian sweaters. Coffee bags from Nordic roasters line the walls.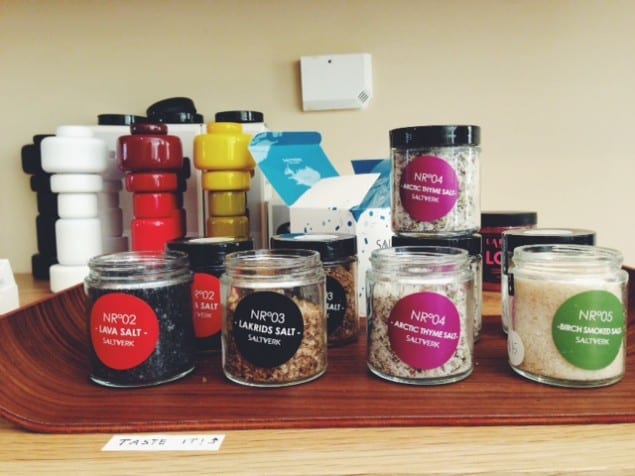 "It's a little Nordic house, so to speak," quips Crystal. "It's a nice place to hang out but you also get really good quality products that you can't get everywhere else."
It is inviting. They chose Greenpoint, Brooklyn because it's a small community; they want to get to know their customers. Since specialty coffee can be a little intimidating, Crystal, Elliot and Rut wanted to create a welcoming environment – not a MoMA white, modular Ikea environment that typically inspires most things Scandinavian. All of their friends live in Greenpoint. They even work with chefs from the neighborhood, like Daniel Burns (formerly of Momofuku Labs) of the Danish beer bar Torst.
"He is our good friend. He comes in to get coffee then walks down a block to work. Daniel makes our bread. When the bread is ready, he calls and I walk over to pick it up. It's like a little village," says Crystal.
The shop's physical presence is not only multipurpose; the job itself is multipurpose too. "Coffee is a nice business to work in because you can learn about it and have passion towards it, but leave at the end of the day and do something else," says Elliot.
Budin
114 Greenpoint Ave
Brooklyn, NY 11222
http://budin-nyc.com/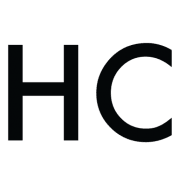 Marisel Salazar
Marisel Salazar lives and works in New York City as a food writer, enthusiastic home chef and restaurant habitué. She comes to NYC by way of Panama and Japan, which imparted on her a deep love of tortillas (the thick, fried sort), sashimi and noodles.