These mini tarts are super easy and relatively fast to make and some of you will appreciate the fact that you wont have to turn your oven on.
By Nancy Lopez-McHugh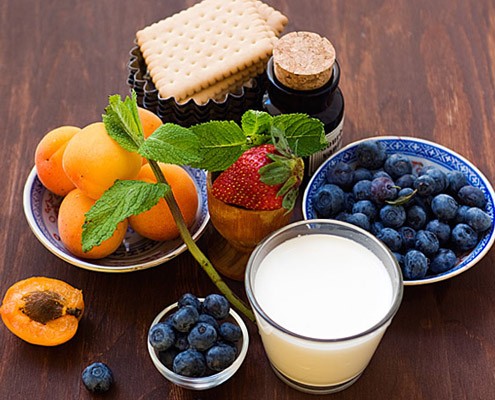 Tartelettes Aux-Fruit or Fruit Tarts are my no-bake take on easy fresh Summer fruit tarts. These mini tarts are super easy and relatively fast to make and some of you will appreciate the fact that you wont have to turn your oven on. I will list the fresh fruits I used but feel free to use what ever fruits are in season where you live or use any of your favorite fruits.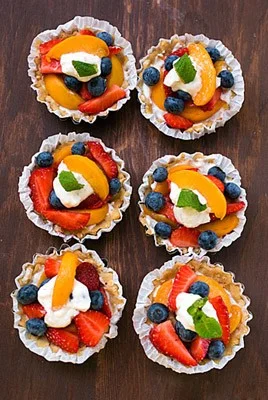 You will notice that one of the ingredients is whipped cream, it was homemade whipped cream. Making your own and fresh whipped cream is really what I recommend. This way you can control the sugar amounts, since the recipe calls for sweet fruits you really shouldn't have to add to much sugar because you don't want an overly sweet dessert. Also homemade will limit the amount of preservatives and therefore taste better. You will notice on the photo little black dots, that's the Bourbon Vanilla I added. Let me tell you that was such a great addition, the taste was just perfect with the fruit.
Since I made these ahead of time and they wouldn't be eaten for a few hours I wanted to give my whipped cream a little help keeping firm. So I used this product by Dr. Oetker which basically is cornstarch and a little sugar to keep the cream light and fluffy longer. (I believe in North America it's called Whip It! )

Tartelettes Aux-Fruit (No-Bake) Summer Tarts
Tartelettes Aux-Fruit or Fruit Tarts my no-bake take on easy fresh Summer fruit tarts.
Author:
Nancy Lopez-McHugh
Recipe Type:
Baking, Dessert
Ingredients
½ cup or 110 ml Whipping Cream ( 30% fat)
½ Tbs. Smeta Fix or Whip it
2 tsp. white sugar ( adjust to your liking)
Pinch of Bourbon Vanilla Powder
14 sweet Biscuits/Crackers about 120 grams or 4.23 Ounces
40 grams or 1.4 Ounces margarine
3 Tbs. Milk
2 Nectarines
Blueberries
4 Large Strawberries
Fresh Mint
Whisk or electric mixer
rolling pin
large plastic bag
6 mini tart molds
6 large cupcake liners
Instructions
First make the whipped cream then set aside in the refrigerator. In a large bowl combine the cream, sugar and vanilla and stir to combine the ingredients. Whisk or using an electric mixer whip the cream until you have airy and thick whipped cream, set aside in refrigerator.
Place the Biscuits/Crackers in a large plastic bag and roll the rolling pin to over the Biscuits to break up, continue until you have a fine crumb. Empty the bag on to a bowl then melt the margarine. Pour the melted margarine and the milk over the crackers and stir with a spoon or using your hands work the crumbs to wet the whole mixture. Line the tart molds with the cupcake liners, push with your fingers into shape around the inside of the molds. Then using your finger push and shape the cookie crumbs around the tart molds to shape the base. Continue until all 6 molds are completed. Place in the refrigerator for 10-15 minutes.
Wash and slice the apricots and strawberries into small slice and just wash the blueberries. Using a tablespoon scoop some whipped cream into each mini tart and spread around. Begin placing the fruit on top of the whipped cream. You can arrange as you like. Then scoop another small dollop on top of the fruit, next put a mint leaf or two on top of the finishing whipped cream.
Serve right away or place the Tartelettes in the refrigerator until you are ready to serve. By the way I stored a couple in the refrigerator and they stayed relatively fresh for 3 days.
Notes
yields 6 mini tarts
For more tips and exciting whipped cream variations read "
Of Tinged Creams and Tasting Parties
" by our own Alisha Randell.
Nancy Lopez-McHugh
Nancy Lopez-McHugh is a food blogger, photographer and published author. Most recently she has published "Yummy Pics: A Food Blogger's Guide To Better Photos".