Taralli are a typical southern Italian snack that play host to many flavors. They're "breadsticks" that are a blank canvas for anything you can imagine.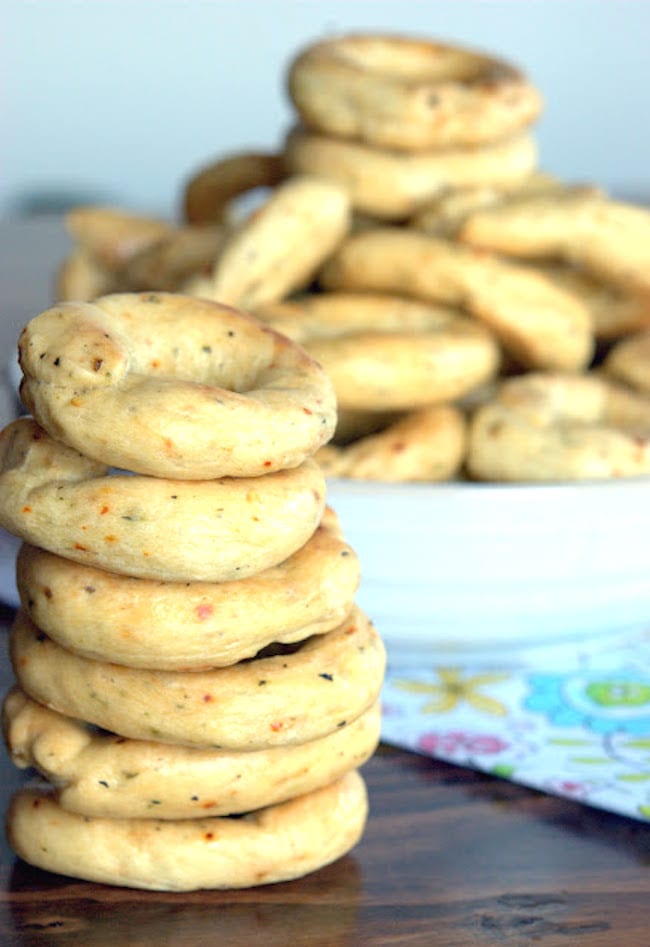 Taralli, a typical Southern Italian crunchy snack, kind of like a bread stick, but formed in the shape of a ring. They are simply made with flour, olive oil and wine, and flavored with various items, like fennel seeds, rosemary, oregano, chili peppers, black pepper, or cheese. Similar to baking bagels (well, proper bagels at least), they are first boiled and then baked in the oven until golden.
It took a bit of experimenting to get them to taste the way I wanted. I played around with different types of flour, herbs–fresh versus dried, and spice level. After several reiterations, and some trial and error, I am very happy with the final outcome.
While I like to incorporate a little bit of whole grain flour into recipes, sometimes it's best not to mess with tradition. Traditionally, taralli are made with "00" flour. When I replaced half of the "00" with whole wheat, the dough was way too dry, not springy or stretchy, just kind of fell apart. Also, took me a little while to get the spice level just right. Little by little, I added a bit more black pepper, crushed red pepper flakes, and dried rosemary, until they were just the way I wanted them.
See Also
These are my new favorite snack!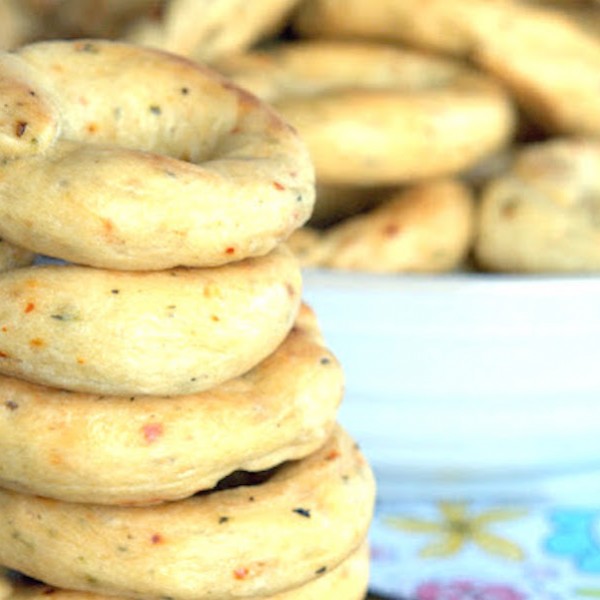 Linda Schneider
Ingredients
4 1/2

c.

"00" flour

1 1/2

tablespoons

sea salt + 1 tablespoon for boiling water

1 1/2

tablespoons

crushed red pepper flakes

1

cup

dry white wine

1

cup

extra virgin olive oil

1 1/2

tablespoons

freshly ground black pepper

3

tablespoons

dried rosemary
Instructions
Place flour, 1 1/2 tablespoon salt, herbs, pepper into the bowl of a food processor. Add the wine and oil, and process until it forms a smooth dough.

Lightly brush a bowl with olive oil and sprinkle it generously with flour. Place the dough in the bowl, and dust the top with flour. Cover with plastic wrap and let dough rest for 2 hours. You can also refrigerate the dough overnight in an airtight container, and bring it to room temperature the next day.

Preheat the oven to 375 degrees.

In a large pot, bring 4 quarts of water to a boil, reduce to a simmer. Season with 1 tablespoon of salt.

Brush cookie sheets lightly with olive oil. Have paper towels ready to drain taralli as they come out of the water.

Divide the dough into 4 pieces, leaving the other 3 pieces in the bowl, covered. Flour your work surface and knead the dough lightly. Roll the dough into a long thin rope. Take the end of the rope and form a ring, pressing the edges of the dough together. Repeat with the rest of the dough.

Working in batches of 4-6 taralli at a time, drop the rings into the simmering water. They will sink, and then rise to the surface after a few minutes (be patient, it takes a minute or two for them to start to rise). Let them float for an additional 30-45 seconds once they rise to the surface.

Remove each with a slotted spoon. Place the boiled taralli on paper towels to drain. Transfer them to the lightly oiled baking sheets. Repeat until all the taralli have been boiled.

Bake taralli for 45 minutes until they are golden. Let cool on a rack. Store in an air tight container for up to 2 weeks.
Linda Schneider
Linda Schneider is the blogger behind Wild Greens and Sardines, an homage to her love for all things food and [Mediterranean] travel. What she enjoys most is seasonal, farm-to-table recipes that highlight local ingredients, farmers, and food artisans. She loves going to local farmers' markets, seeing what's in season, and sharing recipes with others.