Gluten free and made with coconut milk, this stunning dessert is perfect for all of your guests. Use your favorite fruits to brighten the presentation.
By Oana Olguta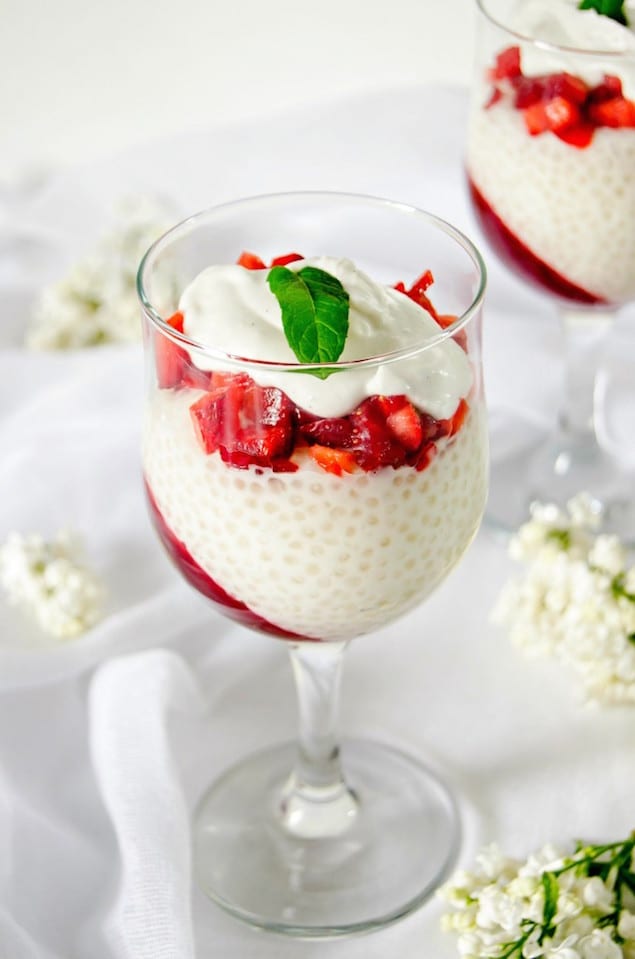 Funny thing – I have tapioca pearls in my cupboard for months and just couldn't find any inspiration to use it until today. Just reading about the gluten-free diet, I stumbled on tapioca and suddenly remembered about them sitting in my cupboard. And all it took was a spark to light up my imagination and so this pudding was born – pudding or verrines, call it whatever you like, it's doesn't even matter considering how delicious it is!
This berry tapioca pudding is both gluten-free and lactose-free and it uses tapioca pearls and coconut milk. Oh and it uses agave syrup as sweetener so I guess it's also sugar-free. I added the berries as I needed a flavor kick, but they're not compulsory – the pudding itself is delicious and your favorite jam makes an excellent topping once the pudding is done. Nothing fancy, just pure joy in desserts!
See Also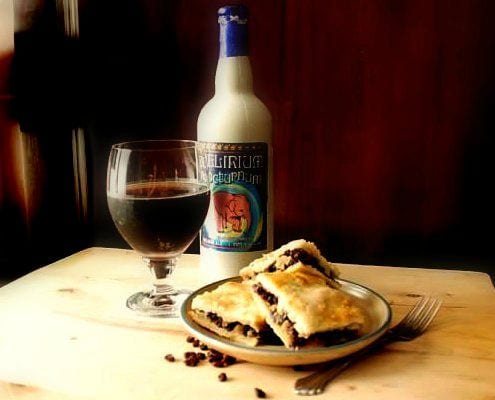 For another beautiful, layered dessert try this Matcha Rose Verrines.
Tapioca Pudding with Spring Berries
Gluten free and made with coconut milk, this stunning dessert is perfect for all of your guests. Use your favorite fruits to brighten the presentation.
Cuisine:
Dairy and Gluten Free
Ingredients
Raspberry Jelly:
150g (5.3 ounces) raspberries
40g (1.4 ounces) agave syrup
4g (0.14 ounces) gelatin
20ml (0.7 fluid ounces) cold water
Tapioca Pudding:
1 can - 400ml - (13.5 fluid ounces) coconut milk
1 pinch salt
50g (1.75 ounces) tapioca pearls
50g (1.75 ounces) agave syrup (or more if you want, depending on your taste)
1 teaspoon vanilla extract
Topping:
150g (5.3 ounces) fresh strawberries, diced
Whipped coconut cream
Instructions
Raspberry Jelly:
Bloom the gelatin in cold water for 10 minutes.
Mix the rest of the ingredients in a saucepan and bring to a boil over low heat. Cook for 2-3 minuted then remove from heat and pass the mixture through a fine sieve.
Melt the gelatin and mix it with the raspberry puree.
Pour the jelly in 3-4 serving glasses and refrigerate for 1 hour. To create the pattern, I placed the glasses in a loaf cake pan then poured the jelly and refrigerate.
Tapioca Pudding:
Place the coconut milk tin in the fridge for a few hours then scoop out 3 tablespoons of the coconut cream that gathers on top as you open the can - it's a thick, white, fatty cream that you will be whipping to garnish and decorate the dessert.
Pour the remaining coconut milk in a saucepan and add the tapioca pearl. Let them soak for 30 minutes then cook over low heat until thickened, about 15-20 minutes. Place aside to cool.
Add the agave syrup and vanilla extract.
Spoon the chilled tapioca pudding ver the jelly and top with diced strawberries.
Using a whisk, whip the coconut cream you reserved earlier until fluffy and light. Add agave syrup to taste and top the diced strawberries with whipped cream.
Serve the pudding chilled.
Oana Olguta
I am a self-taught baker and pastry-school graduate and I have an affinity for food. But I especially love baking, taking pictures, exploring dessert cookbooks, entremets and writing. I focus on creative desserts and baking techniques that are aimed to both novices and experts in the kitchen and I truly believe that being a pastry chef is not about looking for innovative ways of making desserts, but about learning the basic techniques and then combining them into new, original desserts, relying on textures and flavors.