Tantalizing Aromatherapy Bread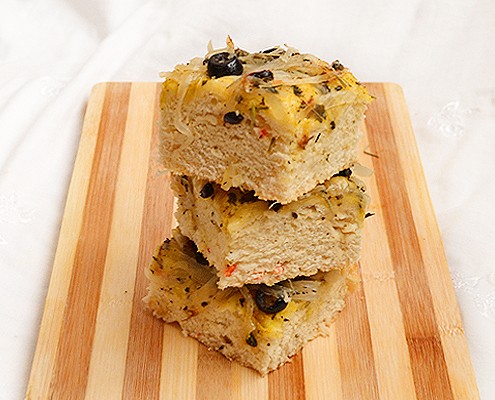 Pairing the aromatic topping with the smokiness of the roasted pepper, the fluffy soft texture of the bread and the slight tang of the mustard is an experience you don't want to miss.
By Sawsan Abu Farha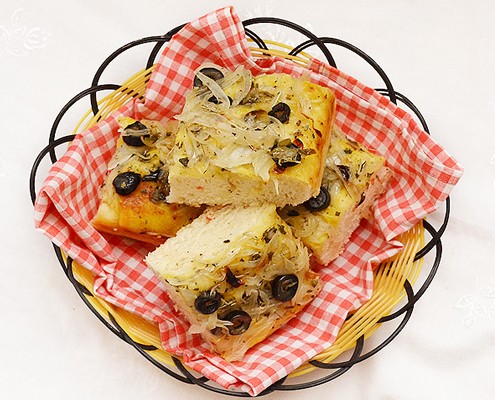 Nothing makes a house more warm and welcoming than the smell of bread baking in the oven but when that bread contains roasted peppers and is topped with a mixture of caramelized onions, olives, capers and herbs, making it is not  baking any more. It is a form of aromatherapy.
I love making bread at home, the whole process is so comforting, almost therapeutic. Watching yeast bubble with excitment as it gets ready to help you make bread magic. Kneading the dough and feeling it transform under your finger tips from a lumpy mass into a sliky smooth ball. Watching the dough rise and  you can't help but smile when your child asks you with worry in her eyes "mum is it going to explode?"
Punching the dough down and then forming it into whatever shape you want ..it is all up to you and your imagination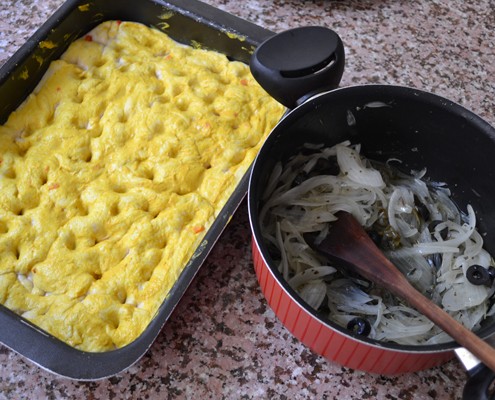 Baking your bread and allowing the smell to wash over you.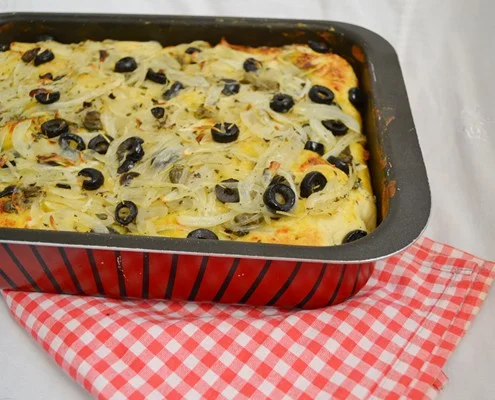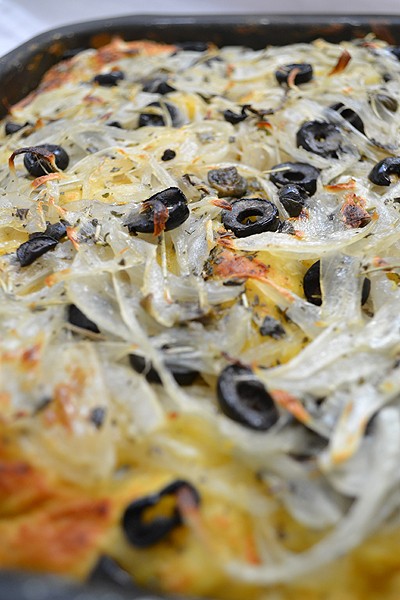 Cutting into a loaf of warm bread and enjoying the first bite.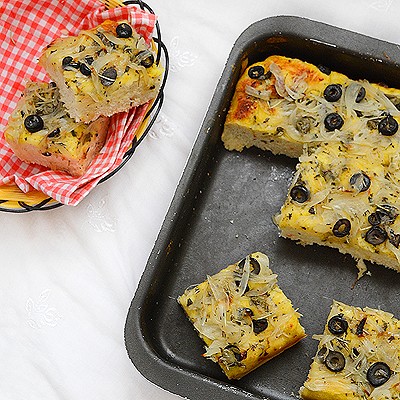 This aromatherapy bread does all that and more. Preparing the topping alone will fill your house with a cloud of herbs and tantalizing smells that  will require considerable amount of self control to stop yourself from eating it as such there and then. But I do promise you that the self control will be well worth it if you carry through with making the bread. Pairing this aromatic topping with the smokiness of the roasted pepper, the fluffy soft texture of the bread and the slight tang of the mustard is an experience you don't want to miss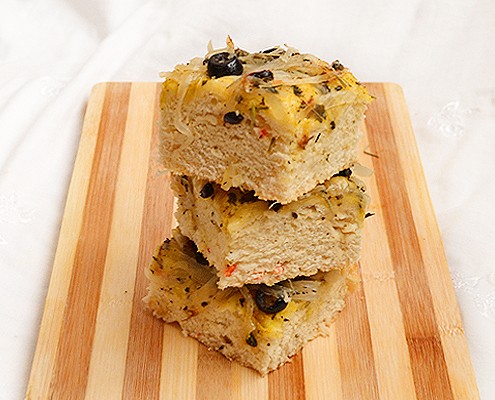 Baking this bread will fill your house with a cloud of herbs and tantalizing smells - it should be listed as aromatherapy
Author:
Sawsan Abu Farha adapted from Fatafeat magazine
Ingredients
For the dough
500 grams (3½ cups) all purpose flour
1 teaspoon sugar 1½ tablespoons yeast
2 teaspoon salt
80 grams (3/4 stick) butter
2-3 tablespoons chopped roasted pepper
200-300 ml (1 to 1½ cups) warm water
pinch of pepper
Spread on top of the dough
1 tablespoon mustard
Parmesan cheese
Topping
500 grams (almost 1 pound) sliced onions
1 tablespoon capers
4 tablespoons olive oil
1 clove garlic
1 teaspoon salt
2 tablespoons rosemary
⅓ cup pitted chopped olives
2 teaspoons oregano
Instructions
To make the dough
Proof the yeast by mixing it with the sugar and 1 cup warm water, the yeast should bubble and foam
Mix the butter, flour, salt and pepper in a food processor or with your finger tips
Slowly add the water and knead till you get a smooth dough
Cover and keep in a warm place till it doubles in size
Punch the dough down and then spread it in an oiled pan
Dimple the dough top with your finger tips
Spread the mustard on top of the dough and sprinkle with cheese
To make the topping
Heat the oil in a pot
Add the garlic and capers, stir for 2-3 minutes
Add the onions and salt and cook over low heat until the onions are translucent (don't over cook the onions or they will burn in the oven)
Add the rosemary and oregano and cook for 2 more minutes
Allow the topping to cool slightly then spread it on top of the dough
Bake in a 200 (392) degree oven for 15 to 20 minutes or until the edges are golden brown
Place under the broiler for 2-3 minutes
Sawsan Abu Farha
Passionate food explorer Sawsan Abu Farha lives in Jordan and enjoys mixing east and west in her kitchen aiming to get the best of both worlds.Juggling work, motherhood, blogging and a passion for food and food photography, she shares her journey in her blog "Chef in disguise".