Before it gets to the restaurants and hits the table, see what goes on in the garden where produce is grown.
By Michelle Tchea
Image: Kelly Way Gardens from Woodstock Inn
We all know what goes on behind the scenes in a professional kitchen. Morning preparations, gathering fresh produce and of course developing the menu to feed hungry guests. But with the latest farm-to-table movement hitting restaurants, I decided to see exactly what happens from the very beginning – in the garden.
In Vermont, at the Woodstock Inn and Resort, Ben Pauly, the master gardener is already busily preparing for the year's seasonal plantings. In between planting seedlings, Ben taught me a thing or two about working in the new Farm-to-Table era of cooking.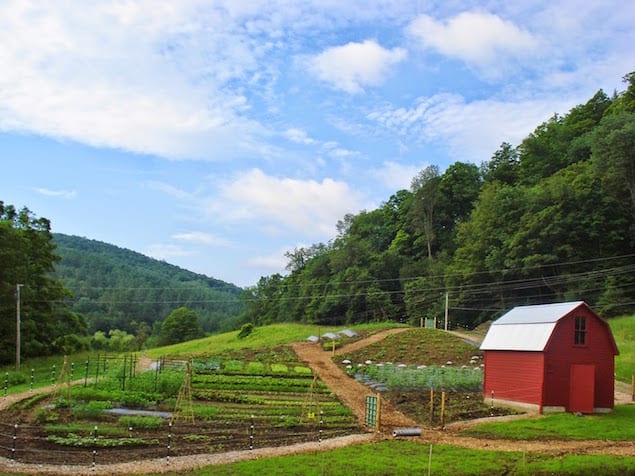 Image: Kelly Way Gardens from Woodstock Inn
Woodstock Inn and Resort has a lot of history and drew me as the pinnacle spot to see how the Farm-to-Table movement is really developing and how it affects smaller restaurants and hotels. The Inn was built in 1969 by Laurance Rockefeller, son of John D. Rockefeller and a passionate conservationist whose presence is felt throughout the town of Woodstock. Rockefeller's inn replaced a structure that was built in 1891. It is owned and operated by the nonprofit Woodstock Foundation, which was created by Rockefeller as a way to nurture the town of Woodstock's assets.
Here is my conversation with Ben Pauly:
Are you growing any seedlings right now? If so, where and what are they?
BP: I just met with the chefs last week about what they wanted for this upcoming season and put in the final seed orders last Wednesday. We order our seeds early just to make sure any of the varieties we want don't go into short supply. This year I will be starting from seed over 250 varieties of vegetables and herbs and over 200 varieties of annual and perennial cut flowers. We have a small greenhouse (15' x 30') behind our administration building to do this but I actually won't start the seeds for a little bit yet.  It is best to wait as long as possible so that the seedlings don't become root bound in their containers.  Tomatoes for example only take 4 weeks to get up to size so I don't plant them until the end of April (for an expected last frost and planting date of the end of May).  There are several things that take much longer, such as certain perennial cut flowers, onions and leeks that I will actually be starting here by mid-February, but that will be the earliest.  Most seedlings are started mid-march through the end of April.
Any new projects to help boost your garden and produce?
BP: When I do start the seedlings in that greenhouse it will take up the majority of the space, and since being able to start our own seedlings is such a priority (better variety selection, healthier plants, organically grown) we really don't have any other room in there.  However this year I am constructing a high tunnel, which is 20' x 72'.  This unheated type of greenhouse will allow me to plant varieties a month earlier and latter to extend our harvest season.  I will mostly be dedicating this space to tomatoes, peppers and micro greens.  The first two I can start from seed in March, while micro greens I will be starting in the beds of the high tunnel in May.
What are the kinds of mushrooms growing right now?
See Also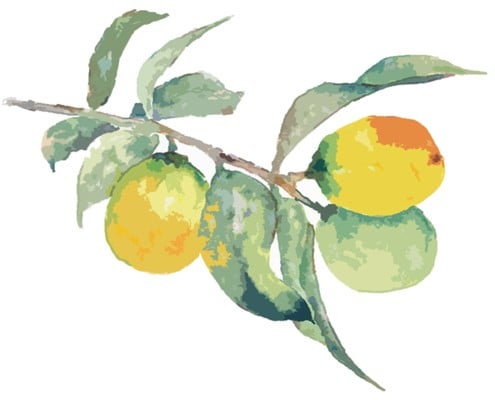 BP: I am only growing one type of mushroom currently.  I inoculated logs last spring with a strain of Shiitake mushroom called 'Bellweather'.  This strain fruits twice in the year during the cool spring and again as things cool down in the Fall.  It usually takes a year before you start to get a harvest so this spring will be our first.  Every year I will inoculate another 100 logs with different strains of mushrooms.  The productivity of the logs is usually between 3 and 5 years, depending upon the tree species used.  We will mostly be growing shiitakes as they are the best suited for our system of log production.  There are many different strains that have different variations in shape, color, taste and fruiting times and we will be playing with these to get a greater availability and diversity throughout the season.  There are certain strains of Oyster mushroom that we will be trying out this year.  I would say we are going to do a sampling of Blue Dolphin, Polar White, Gray Dove, Italian and Golden Oysters.  I may do half oysters and half another strain of shiitakes or I may just do all oysters.  I wait to inoculate the logs till May as you don't want too cold of temperatures.  I therefore wait to order the mushroom spawn until April, by which time the chefs and I will have decided what strains to use this year.
Does anything else go on at the garden in the winter? Are any of the veggies or food served in the fall and winter from the garden (maybe from storage)?
BP: The garden at this point is pretty much hibernating.  With the High Tunnel I am putting up, we will have the ability to be growing things out in the garden potentially March through December sometime with some cool season crops such as spinach, kale, chard and the like.   I have a storage room that I keep our excess carrots, beets, potatoes, winter squash, pumpkins and cabbage.  But to be honest with our busy fall season and Thanksgiving, most of that gets used up by mid-December.  Right now the only things left are some beets, cabbage and blue Magic Molly potatoes, but nothing of any large quantity.
How much of the fresh produce – vegetables and fruits are produced for the small scale Inn like Woodstock Inn?
BP: Last year our production size of vegetables, berries and flowers was about 1 acre.  This year we are pushing that to about 1.5 acres plus an additional ½ acre fruit orchard of pears, plums, apples, peaches and a tasting of elderberries, honeyberries, Juneberries, aronia berries and quince (though the orchard is long term planning with harvests starting in 3-5 years).  With the additional size we are diversifying what we are growing and increasing our productivity so hopefully we will be able to have things coming from our root cellar for a longer period in the winter.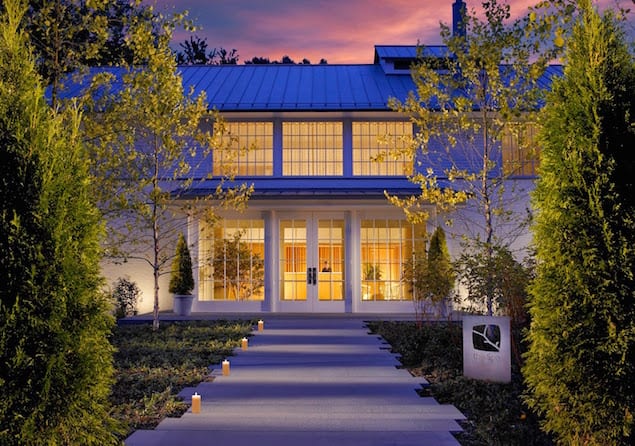 Image: Relaxing in the Spa after gardening in Kelly Way Gardens
Michelle Tchea
Michelle Tchea is a 4-time bestselling author. Her books include, Building a Perfect Meal, My Little SoHo Kitchen, Signature Dishes (Australia's Best) and Chefs Collective. Her work can be found in other leading luxury travel and food magazines including Travel+Leisure Asia, SMILE, NUVO Magazine and The Telegraph