The Tacombi taco shop in New York City is exactly what your favorite little taco shop should be.
By Carly DeFilippo – Photos by Lauren DeFilippo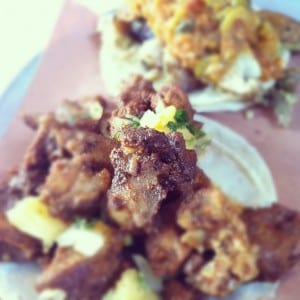 "What's your favorite New York taco?" Any self-respecting food writer should have had one, if not a few taco suggestions. Yet just six months ago, I embarrassingly realized I had never so much as eaten in a single Mexican NYC restaurant.
Like all foodie subjects on which I am lacking sufficient authority, I accepted, then attacked this challenge with gusto. From Mexicue on the Lower East Side to Toloache on 82nd Street, I ate at easily a dozen taco-wielding establishments. Some were excellent, others so-so, but there was none that truly stole my heart…that is, until Tacombi.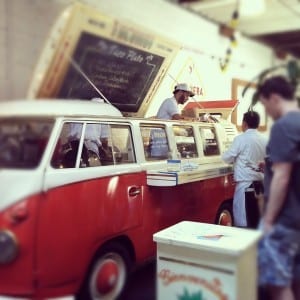 Admittedly, I'm not just talking about the food – though Tacombi's al pastor de puerco is reason enough to rave. Rather, it was the garage-turned-block-party vibe of the indoor/outdoor space that truly won me over. Ideal for a chilled-out Saturday brunch, an inventive first date or a rowdy round of afterwork cervezas, this is high-concept, low-fi feeding at its best.
We started off with crunchy homemade totopos and avocado-rich guacamole, balanced with smoky chili powder and salty cotija cheese. From there we shared a large serving of esquites, a exquisite, creamy cup of toasted corn comfort food.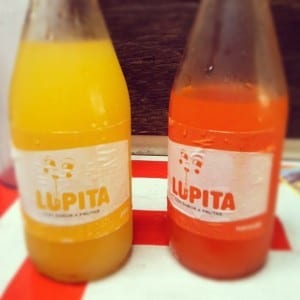 Admittedly, there was a bit of a lunch rush, and our taco order got lost in the fray. Digesting from our appetizers, we sipped on the house Lupita sodas – the orange was excellent, but the pineapple far too sweet. It took a bit of inquiring after the demure, day-dreaming bus girl, but eventually arrived the grand finale.
Meaty – almost gamy – and rich with slow-cooked sauce, the al pastor de puerco was truly a taco lover's delight. The lighter, seared fish featured almost Italian flavors – capers and tomato versus the fruity salsa I anticipated – but it was cooked impeccably, so no complaint could be filed.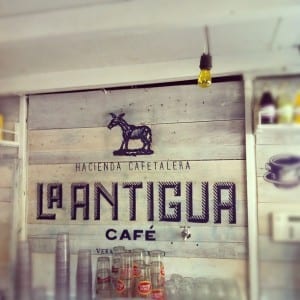 Perhaps that's the grand appeal of Tacombi. It's a dive (that's not really a dive) which leaves you smiling even when the service screws up or your taco comes topped with a strange assembly of ingredients. In short, exactly what your favorite little taco shop should be.
Carly DeFilippo
Carly is a Contributing Writer at Honest Cooking. Though the first line of her college application essay was "I love tunafish," it wasn't until she pursued graduate studies in Paris that she ever considered a future in food. Based in Manhattan, Carly is a freelance writer and the co-founder of Cognoscenti Creative, a boutique branding agency dedicated to establishing artisans as influencers.