This soft, spongey, sweet, chiffon cake, also known as Taisan, is baked in a loaf pan and brushed with butter when it comes out of the oven. It's perfect with a cup of coffee and often served with grated cheese on top in the Philippines.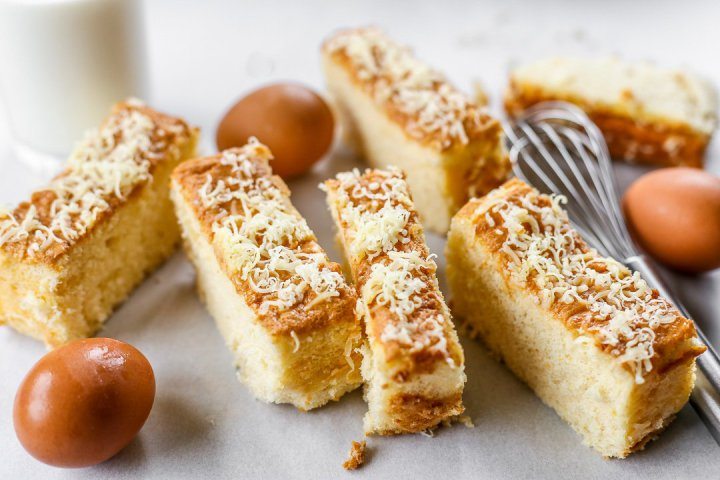 Taisan, anybody who grew up in the late 70's and 80's would know this classic cake popularized by Goldilocks', a very soft sponge loaf cake that has close similarities to mamon, usually sprinkled with sugar on top and sometimes with grated cheese. This type of food reminds me of my childhood, especially when it is from Goldilocks, it was my favourite food place before, unlike most kids who would prefer McDonalds or Jollibee this was my thing.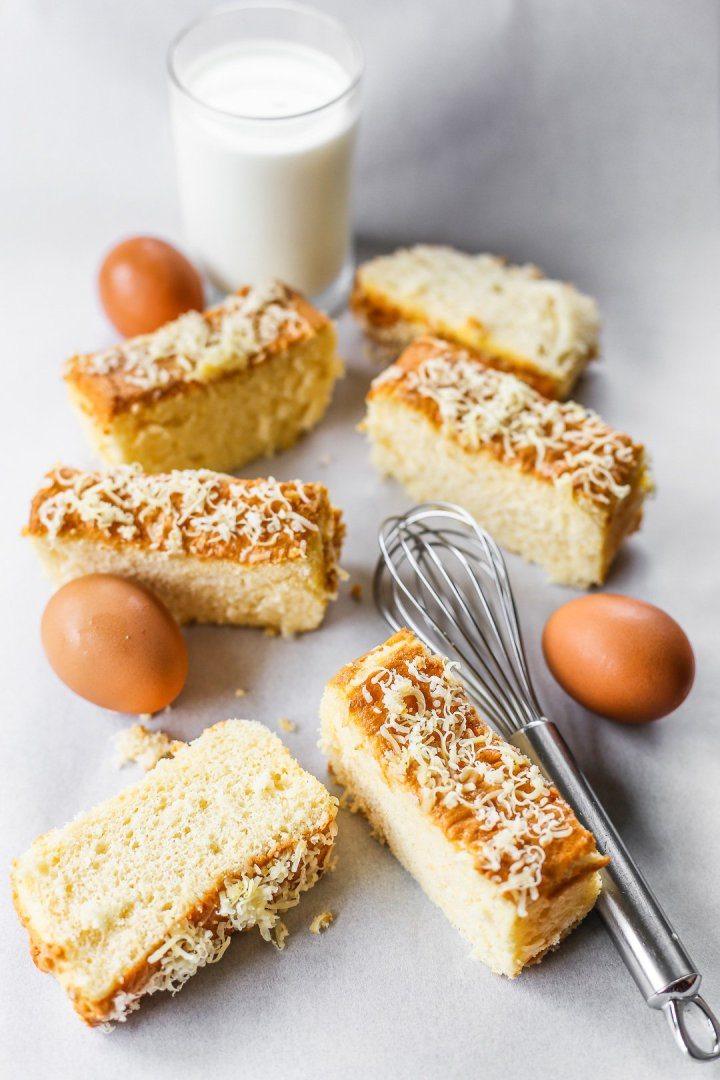 Whenever we visit this place my order would be the usual palabok, sago gulaman and for dessert our recipe today, Taisan. I still remember those days when my mom does her shopping in Cubao specifically in Ali Mall and Rustans then while she is doing her thing I prefer to wait in the central foyer where the remote-control boats were, then we just meet back in front of Goldilocks' when is lunch time.
Many years later Goldilocks' was still my favourite, even when I was in university and even when I started working.
Now going back to Taisan, I know some will think it's just another sponge cake and yes, I can't agree more, but for Filipinos like me it has more meaning than that, it's the nostalgia that it brings and that's what makes it special.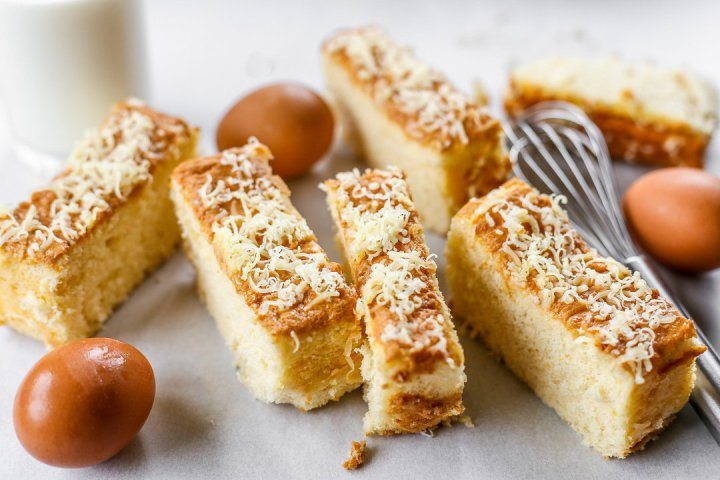 Taisan: Filipino Chiffon Cake
Ang Sarap
Ingredients
½

tsp

cream of tartar

1¼

cup

flour

1

tsp

baking powder

½

tsp

salt

3/4

cup

sugar

4

eggs yolks

6

egg whites

1

tsp

vanilla extract

1/4

cup

evaporated milk

1/4

cup

flavourless oil

vegetable oil, canola oil, corn oil

2

tbsp

water

melted butter

to brush with cake
Instructions
Sift together flour, baking powder and salt, set aside.

Beat together egg whites and cream of tartar using a hand mixer, and beat in high speed. Slowly add all of the sugar and continue beating until medium peaks form. Set it aside.

On another bowl whisk egg yolks, vanilla, milk, oil and water, stir this in to the flour mixture then mix gently until batter is smooth and even in consistency.

Now fold the batter and egg white mixture together. Divide the mixture evenly in two 9 x 5-inch loaf pan Bake in a 160C pre-heated oven for 25 to 30 minutes or until a cake tester comes out clean. Remove from oven, let it cook then brush loaf with melted butter on top.
Ang Sarap
Hi I am Raymund a Filipino living in New Zealand, I'm not a cook nor a chef but I love cooking and it is my passion. My real job is an IT Professional whose devotion is to develop applications (I have a Software Development blog for those who might be interested), my brain is abused at work on a daily basis so cooking at the end of the day acts as my therapy for stress release. I have been cooking since I was 7 years old and since then almost every day I prepare our dinner and weekend meals, I usually try to cook dishes that we had tried and ordered in different restaurants that's why you will see a lot of varieties at my blog Ang Sarap (angsarap.net). I learned cooking mostly by observing my Aunt who cooks for us when I was younger, I learned to bake by assisting my Mom during my younger years and for the native dishes I learned it from my Grandmother. My other passion is photography which explains the photos you see here and travelling which explains the variety of dishes and reviews of restaurants from all over the world.