Tahini Thumbprint Cookies with Sesame Caramel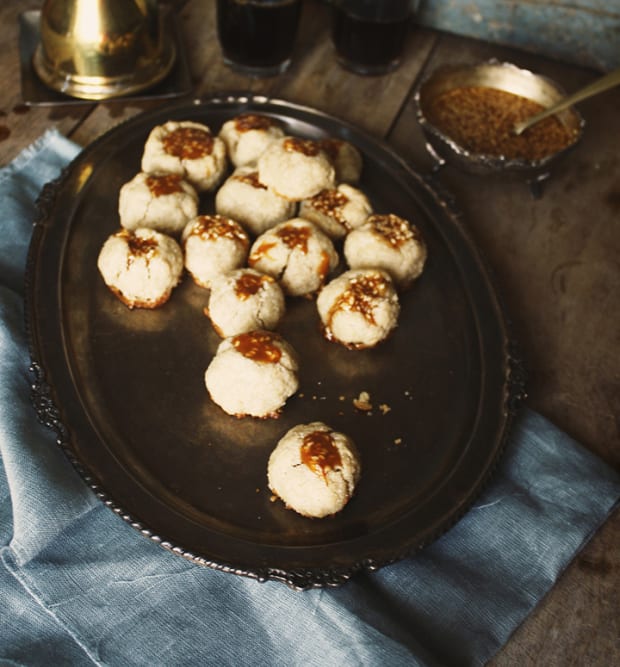 Sweet and salt with a mix of sesame and caramel, these easy cookies add another dimension with the addition of tahini.
By Pallavi Gupta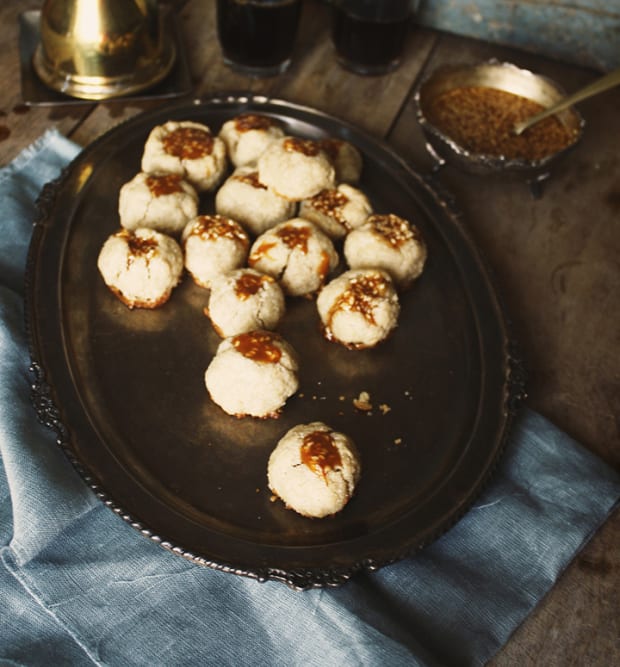 The recipe is super easy and quick to put together. It's literally dumping all the ingredients in one bowl- a quick mix and bake. You then make a thumbprint in the cookie not with your thumb or any other finger as for that matter because this step needs to be done while the cookies are still hot. Once the cookies cool completely, you fill it up with a caramel sauce that has sesame mixed in it.These will stay in an air tight container in the fridge for a couple of weeks.

Tahini Thumbprint Cookies with Sesame Caramel
Ingredients
Cookie Dough
¾ cup tahini
½ cup all purpose flour
½ cup sugar
1 egg
1 tbsp semolina
½ tsp baking soda
Sesame Caramel
¼ cup sugar
1 tbsp water
1 tbsp butter (regular salted)
3 tbsp cream
1 tbsp sesame seeds
Instructions
Cookies
Line a cookie sheet with parchment paper and preheat the oven at 350 F.
In a large mixing bowl add all the cookie dough ingredients and mix with a spoon or a spatula.
Using an ice cream scoop add scoops one by one onto prepared baking sheet.
Bake for 10 to 12 minutes – the cookies should not flatten.
Remove from the oven and let cool for a couple of minutes.
Use the back of a utensil into the center of the warm cookie to create an indentation.
Once the cookies are cooled completely fill them up with the caramel sauce.
Sesame Sauce
Make caramel once the cookies are completely cooled and ready to be filled in – you want your caramel sauce to be warm and in a pouring consistency to fill up the cookies.
Add water, sugar and butter in a saucepan and heat up the mixture on medium low till the sugar melts and starts turning golden.
Remove from the heat and add cream to the sauce. It will bubble a bit violently but will eventually calm down and will form a beautiful caramel sauce.
Return back onto low heat and add sesame while stirring continuously. Cook for a minute or two.
Pallavi Gupta
Pallavi is a vegetarian globetrotter, who currently lives in the southern part of India. Past ten years of her life includes living in six cities in three different countries. It has added to her vast exposure of cuisines from different parts of the world which is now reflected in her cooking. She shares her knowledge of vegetarian and vegan recipe from around the world via her blog Veggie Zest. When not cooking or photographing, she does graphic design.