Flavorful, crispy falafel burgers are packed with protein and easy to serve, drizzled with a creamy tahini sauce.
By Stephanie Kazolides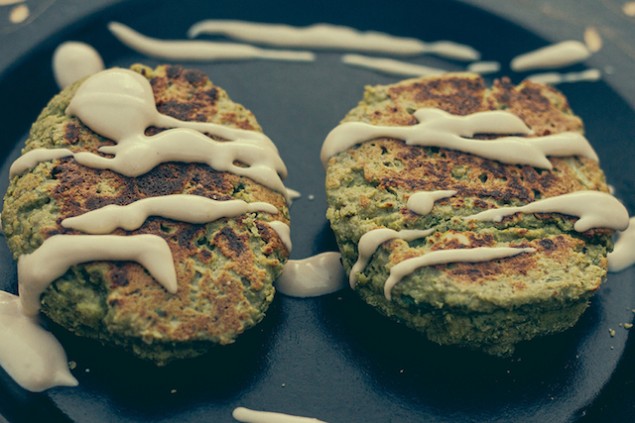 Falafel has become increasingly popular across London, one of my favourite places being Falafel King on Portobello Road in London! They create the perfect texture of crunchy outside and soft, moist delicious stuff on the inside. How do they create this perfect consistency in flavour and texture you wonder? By deep frying!!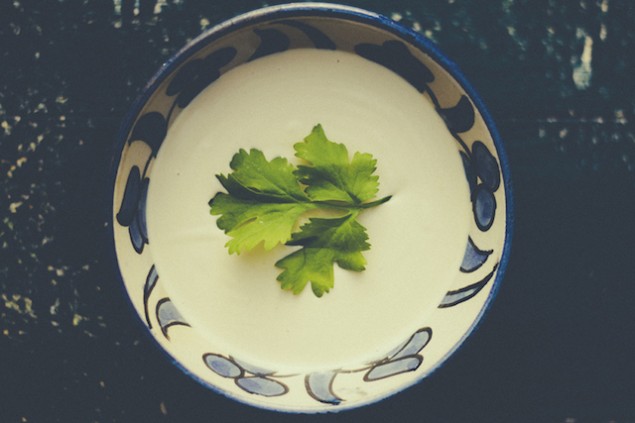 I have since decided to create my own healthy version of falafel in my own kitchen as I began to miss those strong flavours of cumin and garlic with creamy tahini dip!
Being a huge foodie all my life, creating indulgent and wholesome dishes is always at the top of my priority list – and this really feels fulfilling and comforting during the winter season.
Admittedly I haven't made the best of efforts in my food presentation here… but if you cast your imagination to a falafel burger wedged in-between a giant bread bun with lots of tahini dripping down the sides, topped with tzatziki, tabbouleh, hummus, fresh tomato and cucumber slices… you get the idea! You really can make this in whatever way you want. I enjoy it on it's own, because sometimes simplicity is just best.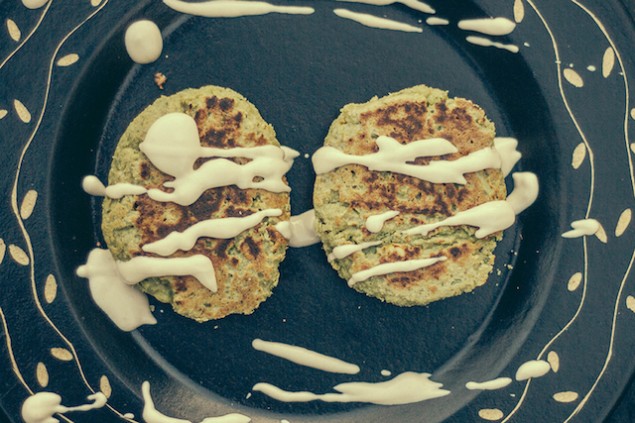 Print
Tahini and Falafel Burgers
Flavorful, crispy falafel burgers are packed with protein and easy to serve, drizzled with a creamy tahini sauce.
Author:

Stephanie Kazolides

Yield:

10

to

12

burgers

1

x
Category:

Main
1

cup

dried chickpeas, soaked overnight

2

–

4

TBSP ground cumin (add gradually and taste)

4

sprigs fresh mint

10

–

15

sprigs fresh coriander

10

–

15

sprigs fresh parsley

1

–

2

TBSP tahini

2 TBSP

brown rice flour (or any glu

ten

free flour – gram, buckwheat)

10

wild garlic leaves (or

3

garlic cloves)
finely grated zest of 1 lemon + the juice

1/2

large onion, finely chopped
salt & pepper to taste

1 tsp

bicarbonate of soda (optional)

1 TBSP

cayenne pepper (optional)
Tahini Sauce:
Find the recipe in the link above.
Instructions
Soak your chickpeas in filtered water for 8 hours/overnight
Drain & rinse the chickpeas
Grind the chickpeas in a food processor with a pinch salt until they resemble coarse 'breadcrumbs'
Finely chop and prepare the rest of the ingredients
Now add the rest of the ingredients to the food processor and blend until the mixture is well combined
Transfer the mixture into a bowl, taste and check for seasoning
Using your hands, mold the mixture into medium sized falafel burgers (useful to keep a small bowl of water by your side when doing this, and before shaping the mixture between your hands, wet your hands first – this will create less stick on your hands)
Now place the falafel on a plate and cover with cling film, place in the fridge and allow to sit for about 30 minutes.
Meanwhile make your tahini dip (find the recipe in the link above)
Cook the Burgers
Gently warm a little olive oil or coconut oil in a flat pan
Remove your falafel burgers from the fridge
Place the falafel burgers on the pan and allow to cook on each side until brown and crisp
When they have cooked evenly on both sides, remove and serve with your tahini dip!
Notes
You can serve these up in lettuce leaves, or bread buns, or eaten alone with various other dips like tabbouleh, tzaztiki or hummus!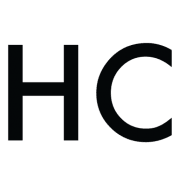 Stephanie Kazolides
Stephanie Kazolides is the author of angel's belly; a food, health and lifestyle blog aimed at inspiring and educating others about eating for nourishment and living in balance. She is currently studying Naturopathic Nutrition in London and is launching health retreats in the South of Spain this October where she aims to bring a fun and unforgettable yet educational experience to young adults looking to improve their lives forever by re-connecting the dots between mind, body and spirit (in the non-hippy-dippy kind of way)! She is also a yoga enthusiast with a great love for travel, culture & photography!