As the air gets crisper, dinners get heartier. Cook up this pasta and butternut squash dish for a taste of Fall.
By Bria Helgerson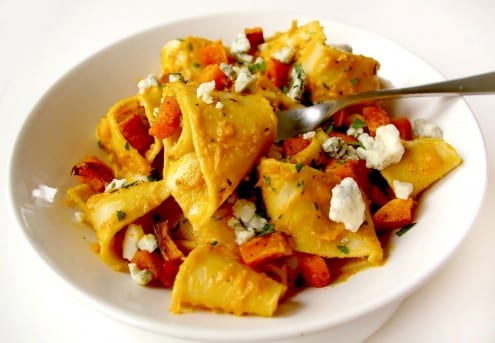 Tagliatelle with Brown Butter and Butternut Squash
As the air gets crisper, dinners get heartier. Cook up this pasta and butternut squash dish for a taste of Fall.
Ingredients
1 batch homemade tagliatelle, or about 1 pound of any dried or fresh pasta
1 small-medium butternut squash, peeled, seeded, and cut into ½ inch cubes
3-4 medium-large shallots, peeled and quartered
2 tablespoons olive oil
¼ cup heavy cream
1 tablespoon minced sage
3 tablespoons unsalted butter
salt and pepper to taste
crumbled Gorgonzola and chopped parsley to garnish
Instructions
Preheat oven to 400 degrees F. Toss the cubed squash and shallots with the olive oil, season generously with salt and pepper, and spread evenly on a silpat lined baking sheet. Roast on the middle rack for 45 minutes to 1 hour, flipping the squash a few times, until browned and starting to caramelize.
Transfer ½ of the squash and all of the shallots to a food processor, (set the remaining squash cubes aside) along with the heavy cream and pulse until you have a smooth paste. If needed, add additional hot water and process until sauce has thinned enough to be able to coat the pasta. Set aside.
Bring a large pot of salted water to boil. Cook the fresh pasta for 4-5 minutes, or until just al dente.
In a large skillet over medium-high heat, melt the butter and cook for a few minutes until just starting to brown. Add the sage and fry for about a minute, stirring, until butter has turned a amber brown, and sage is fragrant. Reduce heat to medium-low and whisk in the squash puree to combine with the browned butter.
When the pasta is cooked, transfer directly from water to the skillet with the squash sauce and toss to combine. If sauce seems very thick or clumpy, add pasta water by the ¼ cupfuls until sauce has evenly coated the pasta. Toss in the reserved cubed butternut squash, transfer to individual serving bowls and top with a generous amount of crumbled Gorgonzola cheese and fresh parsley.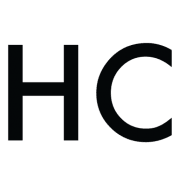 Bria Helgerson
Bria Helgerson is a Chicago based food blogger and pastry school student. Lover of all things sweet and savory, she cooks, bakes, and blogs as she navigates her culinary life at her website These Peas Are Hollow.