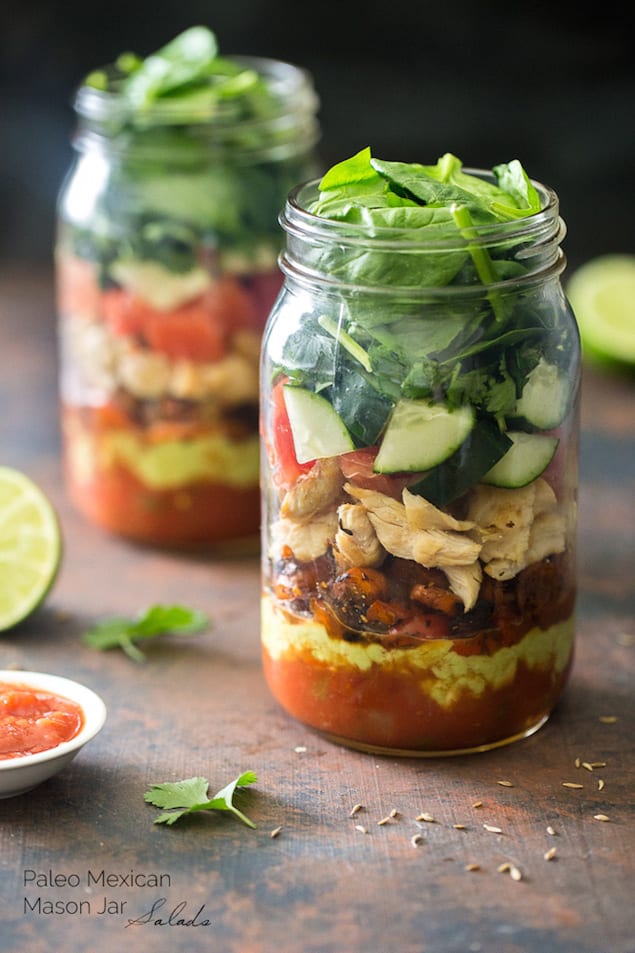 This simple taco salad recipe complete with guacamole is gluten free and served in a mason jar for a portable, easy lunch, that wont get soggy.
By Taylor Kiser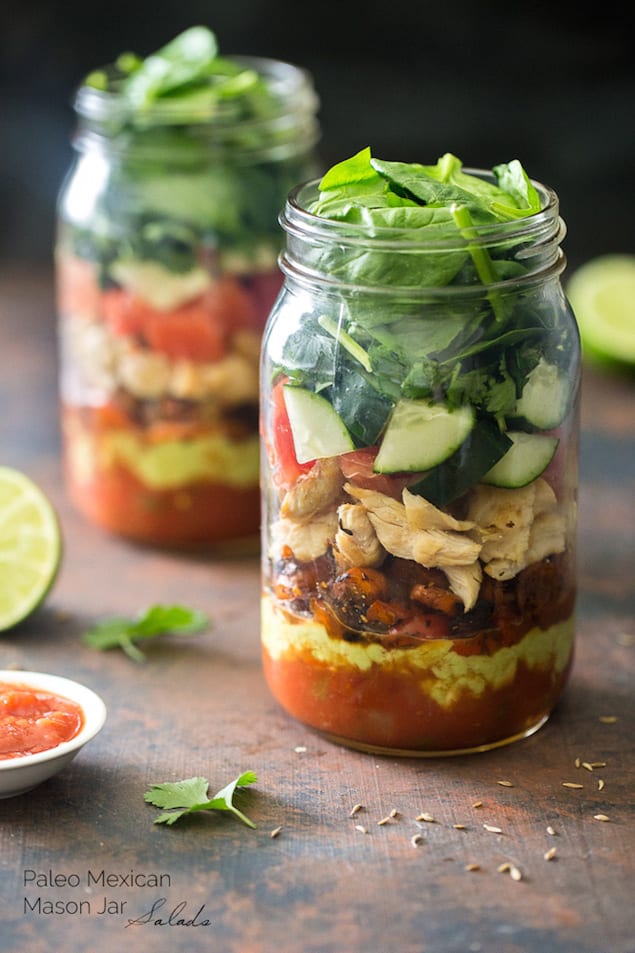 At first I didn't understand the salad-in-a-jar. What I didn't understand about this whole thing was exactly HOWONEARTH I am supposed to eat said salad out of said jar. Would it magically mix together if I just gave it a little shake and be ready for me to munch? How would I fit my fork into the bottom of the jar once I had gotten down to the end?
Until I was informed that you don't, in fact, eat it OUT of the jar. It's strategically layered so that the ingredients don't do that gross soggy/mushy/veggie thing that happens when you bring pre-mixed salads to the working environment. You then dump it into a bowl and faceplant into your perfectly fresh and crisp green lunch and feel the healthy energy from your head to your tippy toes.
And, really, now that I actually get the concept, HOW BRILLIANT IS THAT? Not only is this layered salad pretty, it's smart.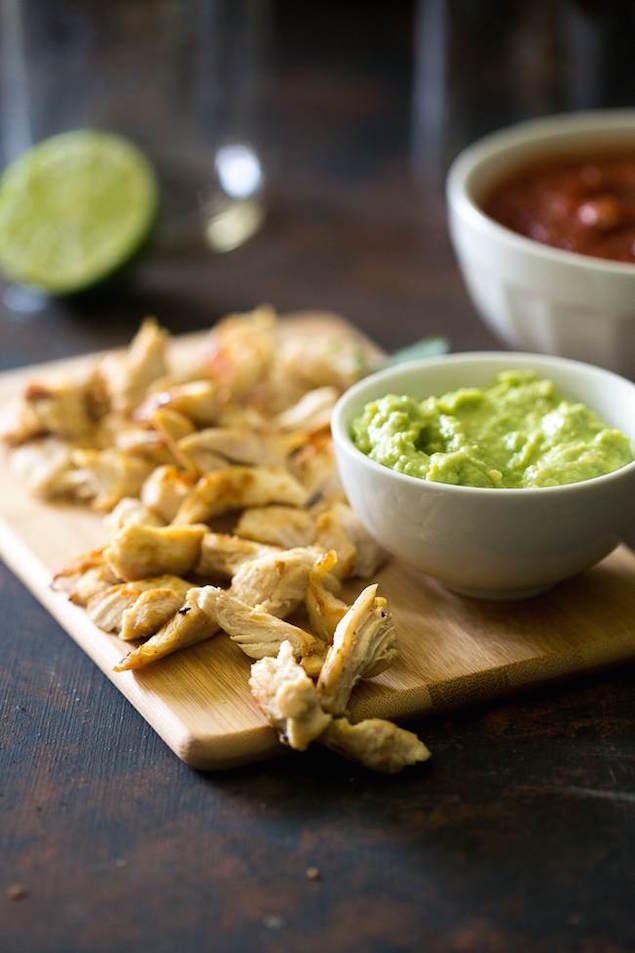 I've got you a Paleo-friendly Chicken Taco Salad loaded with creamy avocado, spicy salsa and lightly-crisp-but-a-little-bit-smoky cumin toasty-roasty veggies.
With cilantro.
Because my life motto is "CILANTRO ALL THE THINGS ALL THE TIME."
See Also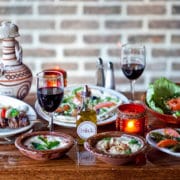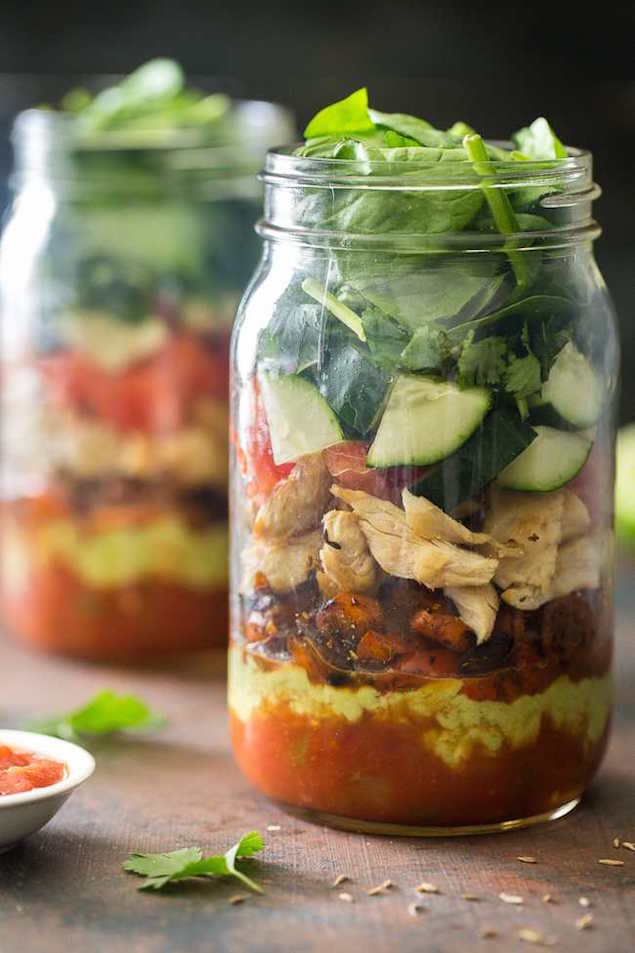 This salad. It's seems unassuming and low-key. And it is.
And then you take a bite and the creamy-smooth-avocado and toasted cumin hit you SQUARE in the taste buds.
So I suggest you shovel your nutritious nums into a pretty jar and watch as you give all those lovely co-workers a major case of lunch envy.

Taco Salad To Go
This simple taco salad recipe complete with guacamole is gluten free and served in a mason jar for a portable, easy lunch, that wont get soggy.
Recipe Type:
Lunch, To go, Main
Ingredients
1 Tbsp Olive oil, divided
8 Oz Chicken breast, cut into bite-sized pieces
2 Large carrots, sliced (about 1 cup of slices)
1 Large Red Bell pepper, sliced
½ Large onion, roughly chopped (about ½ Cup)
2 tsps Garlic, minced
2 tsp Cumin seed (not the powder)
Salt
1 Large avocado
1 Large Lime, juiced
1 Cup Salsa of choice
2 Roma tomatoes, chopped (about 1 Cup)
½ a Cucumber, chopped (about 1 cup)
½ Cup Cilantro, roughly chopped
Fresh spinach
2 Wide-Mouth Quart sized Mason Jars
Instructions
Heat ½ Tbsp of olive oil in a large skillet over medium heat. Cook the chicken breast until golden brown, and no longer pink on the outside. Set aside in a small bowl.
Add the remaining ½ Tbsp of olive oil into the pan turn to medium/high heat. Cook the carrots until they begin to just soften, about 3 minutes. Turn the heat down to medium and add in the pepper, onion and garlic. Cook until soft and the outsides begin to look charred.
While the veggies cook, place the cumin seeds in a small, dry pan over medium/high heat and toast them, stirring frequently until golden brown and fragrant, about 2-minutes. Transfer them to a cutting board and crush. I use the bottom of a glass, which works really well.
Add the crushed seeds into the pan with the veggies and season with salt. Mix well and turn off the heat.
Scoop the avocado and the lime juice into a small food processor and blend until smooth and creamy. You can also just mash them together in a bowl if you wish.
To assemble:
Place ½ cup of salsa in the bottom of each jar, spreading evenly. Divide the avocado/lime mixture on top, gently spreading out. Then, divide the cumin roasted veggies, followed by the chicken. You may need to lightly pack everything in to get it all to fit.
After the chicken, place the chopped tomatoes, and then the cucumbers. Finish off by dividing the cilantro and then as much spinach as you can stuff in there!
Seal and refrigerate until ready to DEVOUR.
Taylor Kiser
Taylor is the blogger, recipe developer, photographer and general mess maker behind the blog "Food Faith Fitness." She is a Christian who is constantly trying to learn how to keep Christ at the center of her daily life. Taylor is also a health and fitness enthusiast who loves creating delicious recipes, with a healthy spin. However, Taylor also believes that moderation is key, so sometimes it's ok to just go and eat a cookie!