Take advantage of the last few weeks of grilling weather with these swordfish skewers, a perfect late summer dinner.
By Kathy Bechtel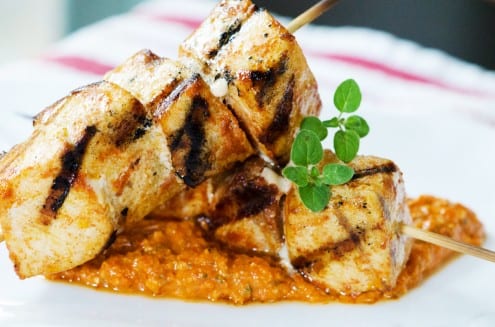 I've enjoyed swordfish all over Italy, from Sicily to the Veneto. Years ago, on a cycling tour in Sicily, we visited a fishmonger to pick up some swordfish for involtini, a 'roll' made from thinly sliced something – from meats to fish to vegetables. We wanted to use swordfish as the outer layer, and so needed it thinly sliced. We had a great photo moment, as the fishmonger cut our swordfish with a huge cigar hanging out of his mouth, right over our fish. We cringed and chuckled simultaneously – and washed the fish before we used it.
North in Venice, you can find pesce spada at the famed fish market at Rialto, often dramatically displayed with the head and sword alongside. Fresh fish from the Adriatic is expected on the tables of Venice, but in modern times makes its way inland, so I've enjoyed wonderful fresh fish dinners in the mountains of the Dolomites, a mere 2-3 hours from Venice and the coast. Smoked swordfish is one of my favorites, and on my list to try next time I'm in the mood to use our backyard smoker.
In the meantime, this was a quick and easy summer grilling dish. I've seasoned the swordfish with smoked paprika, and made a nice red pepper pesto to accompany it. I confess to sneaking in a dried hot chili pepper, stealing a flavor from the Catalan Romesco sauce, but if you don't care for the added heat, you can eliminate it. Serve with some grilled eggplant.

Swordfish Skewers with Red Pepper Pesto
Take advantage of the last few weeks of grilling weather with these swordfish skewers, a perfect late summer dinner.
Ingredients
Swordfish
2 garlic cloves, thinly sliced
1½ pounds swordfish, cut into1-inch cubes
3 tablespoons extra virgin olive oil
1 tablespoon smoked paprika
Kosher salt and freshly ground black pepper
Red Pepper Pesto
2 red bell peppers
1 dried red pepper, soaked in warm water for 30 minutes (optional)
¼ cup sliced almonds
¼ cup pine nuts
½ cup extra virgin olive oil
⅓ cup fresh oregano leaves
2 tablespoons minced shallots
1 tablespoon lemon juice
Kosher salt and freshly ground peppers
Instructions
Swordfish
Put sliced garlic, swordfish, olive oil and paprika in a bowl. Toss to combine well. Cover and let marinate for up to two hours - in refrigerator, if it will be longer than 10 minutes or so.
Prepare a charcoal grill for direct-heat cooking over medium-hot charcoal, or heat your gas grill to medium-high.
Thread swordfish onto 8 skewers. Season with salt and pepper.
Grill skewers on lightly oiled rack until fish is opaque in center, turning occasionally, about 10 minutes. Serve with red pepper pesto.
Red Pepper Pesto
Char peppers over a gas burner set on high, turning frequently, until skin is blackened and blistered on all sides. Transfer to a bowl and cover tightly with plastic wrap; let stand 10 minutes.
Rub skin off peppers, rinsing hands under cold water as you go (do not rinse peppers); remove and discard core and seeds.
In a blender, puree peppers, almonds, pine nuts, oil, oregano, shallot, and lemon juice and blend until smooth. Season to taste with salt and pepper.
Kathy Bechtel
Kathy Bechtel's obsession with food and cooking began as a teenager. After years following a traditional career path as a telecommunications engineer, she left to attend culinary school and wine training, and is now combining her passions for food and wine, the outdoors, and travel as owner and Culinary Tour Director of Italiaoutdoors. In this role, Kathy leads small bicycle, skiing and walking tours that explore the authentic regional cuisines, local products and undiscovered wines of Northeastern Italy.