Beet greens and the ever so colorful and beautiful swiss chard together make for an excellent combination.
By Priya Mahadevan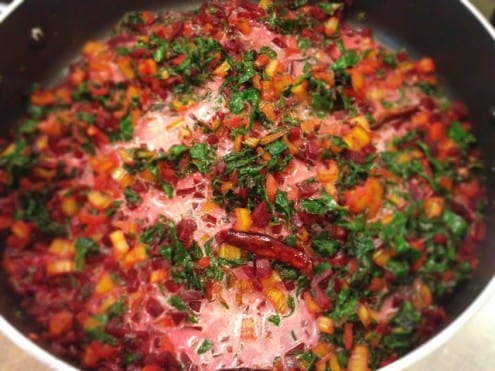 Swiss Chard and Beet Greens Stew
Beet greens and the ever so colorful and beautiful swiss chard together make for an excellent combination.
Ingredients
2 cups of chopped swiss chard
1 cup of Beets greens chopped fine
1 beet chopped fine (I threw this in since I had it)
1bay leaf
½ tsp of black pepper
1 red chili to grind and 1 to saute
¼ cup coconut powder/ or grated coconut
½ cup of cashew, hazelnut, & almond milk (optional) (available in TJ's)
1 tsp of coconut /sesame oil) for cooking and 1 for tempering
2 cup of water
Instructions
In a saucepan, lightly fry the coconut, chili pepper and bay leaf in a tsp of oil
Pour a cup of water and grind and set aside
To the same pan, add the greens and stir for a couple of minutes
Add 1 cup of water and allow it to cook for a few minutes
At this point, add the salt and stir in
Now add the ground coconut mix and allow all of it to come to a boil or two.
Remove from flame and transfer to a serving bowl
Temper with a tsp of oil some mustards seeds, cumin and 1 red chili
Serve with couscous, rice or chapatis.