Tamara Novacoviç with a cute and simple idea for an appetizer to serve at your next party.
By Tamara Novacoviç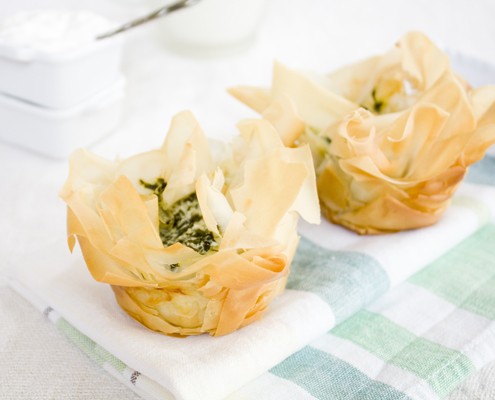 These cute bundles of cottage cheese and swiss chard are actually phyllo dough baskets baked in muffin pans, filled with cottage cheese and swiss chard.
Swiss chard and cottage cheese packets
A cute and simple idea to serve at a party, as an appetizer.
Ingredients
4 phyllo dough sheets
10.5 oz (300 g) cottage cheese
3.5 oz (100 g) feta cheese
2 eggs
8.8 oz (250 g) swiss chard
salt, pepper
Instructions
Lightly grease muffin pans.
Take phyllo sheets and cut them into 3.9 inch by 3.9 inch (10 x 10 cm) squares. Stack 5 squares onto each other, brush each with melted butter or vegetable oil. Put stacked squares into muffin pans so that they form baskets.
Combine eggs with salt and pepper, add feta and cottage cheese. Boil swiss chard for several minutes, drain well, chop and add to the filling. Fill phyllo dough baskets with this and bake for about 30 minutes at 392 F (200 Celsius).