Sweet Treats To Spoil Your Dad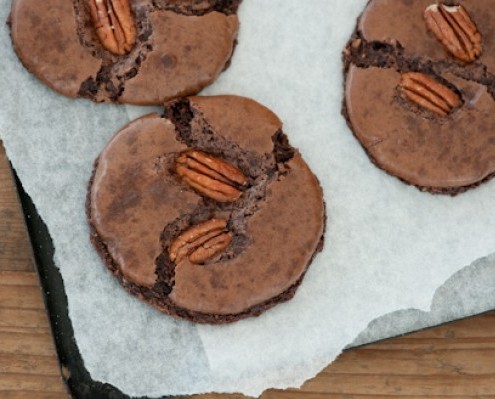 Jules Clancy decides that chocolate and cookies is a better way to go for Father's Day than beer and barbecue.
By Jules Clancy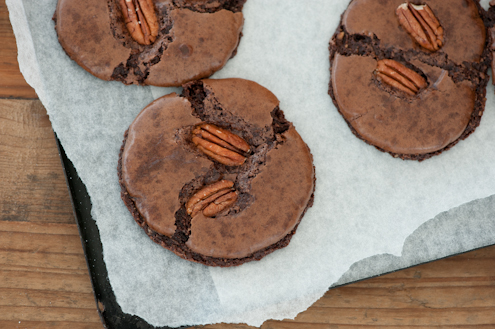 Most people
automatically think beer and barbeque when it comes to Father's Day treats.
But if your Dad is anything like mine, you'll really score extra brownie points if you remember to spoil him with something sweet. My Dad has one of the sweetest teeth I know. He's the type of person who always has room for dessert no matter how big the meal has been.
Unfortunately my Dad also has some food allergies. We're talking no wheat and no dairy. Not exactly an easy brief for baking. And that's where these chocolate pecan cookies come in handy. With just 4 ingredients, they're super simple. And even better is they are both chocolately rich and light at the same time.
Just the thing to show your Dad you care.

Feel free to play around with this recipe. While pecans are one of my favourites other nuts such as hazelnuts or macadamias are also delicious.
Ingredients
60g (2oz) pecans + extra to decorate
225g (8oz) icing (powdered) sugar
25g (1oz) cocoa powder
2 egg whites
Instructions
Preheat oven to 160C (320F). Line a large tray with baking or parchment paper.
Whizz pecans in a food processor until finely ground. Combine ground pecans, sugar, cocoa powder and egg whites in a bowl.
Spoon into 1 tablespoon piles on the baking tray. Allow room for them to spread.
Top each with pecan halves.
Bake for 12-15 minutes or until puffy and starting to crack. Cool on the tray.
Jules Clancy
Jules Clancy is a former Food Scientist turned Author and Simplicity Lover. She only writes recipes with 6-ingredients or less. She lives in Australia blogs about 6-Ingredient Dinners over at Stonesoup.