Sweet and Spicy Thai Chicken Wings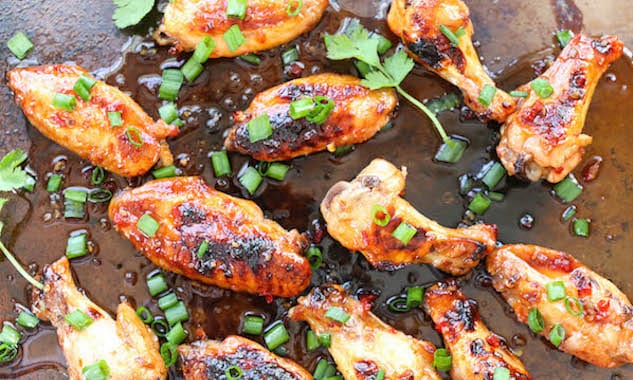 Chicken wings get a Thai spin with a sweet and spicy sticky sauce. Bake them before adding the sauce for a crispy texture.
By Taylor Kadlec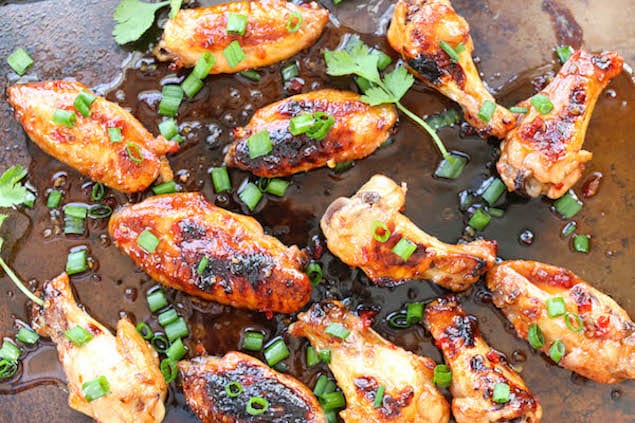 These Thai flavored chicken wings are so good that I don't know if I'll ever be able to go back to regular chicken wings anytime soon. Unlike a lot of Thai dishes which have a lot of specialty ingredients, these wings have pretty standard items aside from the Thai Sweet Chili Sauce which can be found at pretty much any grocery store. Along with the sweet chili sauce, all these wings need are honey for it's sticky sweetness, soy sauce, lime juice, Sriracha for some heat, a little garlic, and green onions and cilantro to top it all off.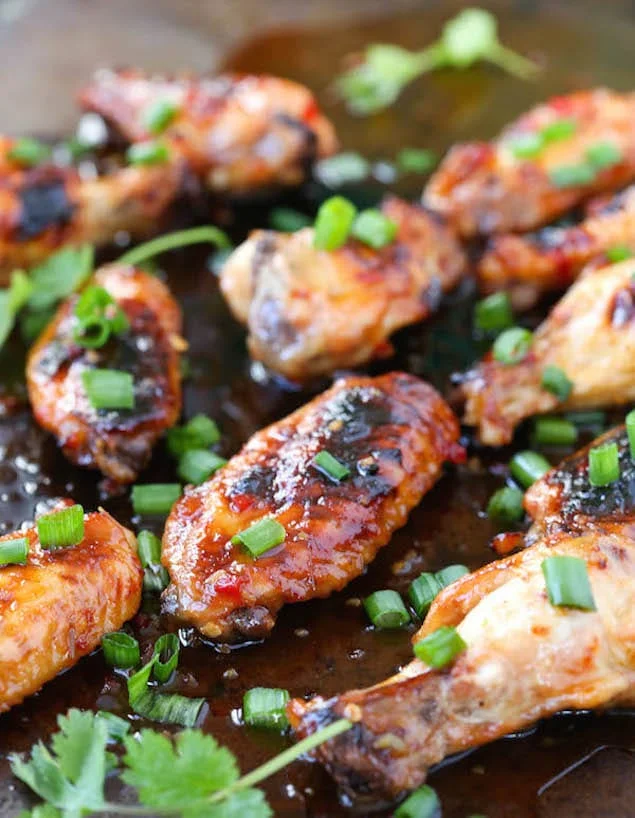 Along with a pretty simple ingredient list, these wings are super simple to whip up, too. The wings get baked sans sauce to begin with, and then finish cooking with the sauce, so it gets all warm and sticky up on the wings. I also made sure to turn the broiler on for a minute so they'd get nice and crispy on the outside. Mmmm so good.

Sweet and Spicy Thai Chicken Wings
Chicken wings get a Thai spin with a sweet and spicy sticky sauce. Bake them before adding the sauce for a crispy texture.
Ingredients
3-4 lbs chicken wings
¼ cup honey
¼ cup soy sauce
⅓ cup Thai Chili Sauce
juice of ½ lime
1 tablespoon Sriracha
2 cloves garlic, minced
2 tablespoons water
green onions and chopped cilantro, for topping
Instructions
Preheat oven to 400 degrees F.
Place wings on baking sheet.
Bake in preheated oven for 20 minutes.
Meanwhile, make the sauce.
Combine honey, soy sauce, Thai Chili sauce, lime juice, Sriracha, garlic, and water in saucepan over medium-high heat.
Bring to a boil, then reduce to a simmer.
Let simmer for 10 minutes.
Remove from heat.
After wings have cooked for 20 minutes, toss with ½ cup of the sauce.
Bake wings another 10-15 minutes, until they are looking crispy.
To get them even crispier, turn on broiler for 1-2 minutes, watching carefully.
Toss with remaining sauce, then top with green onions and cilantro.
Taylor Kadlec
Taylor Kadlec is a lover of all things food including baking, cooking, and of course, eating. She is a self-taught baker and cook, and she shares her kitchen adventures on her blog Greens & Chocolate, where healthy cooking meets sinful indulgence.