Sophisticated sweet potato brownie meets the no-holds-barred decadence of s'mores flavors.
By Denise Browning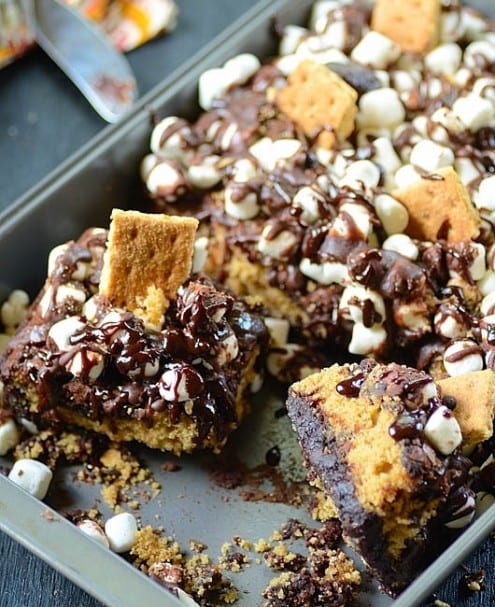 Sweet Potato-Smores Brownies
Sophisticated sweet potato brownie meets the no-holds-barred decadence of s'mores flavors.
Ingredients
For the Brownie Batter:
1 (18.3 oz or 520 g) box of Chewy Fudge Brownies mix (I used Duncan Hines)
4 large eggs at room temperature, divided
¾ cup vegetable oil
1-1/2 tablespoons pure vanilla extract, divided
¼ cup water
½ cup canned sweet potatoes, drained and mashed
½ cup firmly packed light brown sugar
⅓ cup unsalted butter, softened
½ cup granulated sugar
1 teaspoon apple pie spice
1 teaspoon baking powder
1 cup all-purpose flour
2-1/2 to 3 cups miniature marshmallows
Chocolate frosting (recipe follows)
1-2 tablespoons Graham cracker crumbs plus small squares to decorate top of the brownies
For the Chocolate Frosting:
2 tablespoons unsalted butter
1-1/2 tablespoons unsweetened cocoa
1-1/2 tablespoons milk
1 cup powdered sugar
¼ teaspoon vanilla extract
Instructions
Preheat oven to 350° F for glass or metal pans, and 325° F for dark or non-stick pans. Grease bottom of a 13- x 9-inch pan with cooking spray and set aside.
In a large bowl, with an electric mixer, beat brownie mix, 2 eggs, oil, 1 tablespoon vanilla, and water together on low speed until well blended (Please, do not over beat). Pour half of the batter into the prepared pan and spread evenly.
Beat mashed sweet potatoes, brown sugar, butter, ½ tablespoon vanilla, and granulated sugar at medium speed with an electric mixer until light and fluffy. Add 2 eggs, one at a time, beating after each addition until just blended. Then, add the apple pie spice, baking powder, and flour to the sweet potato mixture, beating at low speed until just blended.
Spoon sweet potato mixture over brownie batter and spread even and gently; top with remaining brownie batter, spreading evenly.
Bake sweet potato-smores brownies for 30 to 35 minutes or until a wooden pick inserted in center comes out with a few moist crumbs. Remove sweet potato-smores brownies from oven to a wire rack and top with marshmallows.
Prepare Chocolate Frosting, and drizzle the hot frosting over sweet potato-smores brownies. Sprinkle Graham cracker crumbs on top and let cool completely. Decorate sweet potato-smores brownies with small Graham cracker squares and enjoy!
To prepare the Chocolate Frosting:
In a small saucepan, cook butter, cocoa, and milk over medium heat, whisking constantly, for about 2-3 minutes or until slightly thickened.
Then, remove from heat and whisk very well in powdered sugar and vanilla until smooth.
Drizzle the hot frosting over the sweet potato-smores brownies.
Denise Browning
Denise Browning is a native Brazilian foodie, trained Chef, cooking instructor, restaurant menu/recipe developer, and former lawyer. She is also the author of From Brazil To You - a blog that features Brazilian, fusion, and international dish recipes, stories, and photography of Brazil. Her writing has appeared in Cia Brasil Magazine, while her photography is frequently featured on Foodgawker, TasteSpotting, and Foodepix. She lives in Texas with her American husband and two children.