Skip the sweet potato pie and head straight to bars topped with streusel and drizzled with marshmallow glaze.
By Michelle McVeigh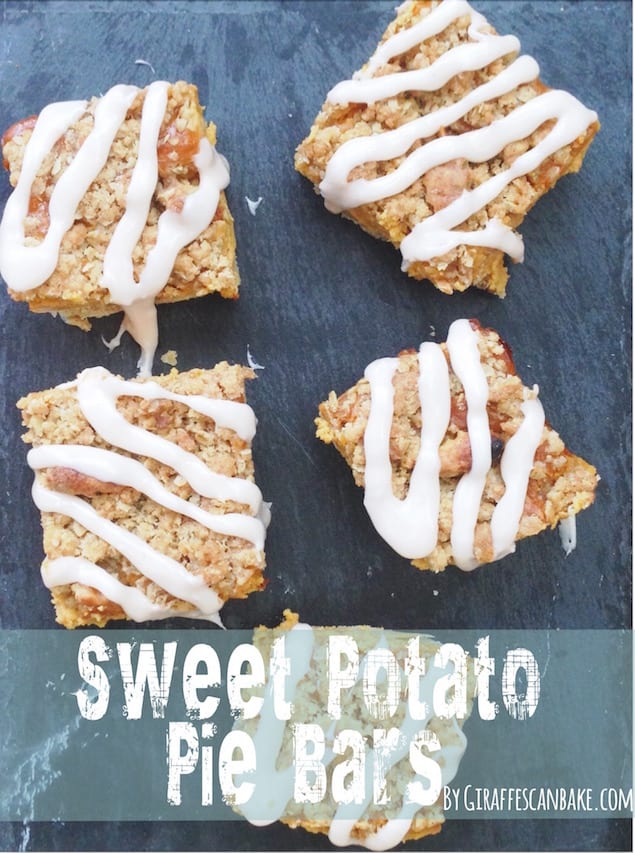 Sweet potato is one of my all time favourite foods, I've yet to find a way that I don't like to eat it! But I'd never eaten sweet potato pie before, so naturally I decided I needed to make it. These sweet potato pie bars are the perfect solution when there is too much pie around or you don't have a pie dish. There's just something about slicing it up into little bars that makes it so much more appealing to me – maybe it's because I could add a streusel topping and a marshmallow glaze without ruining the clean look of a pie!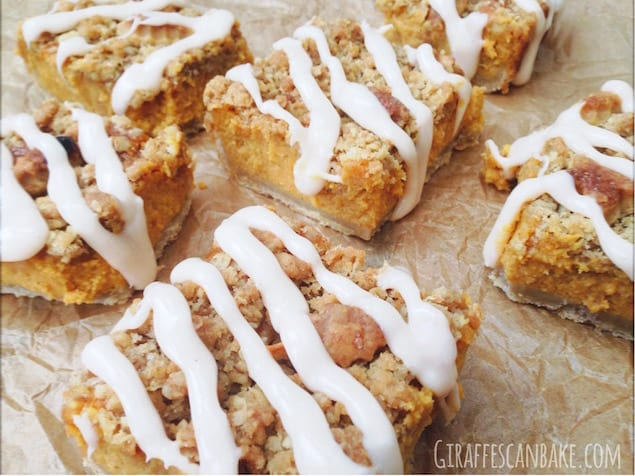 Marshmallow is a go to pairing with sweet potato dishes and there's a good reason for that, it just plain works! The glaze is simple to put together too, it's just butter, marshmallows and sugar. Coriander isn't something I would have thought to put in myself, but it really does make this pie shine! You'll want to buy coriander seeds and grind them yourself too, coriander is one of those spices that tends to lose it's flavour quickly once ground.

Sweet Potato Crumble Squares
Skip the sweet potato pie and head straight to bars topped with streusel and drizzled with marshmallow glaze. Adapted from Joy the Baker.
Recipe Type:
Dessert, Baking
Ingredients
For the crust
200g (7 ounces) plain flour (all purpose)
2 tsp caster sugar
½ tsp salt
¼ tsp cinnamon
115g (4 ounces) unsalted butter, cold and cubed
90ml (3 ounces) buttermilk, cold
For the filling
2 medium sweet potatoes
150g (5.3 ounces) brown sugar
1¼ tsp ground coriander
½ tsp ground nutmeg
½ tsp ground cinnamon
¼ tsp salt
60g (2 ounces) unsalted butter
285ml (9.6 ounces) evaporated milk
80g (2.8 ounces) caster sugar
3 large eggs
1 tsp vanilla extract
For the streusel
40g (1.4 ounces) rolled oats
30g (1 ounce) plain flour (all-purpose flour)
80g (2.8 ounces) brown sugar
1 tsp ground cinnamon
¼ tsp salt
60g (2 ounces) unsalted butter, cold and cubed
For the glaze
60g (2 ounces) unsalted butter
150g (5.2 ounces) marshmallows
150g (5.2 ounces) icing sugar (powdered)
2 tbsp milk
Instructions
To make the crust
In a bowl, whisk together the flour, sugar, salt and cinnamon. Add the cold butter, and rub it into the flour mixture until your have crumbs of varying size. You want to do this quickly so you don't melt the butter with your fingers - you could also use a pastry cutter or potato masher.
Create a well in the mixture and pour in the buttermilk. Using a fork, bring the dough together, making sure all is combined. If needed, add a little extra buttermilk - you don't want the mixture really wet, just moist enough to come together, it should still be shaggy.
Turn the dough out onto a lightly floured surface and knead until it comes together properly. Flatten into a disk, wrap in plastic and chill in the fridge for 1 hour.
You can use this chilling time to get started on the filling (below).
Line a 12x8"baking dish with parchment paper, with overhang at the sides
Remove the dough from the fridge and roll out on a lightly floured surface into a rough rectangle. You want it to be just slightly bigger than the baking dish.
Transfer it to the baking dish, pressing along the bottom. Trim the edges so it's only lining the bottom - but don't worry about leaving a little crust around the edges.
Cover with plastic wrap and return to the fridge for a minimum of 30 minutes.
Preheat the oven to 190C/375F
To make the filling
Peel the sweet potatoes and cut into small cubes. Put the potatoes into a large pot of water and bring to a boil. Simmer until potatoes are tender, about 20 minutes. Drain once cooked.
In the same large pot, add the potatoes, brown sugar, the spices, salt, butter and half of the evaporated milk. Cook on a low heat and use a potato masher to mash the potatoes as they cook and to combine the ingredients.
Simmer for 5 minutes. Use an immersion blender to make sure the mixture is as smooth as possible.
Once smooth, remove from heat and set aside in pot to cool slightly.
In a bowl, whisk together the remaining evaporated milk, caster sugar, eggs and vanilla. Whisk this mixture into the warm potato mixture until smooth and combined.
Pour the filling into the crust lined baking dish.
Bake in the oven for 10 minutes, during this 10 minutes make the streusel
Whisk the oats, flour, brown sugar, cinnamon and salt together in a bowl. Add the butter and rub into the flour mixture until you have large, coarse crumbs.
After the 10 minutes, remove the pie from the oven and reduce the temperature to 160C/325F
Sprinkle the streusel over the pie and return to the oven for 40 minutes, until the top is browned and the pie is set (you want it to have a little jiggle to it, but not loose).
Remove from oven and leave to cool on a wire rack.
Make the glaze
Place the butter in a medium saucepan and melt over a low heat.
Add the marshmallows and cook until melted, stirring constantly. Stir until smooth.
Remove from heat and whisk in the icing sugar and milk until combined and smooth
Add more sugar or milk to adjust to your desired consistency if necessary.
Leave to cool slightly and then either drizzle over the pie with a spoon, or place in piping bag and pipe in zig zags.
Remove the pie from the baking dish using the parchment paper overhang and cut into squares.
Notes
Can be served warm or cold.
Will keep covered in the fridge for 5 days
Michelle McVeigh
Michelle is a self taught home baker who loves to experiment with flavours and teach herself new skills in the kitchen. She is based in the UK but travels to Atlanta, GA often and bakes wherever she goes!