Empanadas may be the perfect travel or on-the-go food. They are hearty, satisfying and easy to eat with one hand. Try your hand at this fall flavor rendition and remember, practice makes perfect when it comes to shaping the dough.
By Liz Harris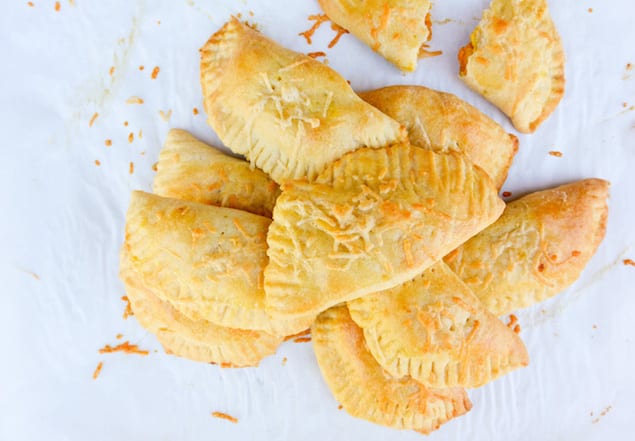 About a month back I made a batch of these empanadas and I realized they would be perfect travel food. They are hearty, satisfying and easy to eat with one hand. So I whipped up a second batch and they are nicely tucked away in the cooler of my car, ready to be devoured at a moments notice during my upcoming roadtrip (although I'll be eating them cold, I highly suggest YOU eat them warm!).
This was the first time I made empanadas. They are actually pretty straightforward and not as time consuming as I had imagined. You can prep the filling while the dough is rising. And once you get the hang of filling and folding them, it's quite easy. I do encourage you resist the urge to overfill them. You don't want the filling to be spilling all over the place. And don't worry if they aren't all identical looking (see my photographic evidence). That's what makes them so endearing! These are great game day snacks. Or turn them into a cozy fall dinner that they whole family will love.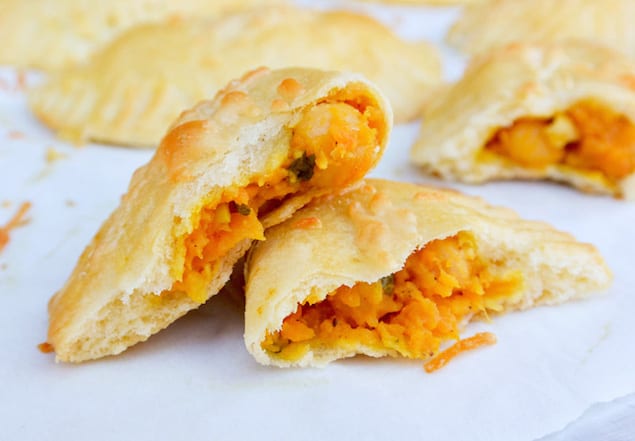 The original recipe calls for using a mix of vegetable shortening and lard in the dough. And I'm sure it tastes amazing, but I was going for something vegetarian so I skipped the lard. But feel free to add it back in, if you want.
Print

Sweet Potato and Chickpea Empanadas with Apples
---
Description
Empanadas may be the perfect travel or on-the-go food. They are hearty and easy to eat with one hand. Try this fall flavor rendition.
---
For the Dough
1 cup

whole milk

1 tablespoon

butter

3/4 cups

shortening

1

package active dry yeast

2 1/2

–

3

cups all-purpose flour (I used King Arthur Flour)

1

egg

1 tsp

. water
About

2 tablespoons

shredded Parmesan cheese
For the Filling
2 cups

sweet potatoes, peeled and chopped

1 cup

apples, peeled and chopped

1/2 cup

coconut milk (I used Thai Kitchen Lite Coconut Milk)

1

garlic clove, minced

1 1/2 tsp

. curry powder

1 cup

cooked chickpeas, rinsed and drained

2 tsp

. grated Parmesan cheese

1 1/2 tsp

. extra-virgin olive oil

1 1/2 tsp

. cilantro, roughly chopped

1/2 tsp

. ground nutmeg

1/2 tsp

. salt

1/4 tsp

. red pepper flakes
---
Instructions
Make the dough. In a small saucepan, bring the milk to a simmer. Then pour the milk into the bowl of your stand mixer. Add the butter and shortening and let the mixture stand for 10-15 minutes, or until the fats are melted and the mixture has cooled to between 105-115 degrees Fahrenheit. Stir in the yeast and let the mixture stand for another 10 minutes. With the dough hook attachment, start mixing on low speed and gradually add in 2 1/2 cups of the flour. Once the flour is incorporated, beat on medium speed for 5 minutes. The dough should be smooth and elastic. If the dough is sticky, add in another tablespoon or two or flour. Shape the dough into a ball and let it rise in the bowl of your mixer, covered loosely with a towel, until it has doubled in size, about 30-45 minutes. If your kitchen is chilly, find a warm spot in your house to let the dough rise.
While the dough is rising, make the filling. In a medium saucepan, combine the sweet potatoes, apples, coconut milk, garlic and curry powder. Bring to a boil, then reduce the heat to maintain a simmer. Cook, covered, for about 12-15 minutes. The potatoes and apples should be very soft. Remove from the heat. Pour off any remaining liquid (I had just about 1 tablespoon remaining). Lightly mash the mixture with a fork. Fold in the remaining ingredients. Set aside.
Pre-heat your oven to 425 degrees. In a small bowl, beat together the egg and the water. Line two baking sheets with parchment paper.
Punch down the dough. On a well floured surface, roll the dough out into a long, thin log. Cut the dough into 22 equal-sized pieces. Working with just a couple pieces at a time, shape the dough pieces into balls. Then roll them out into 3 1/2- to 4-inch circles. Prick the dough with a fork, then brush the edges with the egg wash. Place a rounded tablespoon of the filling in the center of each round. Fold the dough in half and press the edges together first with your fingers, and then with the tines of a fork. Transfer to your parchment-paper lined baking sheet. Continue working until all the empanadas have been formed.
Bake the empanadas in your pre-heated oven for 15 minutes. Remove from the oven and brush the tops with the egg wash. Then sprinkle lightly with some of the shredded Parmesan cheese. Return to your oven and bake for another 3 minutes, or until golden brown. Remove from the oven and let the empanadas cool slightly on their baking sheets. Using a spatula, transfer the empanadas to a serving platter and enjoy.
The empanadas are best when eaten fresh from the oven, but they can be stored in your refrigerator for 1-2 days and re-heated in the oven before serving.
Category:

Side, Appetizer

Cuisine:

Latin American, Spanish
Liz Harris
Liz is a former scientist turned cook, baker, food photographer and writer. Her kitchen is her home "laboratory" where she creates recipes for her blog, Floating Kitchen, which features seasonally inspired dishes that are fun, inventive, sometimes healthy, sometimes indulgent and always delicious! Obsessed with all things nautical, Liz has lived in coastal towns on both the East and West Coasts.