The slight nuttiness of the whole wheat pastry flour enhances the nutty flavor of the sweet potato, which keeps this quick bread incredibly moist.
By Sara Clevering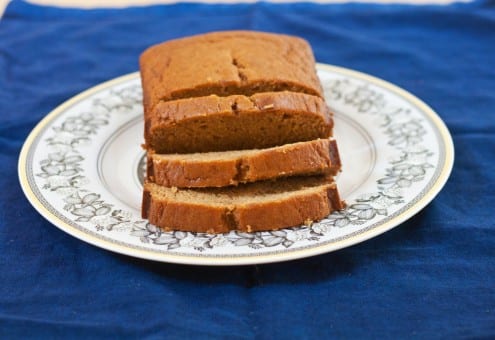 Sweet Potato Bread
The slight nuttiness of the whole wheat pastry flour enhances the nutty flavor of the sweet potato, which keeps this quick bread incredibly moist.
Ingredients
1 cup all-purpose flour, plus more for dusting the pan
½ cup whole wheat pastry flour
1 teaspoon fine salt
1 teaspoon baking soda
½ teaspoon baking powder
½ teaspoon ground cinnamon
½ teaspoon mace (or freshly ground nutmeg)
1 cup sweet potato flesh, scooped from 1-2 roasted sweet potatoes (instructions follow)
⅔ cup granulated sugar
⅓ cup packed light brown sugar
8 tablespoons unsalted butter (1 stick), melted, plus more for coating the pan
2 large eggs, at room temperature
1 teaspoon vanilla extract
scant ½ cup whole milk
Instructions
If you haven't already, roast the sweet potatoes: preheat the oven to 425F, pierce each potato several times, and place on a baking sheet lined with parchment or foil. Bake about 45m to an hour (or longer) until a knife slides through with no resistance. (Plan to do this step enough in advance so that they have time to cool. It's worth roasting a few and freezing extra for later).
Preheat the oven to 350°F and arrange a rack in the middle.
Butter a 9-by-5-by-3-inch loaf pan and dust with flour, tapping out any excess. (I also line the bottom of the pan with a very casually cut to fit rectangle of parchment paper).
In a medium bowl, stir together the flours, salt, baking soda, baking powder, cinnamon, and mace or nutmeg in a medium bowl.
Either in the bowl of a stand mixer fitted with a paddle attachment or using a hand mixer, beat the sweet potato flesh, granulated sugar, and brown sugar on medium speed until well combined. Mix in the butter on low speed until smooth (low speed so as to avoid splashing melted butter). Add the eggs one at a time, waiting until the first egg is incorporated before adding the second. Then beat in the vanilla.
Scrape down the bowl and, on low speed, add half of the reserved flour mixture, then about half of the milk. Add the remaining flour, then the remaining milk and mix until just combined. (Do not overbeat).
Scrape the batter into the pan and bake until a toothpick inserted into the center comes out clean, about an hour. Let the bread cool in the pan for 20 minutes or so, then remove from the pan and allow to cool on a rack.
Sara Clevering
Sara sees cooking and baking as a delicious way to connect with the past and travel the world from her kitchen. She is commited to preparing homemade, unprocessed meals for her family and is always looking for tricks to fit this into a busy schedule. Sara is currently in the Boston area after several years living in London, Spain, and the Czech Republic, and travelling extensively in Eastern and Western Europe, always making sure to experience local culture through food. She also blogs with her sisters at www.threecleversisters.com