Sweet Onion Salad With Orange Vinaigrette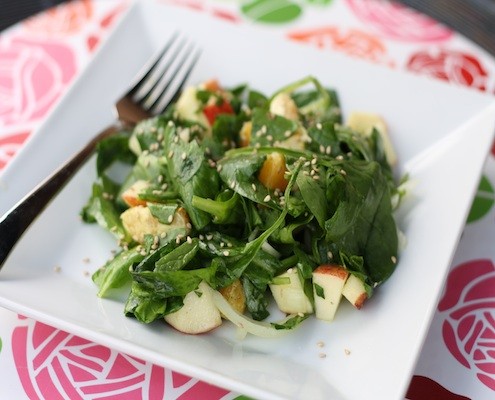 Natalie McLaury feeds her citrus addiction with a fresh and vibrant salad from Whole Foods.
Text And Photo By Natalie McLaury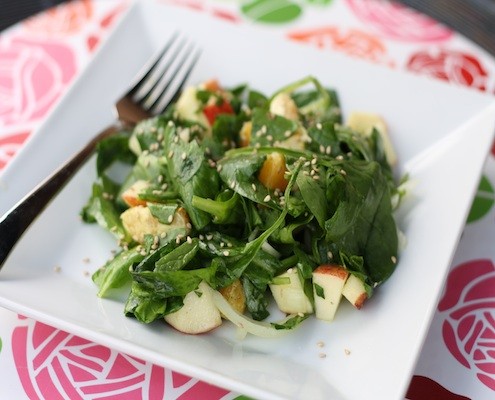 I've been on a major citrus kick lately, buying a large bag of oranges at the grocery store each week and plowing my way through them. Throughout my high school years I drank a lot of calcium-fortified orange juice, and I think I got burnt out on the flavor. Lately I have completely rediscovered my love for the juicy fruit. I don't know if oranges this season are exceptionally good or if I'm still remembering just how nasty the oranges in the college dining hall were.
When I came across this salad recipe on my Whole Foods app, I was intrigued and knew I had to try it. When bulked up with some protein, it makes an excellent main course. However, it would also be the perfect beginning to an Easter meal! The flavor is fresh and the plated salad is bright, ideal for a cheery occasion!
I've posted the original Whole Foods recipe below, which serves 6. A few notes, however, based on what I did differently (besides adjusting the quantities to serve the two of us):
-My store was without butter lettuce so I used all spinach–it was still great this way!
-The dressing was good but needed salt & pepper; add to taste
-To make the dressing, I just juiced an orange, rather than trying to "catch the juices" while cutting the orange

Sweet Onion Salad with Orange Vinaigrette
This bright and fresh salad is a fabulous option for your first course!
Ingredients
1 large head butter lettuce, chopped into pieces
2 cups (16 oz) baby spinach
1 sweet yellow onion (1/8 of it finely chopped, the rest thinly sliced)
3 apples, cored and diced
3 large oranges
2 tbsp (30 ml) white wine vinegar
2 tsp (10 ml) Dijon mustard
2 tsp (10 ml) honey
⅓ cup (80 ml) canola oil
2 tbsp (30 ml) toasted sesame seeds
4 pieces of pita bread, cut into wedges and toasted (optional)
Instructions
Place lettuce, spinach, sliced onions, and apples into a large bowl, tossing together. Set aside.
Peel oranges and, working over a bowl to catch juices, cut between the membranes to remove oranges in sections. Reserve juice in bowl and transfer orange sections to bowl with spinach.
In the bowl with the orange juice, add finely chopped onions, vinegar, mustard, and honey, whisking together. Continue to whisk constantly and add oil in a steady stream until blended.
Toss salad with dressing and top with sesame seeds. Serve immediately with toasted pita bread.
Notes
Adapted from WholeFoods.com
Natalie McLaury
Natalie McLaury is a St Louis based food writer with a passion for real food and experimenting in the kitchen. Her cooking ranges from healthy three course meals to decadent desserts, and she shares many of her food tips and recipes on her successful The Sweets Life blog . As an avid runner and fitness expert, she also gives the occasional tips on how to combine a serious interest in health with a sweet tooth.