Sweet Corn and Chipotle Chili Ice Cream with Walnut Chili Brittle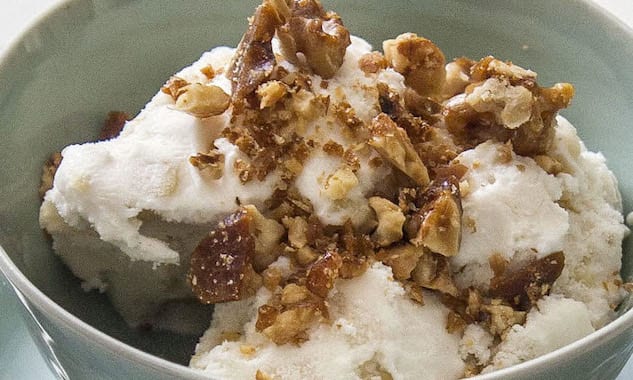 There it is, the best of summer's corn in a dessert bowl. The crunch of nut brittle with a touch of heat is the perfect end to the cool bowl.
By Kathy Gori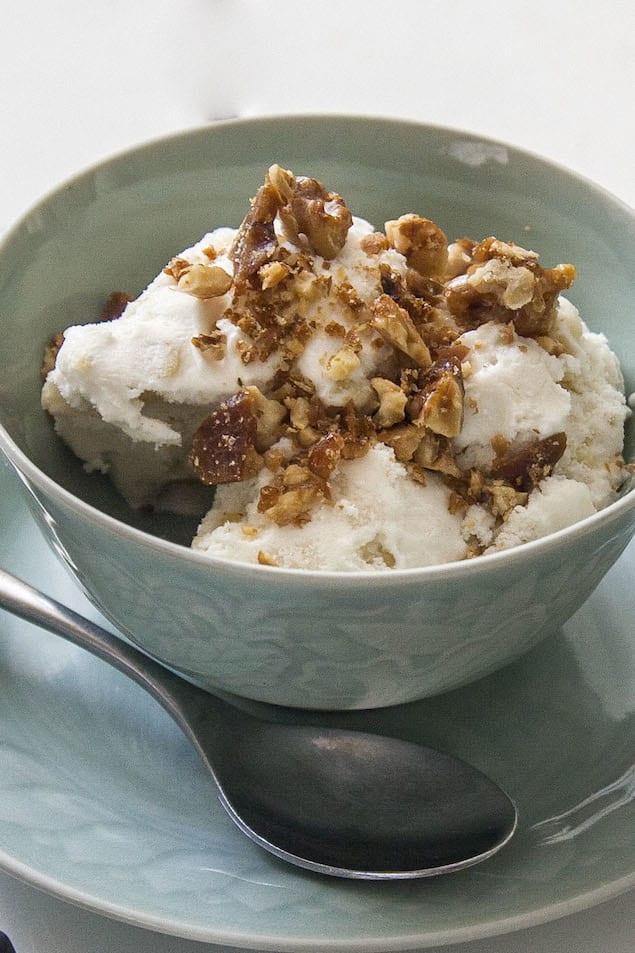 Sweet corn, soft corn, ice cream. There it is, the best of summer's corn in a dessert bowl. Sweet Corn Ice Cream. Was it good? The cream was suffused with the taste of the corn, the crunch of the nut brittle in the mix was perfect and at the end there was a nice heat to the whole thing. It was like eating cracker jack ice cream. Enough said. Definitely a keeper.

Sweet Corn and Chipotle Chili Ice Cream with Walnut Chili Brittle
There it is, the best of summer's corn in a dessert bowl. The crunch of nut brittle with a touch of heat is the perfect end to the cool bowl.
Ingredients
2 ears of sweet white corn
2 cups of cream
2 cups of milk
¾ cup of sugar
2 tsp vanilla
⅛ to ¼ tsp of ground chipotle chili
2 cups walnut halves
¼ cup of sugar
3 Tbs unsalted butter
chipotle chili to taste
a pinch of Kosher salt
Instructions
Shuck, wash and remove the kernels from two ears of corn.
Set them aside.
Pour 2 cups of cream into a large pot.
Add in 2 tsp of good quality vanilla.
Add in ¾ cup of sugar.
Bring the cream, sugar, and vanilla to a low simmer.
When the mixture starts to simmer, add in the kernels of corn.
Let the corn simmer for about 3 or 4 minutes until it's slightly tender.
Take the mixture off the fire and add in 2 cups of milk.
Add in the ground chipotle chili.
Add it slowly and in small amounts. Let it sit for a bit to let the heat develop before you add more as you want to get the heat to a desirable level.This is a total matter of taste.
Before putting the mixture into your ice cream machine let it chill in the fridge for several hours or even overnight as I did so the flavors can mellow. Before you put the ice cream in the machine check the flavor again for heat. If it's okay with your taste buds, you're good to go.
Pour the ice cream into your machine.
When it's churned and ready scoop it out and into a freezer-safe container.
Once the ice cream goes into the fridge to set up for a bit, make the Walnut Chipotle Brittle.
Add 3 Tbs of butter to a skillet.
As it melts add in add ¼ cup of sugar.
Stir it all together.
Let it all melt together.
When the caramel has thickened add the nuts to the mixture and ¼ tsp of Kashmiri chili.
Stir it all together. If it starts to thicken up too much just put it back on the heat to soften it.
Pour it onto a heatproof plate or silicone mat, Sprinkle the whole with a bit of sea salt and your are done. Let it harden a cool for a bit.
When you are ready to serve it up, chop your nut brittle.
Kathy Gori
Kathy Gori has a passion for Indian cooking. She brings 20 years of cooking experience and a natural flair for communicating her culinary adventures to her blog The Colors of Indian Cooking "A Hollywood Screenwriter, A Bollywood Kitchen". Food writer, commercial and cartoon voice actor (Rosemary the telephone Operator in Hong Kong Phooey among others) and screenwriter (Chaos Theory starring Ryan Reynolds) Kathy is also a Clio award-winner. She and her screenwriting-partner husband Alan live with their Siberian Husky Patsy in Sonoma, California.