Priya Mahadevan incorporates the super healthy and fatty avocado into one of her favorite bread recipes.
By Priya Mahadevan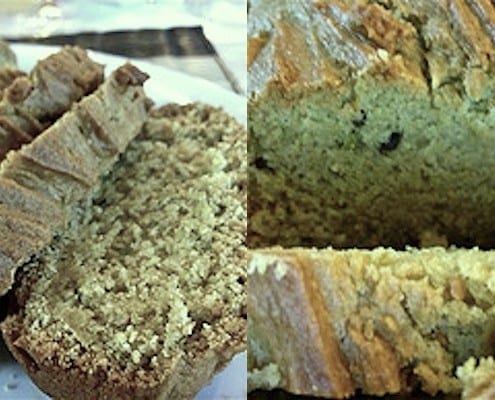 Print
Sweet Avocado Bread
With Dr. Oz stressing each time I turn him on about the goodness of this rather fatty green fruit, I thought I'd make something out of it other than the standard guacamole.
Author:

Priya Mahadevan

Prep Time:

15 mins

Cook Time:

50 mins

Total Time:

1 hour 5 minutes

Yield:

8-10
• 3 cups all-purpose flour
• 1/2 teaspoon baking powder
• 1 teaspoon salt
• 1/2 teaspoon ground cinnamon
• 1/2 teaspoon ground nutmeg
• 1 teaspoon baking soda
• 3 eggs
• 2 cups white sugar
• 1 cup vegetable oil
• 2 teaspoons vanilla extract
• 3 avocados mushed
• 1 tablespoon lemon zest
Instructions
Preheat oven at 350 degrees F. Grease (2) 9 by 5-inch loaf pans.
Sift together flour, baking powder, salt, spices and baking soda.
In a large bowl, beat eggs until light and fluffy. Add sugar, and continue beating until well blended. Stir in oil, vanilla, mushed up avocado, orange zest. Stir in sifted ingredients. Pour into prepared loaf pans.
Bake for 50 minutes, or until a skewer inserted in the middle comes out clean. Remove loaves from pans and cool.
Priya Mahadevan
Priya Mahadevan is a writer and food blogger with a background in journalism & communication. Priya's mission with her food blog is to blow the myth that healthy cannot be tasty. She was a political and feature correspondent for a prominent Indian newspaper in the 90s before moving to the US. She lives in Virginia with her husband and 3 beautiful children. You can find her world of vegetarian recipes at http://priyasnowserving.blogspot.com.