Sweet Arancini — Fried Rice Pudding
Arancini, the popular street food in Sicily, has been reinvented and fried with iconic rice pudding. Crunchy, creamy, bundles of gooey rice pudding are dipped in tangy stone fruit sauce for a perfect dessert.
By Danielle Marullo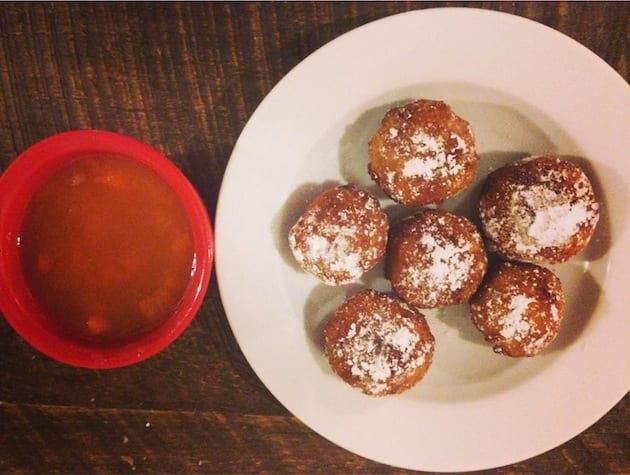 One year ago I was on the beautiful island of Sicily with my big, loud, Italian family. There are many dishes that are specific to the Sicilian culture that I grew up eating, and I couldn't wait to get my hands on the "real thing." Canolis, Eggplant Caponata, Cassata Cake, Fig Cookies and of course Arancini. Arancini are a popular street food in Sicily, so common that you can even purchase them at a gas station convenience store. Arancini are these dense, creamy, cheesy, fried rice balls that are often stuffed with things like ham, peas, ground beef and tomato sauce. The Sicilians make these so well, that even when you purchase them from a sketchy "mini-mart" chances are they are still going to be down right delicioso. I decided to reinvent Arancini and combine them with another classic rice dish, Rice Pudding. My Sweet Arancini are crunchy, creamy bundles of gooey, rice pudding, coated in a blanket of delicious graham cracker crumbs and fried to perfection. These bella balls are not complete without their silky, tangy Apricot and Peach dipping sauce. Make these for your next soiree and I promise you everyone will not be able to take their hands off your rice balls.

Sweet Arancini — Fried Rice Pudding
Arancini, the popular street food in Sicily, has been reinvented and fried with iconic rice pudding. Crunchy, creamy, bundles of gooey rice pudding are dipped in tangy stone fruit sauce for a perfect dessert.
Ingredients
Rice Pudding
2 cups water
1 cup Arborio rice
2½ cups whole milk (you can use any milk but whole works the best)
¼ cup sugar
1 tablespoon cornstarch
1 egg
Dash of Cinnamon
Pinch of Nutmeg
½ teaspoons vanilla extract
1½ cups all purpose flour
2-3 eggs beaten
1½ Cups Graham Cracker Crumbs- you may use a little less or more (you can buy the crumbs in a box in the baking isle or by the breadcrumbs or just crush plain graham crackers in a food processor)
Canola Oil or Peanut Oil for frying
Confectioners sugar for dusting
Apricot Peach Dipping sauce
1 Cup Peach Preserves (jam)
3 Fresh Ripe Apricots (you can use any fruit you like!)
1 Tablespoon Butter
Instructions
Apricot Peach Dipping sauce
First make the dipping sauce. Remove the pits from the apricots and chop the flesh into small chunks.
Melt the butter in a small saucepan and add the chopped fruit. Cook down on low heat until some of the juices release from the fruits.
Add the peach preserves and melt down until it thins out and becomes a sauce consistency. You may need to add some water if it is too thick. Place in the fridge until you are ready to use. If the sauce gets too thick just add a little water and heat it up in a pot or the microwave for a few seconds until it is warm and thins out.
Rice Pudding
In a medium pot, bring the water and rice to a boil. Stir, cover, and simmer for about 15 minutes or until the water has been absorbed. Add the milk and bring to a boil. Simmer gently, uncovered, for about 30 minutes, stirring frequently until the rice is tender. Set aside.
In a bowl, combine the sugar, cinnamon, nutmeg and cornstarch. Add the egg and vanilla and combine with a whisk. Gradually pour this mixture into the rice pudding and cook for about 2 minutes over medium heat, stirring constantly, or until the rice thickens and becomes very sticky like risotto.
Spread the rice in a baking pan or loaf pan and cover with plastic wrap. Refrigerate for about 2 hours or until completely chilled. This is a great thing to make the day before! You want the texture to be very thick and gelatinous so you can form balls easily.
Next, preheat the canola oil in the deep fryer on high temperature. Set a wire rack and paper towels aside.
Place the flour, eggs, and graham cracker crumbs in three separate bowls. Set aside.
With your hands, shape each ball of the rice pudding. You want them to be a little bigger than ping-pong balls, but you can make them as big or as small as you like! A small 1½ inch ice cream/cookie scoop works well too! When doing them by hand flour your hands to prevent the rice from sticking to you. You can also stuff them with any sweet treat you would like if you wanted!
Dredge the balls in flour and shake to remove any excess. Dip them in eggs and drain. Coat with the graham cracker crumbs.
Fry the pudding balls, a few at a time until they are nicely browned and have a nice crunchy outside, about 2 to 3 minutes. Drain on the baking sheet and paper towels and continue with the remaining balls.
Dust the rice balls with powdered sugar and serve slightly warm with the apricot peach dipping sauce!
Danielle Marullo
Danielle Marullo is a graduate of Penn State University's School of Hospitality Management and is currently a Food and Beverage Manager in New York's famous Waldorf Astoria Hotel. In the past, Danielle has assisted Chef Bobby Flay at the Food Network Food and Wine Festival in New York and, most recently, appeared on Anderson Cooper Live! where she was the winner the "Chopped Challenge" moderated by Food Network's Ted Allen, based on the popular "Chopped!" television show.'Got Room for More' is not only a statement, it's a driving force. It spans beyond hunger and appetite, it feeds our yearning for more knowledge about food. Using the hashtag #GotRoomForMore will build and foster a community of other foodies just like us.