Even if you don't know what Kladdkaka means, you will fall in love with this recipe from Johanna Kindvall.
Text And Illustration By Johanna Kindvall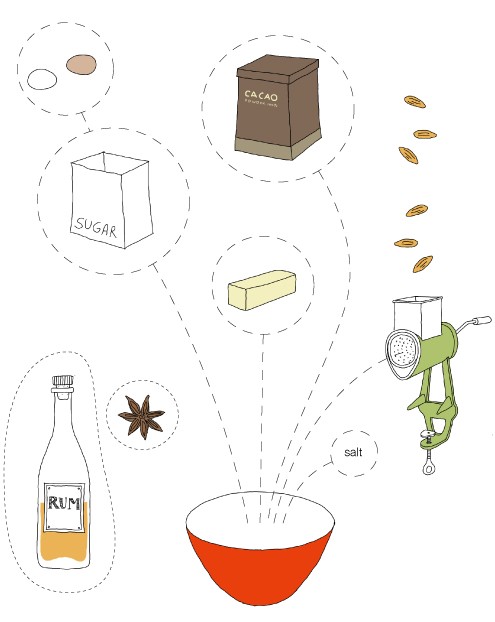 Most Swedes have probably made Sticky Chocolate Cake (Kladdkaka) at least once or twice in their lives. If not they've eaten it for sure. I don't know if this type of chocolate cake is originally from Sweden but its something that's definitely a Swedish thing to bake and enjoy. The ingredient that really makes this cake, aside from the unsweetened cocoa powder, is the ingredient that isn't there: baking powder. The idea is that the cake should be chocolate rich, sticky and dead baked (it doesn't rise)!
Most recipes for Sticky Cake contain the ingredients: egg, sugar, cocoa powder, flour, salt and melted butter. The ratio varies from one baking Swede to another. However the ingredients are simply mixed together with no fuss and baked just enough.
I have enjoyed it filled with mint or licorice, topped with whipped cream and bananas, flavored with Cognac or just plain and wonderful. In my latest version I have switched the flour to milled almonds. I also use the richest unsweetened cacao powder (like Valrhona) and, as I'm married to a Pole, I like to top the cake with Poppy seeds (makiem). The flavoring is plain, with Rum or star anise.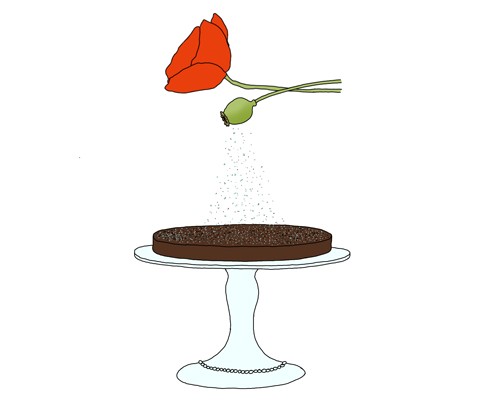 Print
Sticky Chocolate Cake (Kladdkaka)
Another version of the Swedish classic: Sticky Chocolate Cake
2

eggs

250

ml (1 cup) sucanat* (or muscovado sugar)

4

–

6

tablespoons unsweetened cocoa powder (of good quality)

one teaspoon

salt (less if using salted butter)

200

ml (7/8 cup) milled almonds

4 oz

(a touch more than

100g

) butter, melted
alternative flavors (optional): two star anise (crushed and soaked in two tablespoons of vodka for one hour) or two tablespoons of Rum
decoration: poppy seeds
Instructions
Whisk eggs and sucanat together in a bowl. Stir in the milled almonds, cocoa powder and salt. Pour in the butter and stir until smooth.
Add the flavor (optional), either Rum or the star anise infused vodka to the mixture.
Pour the mixture into a greased 9" spring form. Sprinkle some poppy seeds on top.
Bake the cake in the oven at 350 F (150°C) for about 15 minutes. The cake should just be set on top and sticky inside. Let the cake cool off.
*Sucanat is a sugar in its most natural form. Sucanat is extracted from the sugar cane and the freshly squeezed juice is evaporated. In the process only the water is removed and it preserves all of its molasses. I suggest if you can't find Sucanat to use muscovado sugar (or even regular sugar).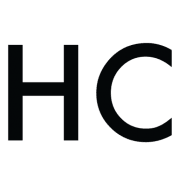 Johanna Kindvall
Johanna Kindvall is freelance designer who works with illustrations, graphics and architecture. She loves to cook, eat and draw; a combination she have been sharing on her cooking blog, Kokblog since 2005. Her recipes are more about what you can do, less about how you make them. Johanna is a Swede based in New York City. During the summer she works from her little cottage in the very south of Sweden just an hour from the Danish capital of Copenhagen.