Swedish Chicken with Lemon Carrots and Chorizo From Chef Andreas Rickegård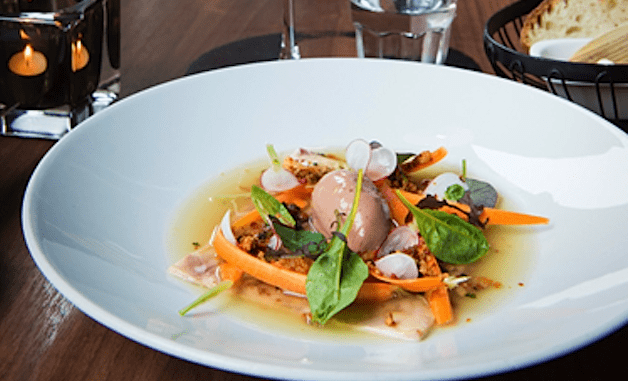 A favourite place to kick-start your weekend in Stockholm for locals and tourists alike is Restaurant Teaterbrasseriet. If you can't get there right away, try Chef Andreas Rickegård's chicken terrine recipe.
By Michelle Tchea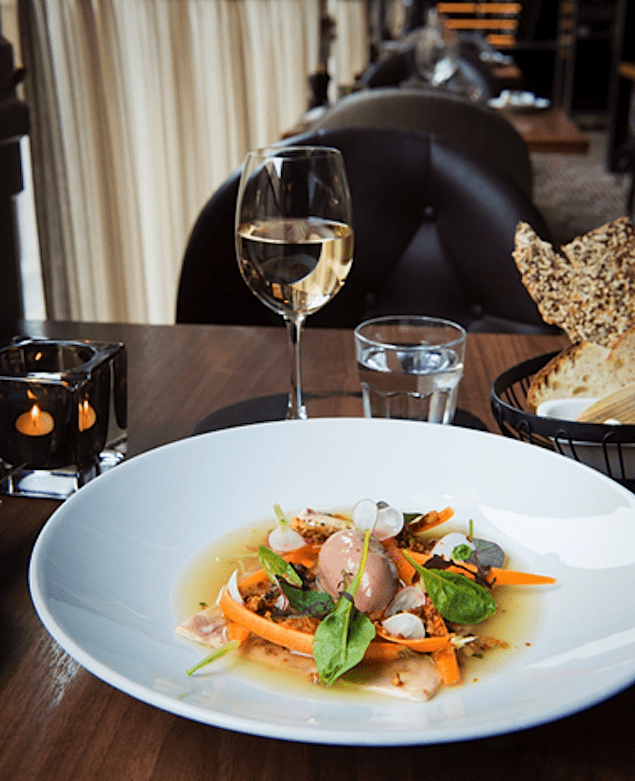 A favourite place to kick-start your weekend in Stockholm for locals and tourists alike is Restaurant Teaterbrasseriet. Situated next to the main train station, the historical building now known as Scandic Grand Central Hotel is a perfect place to sip cocktails or enjoy simple, yet delicious bistro-style cuisine with Scandinavian flavours.

Swedish Chicken with Lemon Carrots Chorizo From Andreas Rickegård
A great place to kick-start a weekend in Stockholm is Restaurant Teaterbrasseriet, with Chef Fogelberg. If you can't get there, try his chicken recipe.
Author:
Chef Niclas Fogelberg
Ingredients
For the Chicken Liver
1 kg. room temperature chicken livers
1 kg. melted butter 70 degrees,
25 g salt
3 g black pepper
3 g sugar
50 oz port wine
For the crispy chicken
1 kg. chicken
250 g bacon
25 g salt
½ lemon (zest)
thyme
Black Pepper
For the Carrots
Bunch of carrots with tops
For the Crunchy Skin
Skin from the bird
chorizo
For the Sauce
3 cups of lemon juice
300g caster sugar
60 g salt
1 ½ liters of water
20g lemon thyme
2 bay leaves
To Garnish
Watercress
radishes with white tops
To serve:
pour hot chicken broth to the liver at the table.
Instructions
Chicken Liver
Mix liver, port wine, salt, pepper and sugar completely smooth,
add the butter in a fine jet under constant mixing,
pass the batter and pour in molds. Bake at 102 degrees for 25 minutes, allow to cool completely in the fridge ...
before serving:
whisk up with softened butter;
Crispy Chicken
Shred chicken and bacon. Season with salt, pepper, lemon, thyme.
and leek ash, baking under pressure at 80 degrees.
Steam to the inside temp. 63 degree. Cool down under pressure.
Carrots
Carrots blanched briefly with shells and tops, shell rubbed off after , we split down and put in a lemon law , see recipe below. Raw carrots cut thinly on mandolin / peeler to peel and tops and place in ice water.
Crunchy Skin
The skin from the rooster is oven dried and chopped , we mix up with chorizo, chorizo ??skinned and dried in the oven chopped , jar parsley picked rough and deep fried , mix everything with roasted onions to a crisp
Sauce
Place all ingredients in a saucepan and bring to a boil. Allow to cool
Notes
Made on the cockerel from the Tocka farm located in Genarp in Skåne.
Terrine contains , tupplår , bacon, lemon , salt, pepper and thyme
We freeze the terrine and slice frozen on the cutting machine , keep frozen in portions when unexpected guests pop-in!"

To serve:
Whisk up the mousse with tempered butter before service and serve with eggs on the plate.
Michelle Tchea
Michelle Tchea is a 4-time bestselling author. Her books include, Building a Perfect Meal, My Little SoHo Kitchen, Signature Dishes (Australia's Best) and Chefs Collective. Her work can be found in other leading luxury travel and food magazines including Travel+Leisure Asia, SMILE, NUVO Magazine and The Telegraph