These awesome fried potato balls are crispy on the outside and soft within.
By Anamika Sharma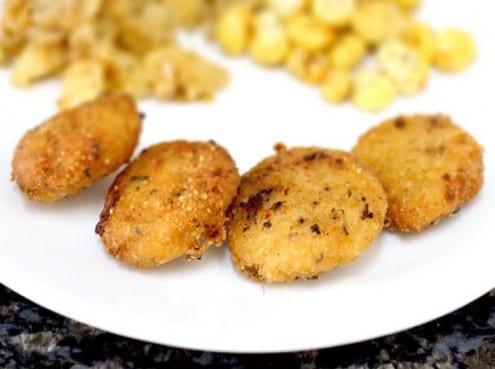 I have kept this recipe very simple and easy to prepare. All you need is Swang ke Chawal – Vrat ke Chawal with some boiled potatoes for binding and a few dry spices, and it's done!
Swang Ke Chawal Ki Tikki - Fried Potato Balls
These awesome fried potato balls are crispy on the outside and soft within.
Ingredients
- Swang ke chawal (barnyard millet) - 1 cup
- Boiled Potatoes - 2
- Salt as per taste
- Cumin Seeds Powder -1/2 teaspoon
- Green Chillies - 1 Chopped (optional)
- Crushed Peanuts -1/4 cup (optional)
- Chopped Coriander - a little
- Water -1½ cups or little less
Instructions
Soak swang ke chawal in water for about an hour.
Take a pan, add the chawal and 11/2 cups of water and allow cooking on low flame half covered.
When the water is all absorbed into the chawal and you see that the rice are cooked, switch off the flame.
Let it cool for some time.
Now add mashed boiled potatoes to the cooked chawal along with all the spices, green chillies and chopped coriander leaves and mix well to form tikki dough.
Heat oil in a kadai for deep frying.
Divide the tikki mixture in small portions and make round balls of these portions and flatten it a little.
Fry till golden brown in colour on medium to high flame. Do not turn the tikki?s immediately, let them fry from one side a little and then gently turn them and fry till both the sides are golden brown in colour.
Serve these hot with Aloo Sabzi or Aloo Raita.
Enjoy while you fast!!!
Anamika Sharma
Anamika Sharma is a passionate foodie, a food blogger with a background in aviation and telecom industry for good 15 years. Her mission is to spread the love for Indian cooking to all those who wrongly think it's too difficult. She loves to cook for her family, specially her kids. Besides cooking she also enjoys photography and traveling. MAD – making a difference is a word she chose to describe her Indian cooking site. Cooking always meant to her to be maddening and now she is mad about cooking.