Chef Cat Cora's Game Day White Bean & Chicken Chili Blanca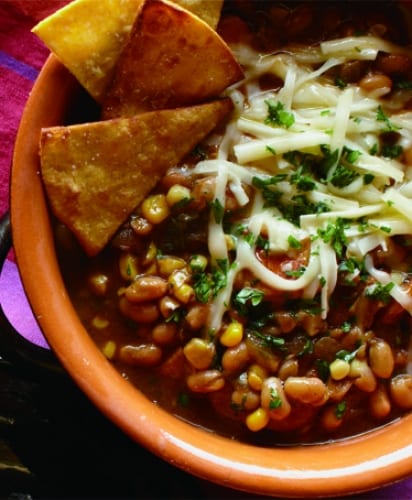 No matter where you're choosing to cheer from, it's not a proper game day without the essential snacks. If you're rooting for your favorite team from the comfort of your home, Cat Cora puts a twist on the classic dishes that will make this year one to remember.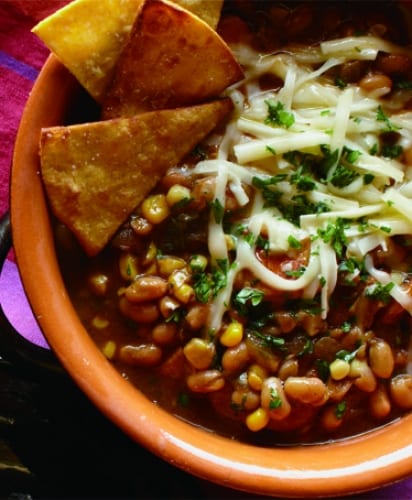 Called chili blanca ("white chili") because it uses chicken instead of beef and white beans instead of kidney beans, this hearty, spicy, and satisfying stew is a given at my house on a gray, drizzly day. It's very forgiving, so you can leave it simmering on the stove for an hour or more while you catch up on paperwork or household chores. It's a good make-ahead dish and wonderful for potlucks.

White Bean & Chicken Chili Blanca
Ingredients
1 pound Chicken tenders or boneless, skinless chicken breasts, cut into 1/ 2-by-3- inch strips
Kosher salt
Freshly ground black pepper
2 tablespoons of Cat Cora's Kitchen by Gaea's Sitia Crete D.O.P. Greek Extra Virgin Olive Oil or Kalamata D.O.P. Greek Extra Virgin Olive Oil
1 Medium onion, diced (about 1 cup)
2 Garlic cloves, minced
2 15-ounce cans White or Great Northern beans, drained and rinsed
1 cup Corn kernels, fresh or frozen and thawed
1 4 ounce Can chopped green chiles
2 teaspoons Ground cumin
2 teaspoons Pure chile powder
⅛ teaspoon Cayenne pepper
3 cups Water, plus more if needed
2 cups Grated Monterey Jack cheese
2 tablespoons Chopped fresh cilantro
Instructions
Season the chicken with salt and pepper.
In a large saucepan, heat the oil over high heat until shimmering but not smoking.
Add the chicken pieces and cook, stirring, until browned, 2 to 3 minutes.
Lower the heat to medium-high and add the onion and garlic.
Cook, stirring occasionally, until the onion is translucent, 5 to 6 minutes. Add the beans, corn, chilies, spices, and water. Bring to a boil; reduce the heat to low, and simmer, uncovered, for about 1 hour, stirring occasionally.
Add more water, ½ cup at a time, if the chili is too thick.
When the chili is done, taste and add more salt and pepper if needed.
Ladle the chili into bowls and top each serving with a spoonful of cheese and a sprinkling of cilantro.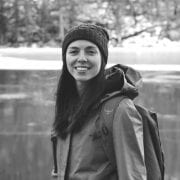 Annelise McAuliffe
Mandatory family outings to the Detroit farmers' market and nightly home-cooked meals cultivated Annelise's respect and curiosity for food. A graduate of The Culinary Institute of America, she spends her free time in New York City recipe testing, eating breakfast all day, and dreaming up international culinary adventures.