No matter where you're choosing to cheer from, it's not a proper game day without the essential snacks. If you're rooting for your favorite team from the comfort of your home, Cat Cora puts a twist on the classic Philadelphia cheesesteak that will make this year one to remember.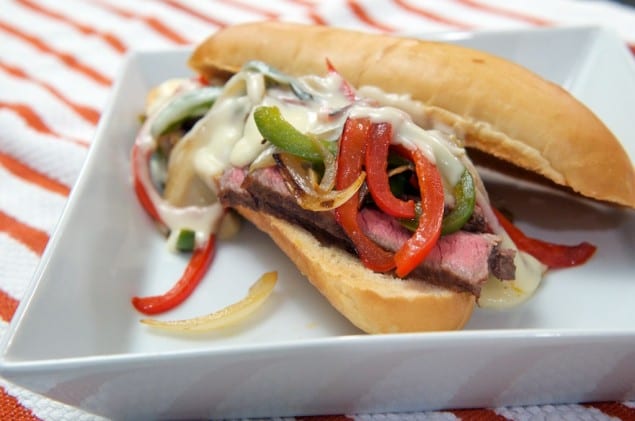 Superbowl Update: Sunday Cheesesteak Sandwiches
Ingredients
6 Tablespoon of Cat Cora's Kitchen by Gaea's Kalamata D.O.P. Greek Extra Virgin Olive Oil
1 Green Bell Pepper (Thinly Sliced)
1 Red Bell Pepper (Thinly Sliced)
1 Cup Mushrooms (Thinly sliced)
1 Large Onion (Sliced Paper-thin)
2 Tablespoon Fresh Oregano (Chopped)
½ Teaspoon Kosher Salt
1½ Pound Rib-eye Steak, 1 inch thick
4 Crusty Hoagie Rolls (Sliced)
1 Tablespoon Unsalted Butter
½ Pound Provolone Cheese (Diced Small)
2 Large Egg Yolks (Beaten)
1 Tablespoon All-Purpose Flour
1½ Cup Whole Milk
Instructions
Preheat the oven to 250 F.
Heat a large cast-iron skillet over medium-high heat. Add 3 tablespoons of the olive oil to the pan.
Add the peppers and mushrooms and saute until slightly softened, about 3 minutes.
Add the onion and saute until it's just the way you like it.
Transfer the peppers, mushrooms and onion to an ovenproof platter and place it in the oven to keep warm.
Heat the remaining tablespoons olive oil in the pan over medium-high heat.
Add the oregano, salt, and pepper to taste and saute quickly.
As soon as the seasonings are hot, saute the steak for 5-6 minutes.
Turn the steak and cook for another 5-6 minutes for medium-rare.
Remove the steak from the pan, place on a cutting board, and let it rest for 5 minutes.
Thinly slice the steak. With tongs, divide the meat among the hoagie rolls and top with the onion mixture.
Spoon some of the cheese sauce over the meat and vegetables, cover with the top of the roll, and serve.
Homemade Provolone Sauce:
Slow, gentle heat is the key to a smooth, creamy cheese sauce.
Half-fill the bottom of a double boiler with water and place over medium heat. Melt the butter in the top of the double boiler.
Add the cheese and let if soften slowly, stirring.
Meanwhile, in a medium bowl, whisk together the egg yolks, flour and milk.
When the cheese has melted, pour the egg mixture into the top of the double boiler and whisk until the sauce is warm and begins to thicken.
Continue to cook over medium heat, whisking constantly. Add salt and pepper to taste.
When the sauce is thick, turn the heat to low to keep it warm while you assemble the sandwiches.
Cover and refrigerate any leftover sauce.