These wings are marinated in pickle brine for a unique flavor profile, and two levels of hot sauce let you pick your heat intensity.
By Dawn Myers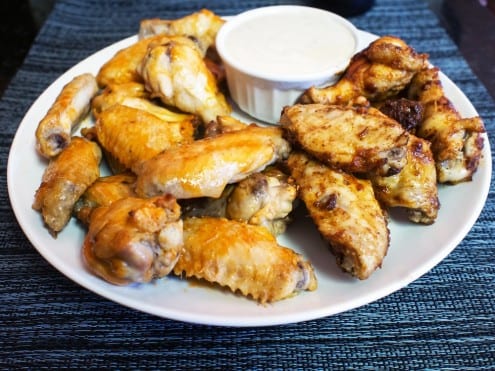 Super Spicy and Normal Spicy Buffalo Hot Wings
These wings are marinated in pickle brine for a unique flavor profile, and two levels of hot sauce let you pick your heat intensity.
Ingredients
Wing Base
2½ – 3 pounds chicken wings
Brine from 80 ounce package of Clausen's Pickles
Super Hot Wings Sauce
4 Tablespoons melted bacon drippings, lard, or vegetable oil
2 Tablespoons cayenne
2 teaspoons granulated garlic
2 teaspoons salt
Regular Hot Wings Sauce
⅓rd cup melted Ghee or clarified butter or vegetable oil
⅓rd cup favorite Hot Sauce
Instructions
Wing Base
Add chicken wings to a closable plastic freezer bag. Pour brine into freezer bag, careful not to overfill. Close bag and marinate in refrigerator for 2-3 hours.
Super Hot Sauce
Combine well melted or liquid fat and spices, divide into two portions, three quarters and one quarter (reserved).
Regular Hot Sauce
Combine well melted butter or ghee and hot sauce, divide into two portions, three quarters and one quarter (reserved).
Cook
Preheat Oven to 370 degrees Fahrenheit.
In a small bowl, place three quarters of the liquid and half of the chicken wings. Toss wings with sauce. Alternatively, you could brush the sauce directly on the wings.
Place a grate on a half sheet pan to elevate the wings. Place wings on grate.
Bake wings for 25-30 minutes until completely cooked through, turning once during the cook time. At the end of the cooking, lightly brush the remaining sauce on the wings.
Serve with blue cheese dressing and any other accompaniments.
Dawn Myers
Wife, mother of 2 lovely children, MBA, lawyer, bureaucrat. I adore reading old cookbooks and am endlessly inspired by their simplicity, economy, and true connection with the food being prepared. My blog explores "historic" recipes and more modern recipes that embody the same ideals.