A delicious take on caprese salad with tomatoes, basil and roasted garlic.
By Margo Elfstrom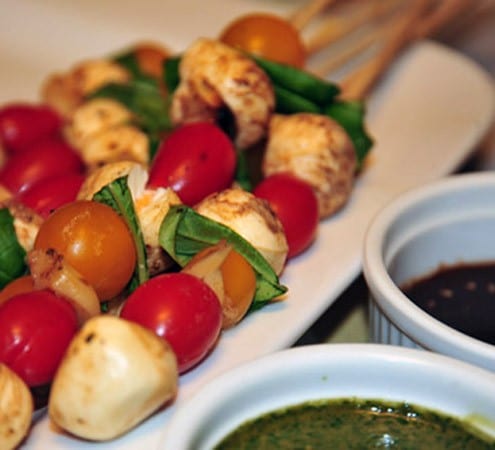 It's that time of year again…yes, it's football season (for those of you outside the US, American Football).  With football season, comes the finale called the Super Bowl.  This American ritual is, to me, very similar to Thanksgiving (a very foodcentric holiday), except that it involves television worship and large men in tight pants jumping on each other to obtain something that resembles an almond on steroids (wait…I think Thanksgiving usually involves that too).  Maybe likening the football to food is the only way I can actually understand the principle.  After all, for me the only reason to tackle another human is if he or she is trying to run away with something that I want to eat.
I think that the game would make perfect sense if the players were trying to score a cheesecake but then I suppose that it'd be a very short game because someone would inevitably wind up eating it (that and cheesecake doesn't stand up against the pressure of being thrown across a field).  I digress.
Like Thanksgiving the football ritual demands food but not just any!  Super Sunday usually involves things that can be eaten while standing, yelling at the television and being waved around.  Most Super Bowl parties involve foods that are likely to increase your chances of a heart attack while standing, yelling at the TV and waving said food around.  This year, I've decided to come up with some colorful and healthful recipes some of which can be safely waved around without the risk of a coronary or food splatters on your walls.  Putting food on a stick seems a perfect solution.  You can spear just about anything that's non-liquid, while controlling the calories and fat content.
What is it about food on a stick that's so seductive?  While I can't give a definitive answer, I can share some fun kabob recipes.  If some of you choose to ponder food question of why a piece of wood adds some sort of ritualistic enjoyment to the eating process, please let me know!  All I can say is that there is a primal pleasure in eating a kabob that seems to blend perfectly with football.  Here's a recipe for sideways caprese that translates perfectly to a kabob format but doesn't send your cholesterol through the roof.

Sideways Caprese Recipe (or Super Kebobs)
Delicious take on caprese salad with tomatoes, basil and roasted garlic.
Author:
Margo-A Saucy Cook
Ingredients
Kebobs
6 to 8 skewers
250 grams of mozzarella balls (also called cherry style mozzarella)
13 red cherry tomatoes
13 yellow cherry tomatoes
3 large basil leaves or 6 small ones
6 cloves of roasted garlic (halved)
Chimichurri Sauce
240 ml of packed fresh Italian Parsley
120 ml of packed fresh cilantro
60 ml of packed fresh oregano
120 ml olive oil
80 ml balsamic vinegar
2 cloves of garlic
3 grams of red pepper flakes
2.5 grams of cumin
2.5 grams of turmeric
2.5 grams of salt (additional to taste)
Instructions
Kebobs
Skewer one mozzarella ball, 1 red tomato, 1 yellow tomato, one piece of roasted garlic and a leaf of fresh basil (fold if necessary). Continue, alternating until the sharp tip of the skewer is covered.
Chimichurri Dipping Sauce
Add all the ingredients into a food processor and blend, adding a little water if necessary (no more than ¼ cup.
If you don't like Chimichurri, another alternative is a Balsamic Vinegar dressing that can also be used on salads.  Emulsify 1/3 cup of EVOO, and 1/3 cup of Balsamic vinegar and whisk.  From there you can add roasted garlic and salt and pepper or get creative with whatever herbs you'd like.  I might add that it goes perfectly with all sports or even a good chick flick, so don't feel limited!  ENJOY!
Margo Elfstrom
Margo began her love affair with food as soon as she was old enough to rub squash in her hair. She lives in Denver with an Australian Shepard and a gray cat. They both love her cooking. Most of her time is spent in the kitchen but she still finds time to photograph pretty things, write and create artwork. Margo is definitely right brained.