Greenpoint Fish & Lobster Co. hosts a "Sunday at Sea" cruise full of fresh seafood and striking views of New York City.
By Carly DeFilippo
Photos by Madeleine Goico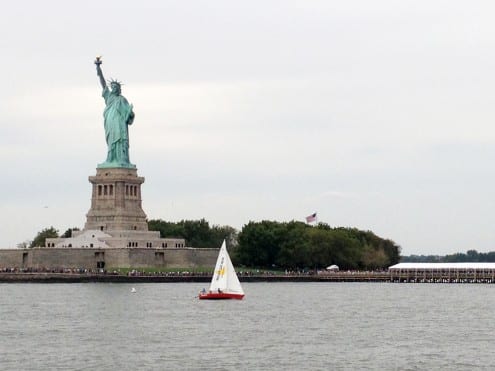 While many New Yorkers flee to the beach during the dog days of summer, I've long been a proponent of sticking it out in the city. (In fact, given how beautiful the weather's been this August, there's been little motivation to leave.) I find the race to leave a bit funny, being that Manhattan is an island, surrounded by water on all sides—an essential part of the city's character that is too often overlooked.
Still, my own relationship with the waterways of the city is typically restricted to biking over bridges and an occasional meal in view of the Hudson. So when I heard that Greenpoint Fish & Lobster Co. was hosting a "Sunday at Sea" seafood cruise, I was eager to jump on board.
My fellow sailors were a motley crew of local families, bearded Brooklynites and ladies who brunch—in short, shellfish lovers of every shape, age and size. And at the very reasonable price of $60 for a three hour sail, open bar and a generous seafood menu, it proved to be a cozy (but not crushed) crowd aboard the The Jewel.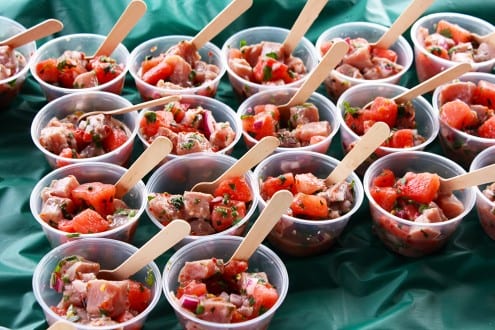 On the top deck, they immediately began serving ahi tuna and watermelon ceviche, a refreshing and still densely meaty take on one of summer's freshest dishes. From there, I slurped down two types oysters—Salutation Cove and Montauk Pearls—a delicious contrast of salinity and sweetness.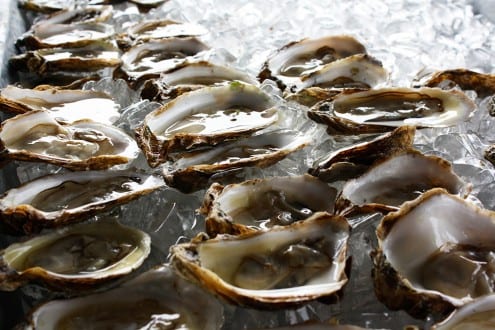 Downstairs, an eager line had grown, waiting on beautifully overstuffed lobster rolls and homemade slaw. As I waited patiently, I enjoyed watching Adam of Greenpoint Fish and his crew methodically butter and grill each hotdog roll, line it with crisp lettuce and add a hearty scoop of lobster meat. The end result? Cold, sweet and buttery—perfect for the surroundings.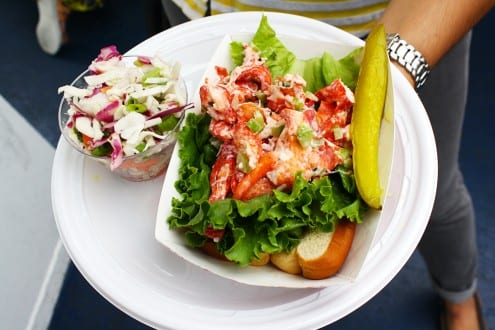 As we cruised by Governor's Island and toward the The Statue of Liberty herself, groups of friends started to shimmy on the dance floor. Shyer sorts went for the whoopie pies, supplied by Cookie Fairy Sweets (which were, arguably, pretty magical).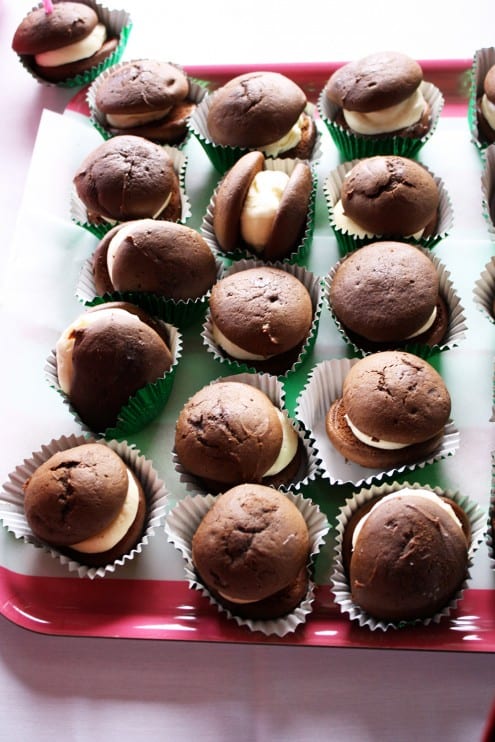 On the way back, we sailed past the ruins of the Domino Sugar Factory, a Brooklyn monument that will sadly be removed from our shores. And then, perhaps my favorite view, a close-up look at the Pepsi Co. sign in Long Island City, just before returning to dock, bellies and minds full of sea breeze and shellfish.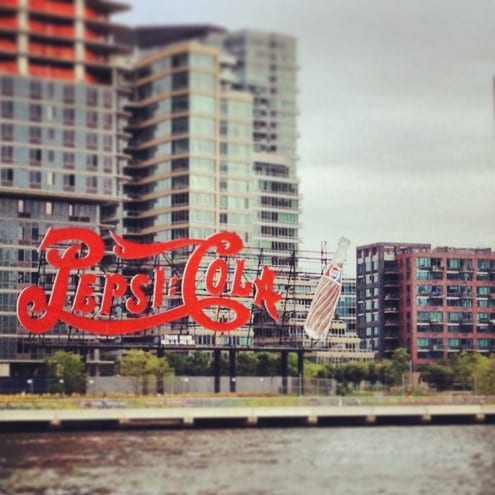 Carly DeFilippo
Carly is a Contributing Writer at Honest Cooking. Though the first line of her college application essay was "I love tunafish," it wasn't until she pursued graduate studies in Paris that she ever considered a future in food. Based in Manhattan, Carly is a freelance writer and the co-founder of Cognoscenti Creative, a boutique branding agency dedicated to establishing artisans as influencers.