Here, a classic pesto recipe becomes a great seasoning to a simple salad made with boiled new baby potatoes and raw zucchini ribbons.
By Valeria Necchio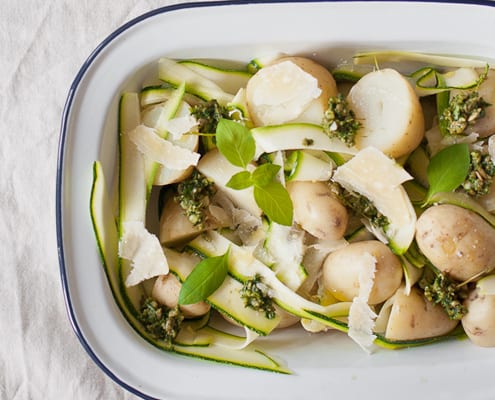 Few things taste of summer like a great, freshly made basil pesto. Every year, given the abundance of basil in the garden, I make a lot of it, and its grassy, garlicky and fragrant scent fills rooms and enhances appetites. Liking it quite powerful, I tend to use as much as I can in the days following the pesto-making session. Whatever seems too much ends up in the freezer, ready to be taken out and thrown on top of some pasta whenever I fancy some summer breeze out of season. I am usually quite faithful to the classic recipe of pesto alla genovese, which calls for Ligurian type basil, pine nuts, garlic, Ligurian extra virgin olive oil, and a mix of Parmigiano and pecorino cheese. However, sometimes I like to twist things a bit, maybe because I don't have all the proper ingredients, or simply because I fancy a change –so, I go for different combinations of nuts and cheese. As for its usages, I enjoy it on pasta, especially linguine and trofie shape, but it works great also as a spread,on a slice of toasty bread, or as a salad dressing.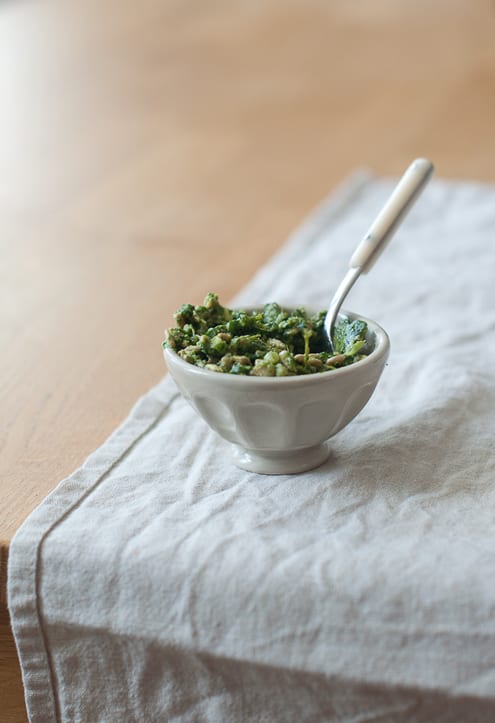 See Also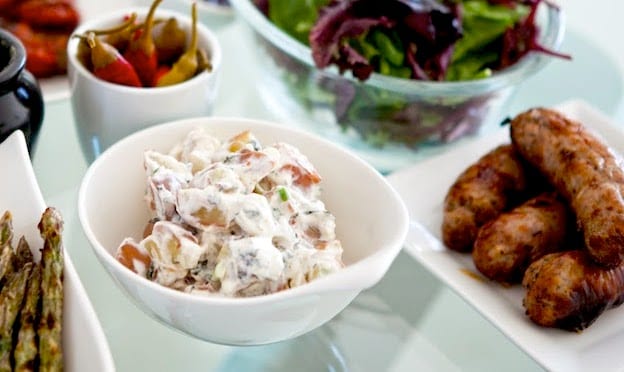 In this case, a classic pesto recipe  becomes a great seasoning to a simple salad made with boiled new baby potatoes and raw zucchini ribbons –one of the best ways to enjoy very fresh zucchini. The combination of textures and flavors between sweet, soft potatoes, crisp zucchini, savory grassy pesto and some salty ricotta salata works just great, and results in a well balanced dish, filling yet fresh and light. Seasonal, healthy and satisfying.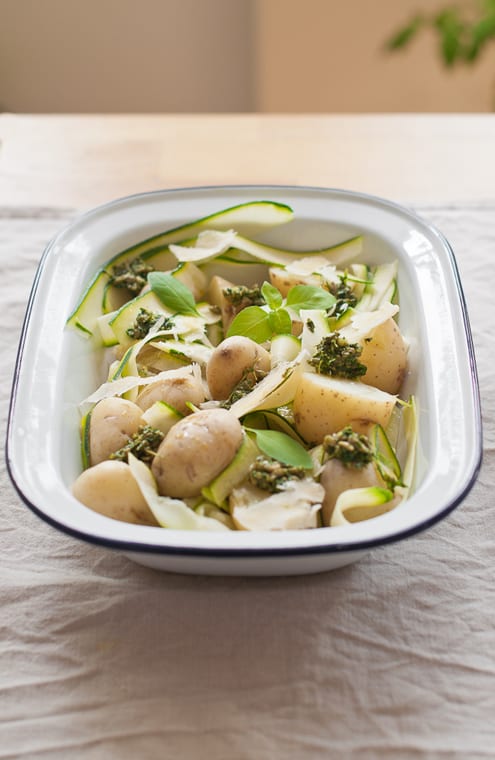 Summer-y Pesto Potato Salad with Zucchini Ribbons
Ingredients
For the pesto:
4 cups fresh basil
2 small chunks of Parmigiano
½ garlic clove, minced
pinch of salt
2 T pine nuts
¼ cup extra virgin olive oil, plus more to taste
For the salad:
500 gr baby new potatoes
2 medium size zucchini
½ teaspoon fine grain sea salt
2 tablespoons extra virgin olive oil
½ cup shaved ricotta salata
fresh basil leaves, for garnishing
Instructions
To make pesto, place all the ingredients except for the oil in a blender (if you want, you can make your pesto using a mortar and pestle).
Pulse a couple of times, then add the oil slowly and keep pulsing a few more times until you obtain a coarse cream. Add more oil for a smoother pesto.
Scrap the edges or the blender, pulse one more time. Set aside.
In the meantime, wash well potatoes and cut the bigger ones in halves.
Bring a bit pot of salted water to a boil, add potato and cook until tender (do not overcook or the salad will be a mess!).
Drain and rinse with cold water, until cool.
Cut zucchini in two halves lengthwise. Using a potato peeler, shave zucchini to create some long, thin stripes.
Place potatoes and zucchini ribbons in a salad dish and season with oil and salt.
Add some of the pesto (I will start with a couple of tablespoons, then and add more to taste), stir.
Top with shaved ricotta or Parmigiano and the fresh basil leaves. Serve.
Valeria Necchio
Valeria Necchio graduated from the Unviersity of Gastronomic Sciences with a master's degree and immediately took off on a path connecting her passions of good food and photography. A true Italian, she likes to spend time at the weekly market, in the kitchen and behind the camera.