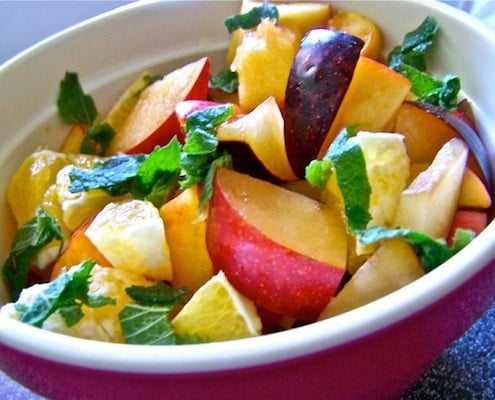 On a trip down memory lane, Jerri Green sets out to recreate childhood memories with a lovely summer fruit salad.
By Jerri Green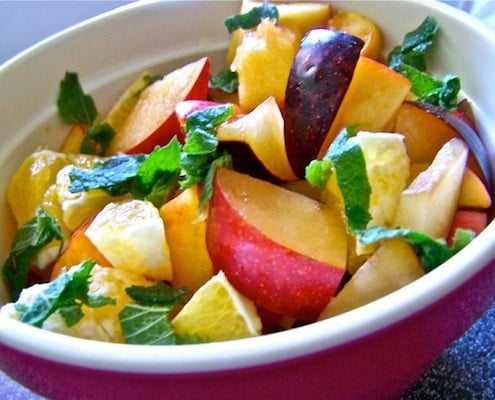 Certain foods carry me back to my childhood. My earliest memories of fresh food came from my great-grandmother's kitchen. They had a small farm in their backyard that in the summer was full of fresh corn that we shucked ourselves, purple hull beans that we snapped until our fingers were inky, and ripe blackberries that were best popped right into your mouth from the prickly vine. There was also all manner of fruit trees on the property. And while I have fond memories of the bartlett pears, pink lady apples and dark cherries, my favorite by far was the red and black plums. I remember the ripe fruit would fall to the ground next to the watermelons swelling in size each day. There is just nothing better in my opinion than a juicy plum. Harking back to these sweet childhood memories, I decided to make a stone fruit salad after I came across some pristine plums at my market the other day.

easy fresh fruit salad
Recipe Type:
side dish, dessert
Ingredients
one red plum
one black plum
one ripe peach
half of a large navel orange
juice from half a lemon
a few sprigs of fresh mint
Instructions
Wash each piece of fruit thoroughly.
Peel the orange and remove pith.
Slice the plums, peach, and orange coarsely.
Place in a medium mixing bowl.
Squeeze lemon juice over the mixture.
Toss thoroughly.
Top with fresh mint.
This simple stone fruit salad is great at lunch.
I recently had it myself along side an avocado drenched in olive oil and lemon juice, and some chickpeas mixed with tomatoes and red onion in a red wine vinegar dressing. It was divine. But this is also a refreshing fruit dish that I can get my carnivore hubby to eat on a hot summer day. It is wonderful with burgers and grilled corn (and would keep you form having to turn the oven on in these record breaking temps). I have even had it when my mom was visiting with a dollop of honey vanilla Greek yogurt topped as a delicious dessert. Any way I serve it, it always takes me back to my great-grandmother's farm and her simple southern dishes.
Jerri Green
Jerri Green is a vegetarian that lives with and loves a self-proclaimed carnivore. She makes meals work for everyone while juggling the mounting demands of motherhood. Nothing fancy but always fresh, she draws on her southern heritage to bring satisfying food to the table each and everyday.