This Tart needs time to 'cook' in the fridge, so start it the night before or in the morning for dinner.
By Tania Cusack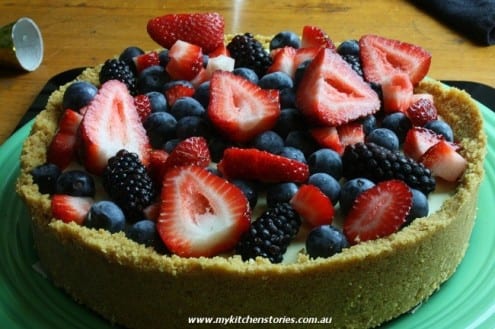 Entertaining would throw my Mother into a fit of panic. This panic would encompass all living creatures…all rooms would be spring cleaned , rugs vacuumed, fridge cleaned out and even the poor dog,  had to be washed and brushed. That is why dad would invite people along for a casual "cup of tea" and a sip his home made sherry ( always dangerous).  At these  times Mum would need to go to her sparse store cupboard and whip open a  a boxed cheesecake that required no cooking,  in Australia , when I was a girl they were a new entertaining sensation. (We had only just shaken the shackles of old England to come up with our very own ideas…. it even had a very tropical pack of Pineapple topping for a finishing flourish) This was Mums go to dessert …..poor Mum.   ( and poor Dad after they left).
During the hot months of summer this kind of no bake cheesecake is of course a great idea.  If I had known how easy it was to make without the aid of a packet when I was a child….. well then that would have been a different story wouldn't it?   I recently watched the voluptuous Nigella Lawson throw together a similar tart/ cheesecake using lemon curd. I developed this rather tasty version with berries and a lot less licking of my fingers while looking at the camera.  Give it a try as the berries appear and the temperature rises.
See Also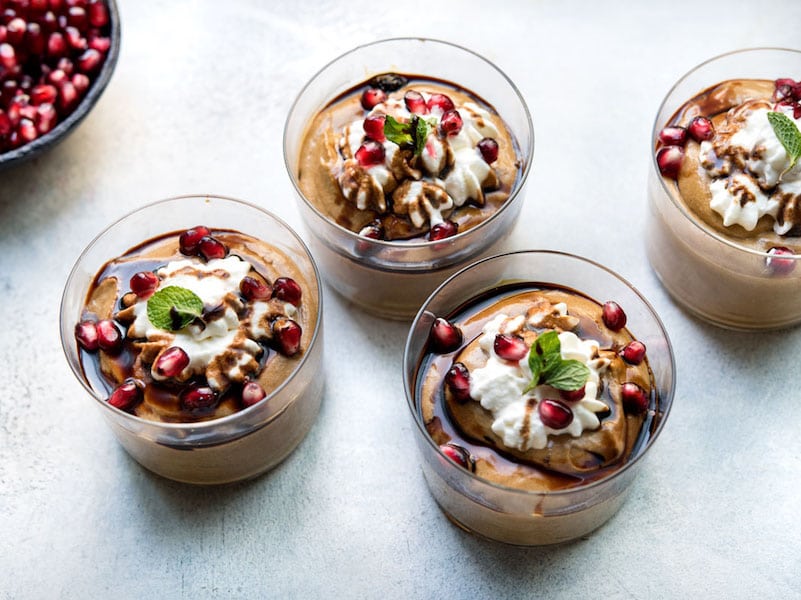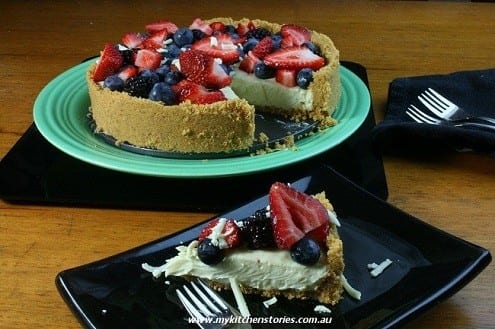 Print
Summer Berry Tart
---
Author:

My Kitchen Stories

Total Time:

20 minutes

Yield:

6

1

x
Description
This Tart needs time to ' cook' in the fridge, so start it the night before or in the morning for dinner.
---
Crust
250

gm ( 8 oz)pkt Granita biscuits

80

gm ( 3 oz) soft unsalted butter
Filling
1

x 250 gm (

8 oz

) cream cheese, left out to warm while start making the tart

150

gm ( 5.3oz) white chocolate (not vegetable based melts )

200

ml ( 7 oz) thickened cream (at least 35% butterfat)
Very fine Zest of 2 lemons and up to 60ml lemon juice ( 3 Tablespoons)
Berries, 1 punnet of strawberries,blueberries and mulberries. You can use raspberries or any other berry you like
---
Instructions
First put the cream into a jug and microwave until hot, or heat gently in a saucepan, take off the heat before adding the white chocolate stirring to melt. Set aside while you make the crust
Put the biscuits in the food processor and blitz them until they are fine crumbs.
Add the soft butter and combine. Press the crumbs into a tart case or shallow sided cake tin of about 20 cm ( 8 in). Make sure to press the crumbs all the way up the sides. ( this may be fluted, but it should have a removable bottom)
Put the cream cheese into the food processor with the zest, juice and white chocolate cream and process until smooth.
Pour into the crumb case and put into the fridge to set. It will take a couple of hours to fully set
Serve this tart with berries and grated white chocolate.
You could substitute the biscuits for a gluten free brand.
Add a crushed berry puree for colour and taste.
Drain some Greek yoghurt for a day over as colander and use this instead of cream.
Or serve it with roasted rhubarb or quince
***But you could make it in small glasses or cups, make it gluten free by using rice cookies, add praline or berry puree.
Tania Cusack
After completing Culinary School in Sydney, Tania travelled the world working as a Chef in restaurants, doing catering and cooking on road for a travel company in Europe and the US. Once back at home, the birth of her son meant a change, and during his small years, she enjoyed jobs in wholesale food, buying Artisan food products, testing and recipe writing as sales and educational tools. Tania is now back to what she loves, working as an in house Chef for a large retailer, conducting Cooking Classes and writing recipes for her blog.