Tamara Novacoviç with zucchinized twist on a classic Croatian stuffed pepper recipe.
Text And Photo By Tamara Novacoviç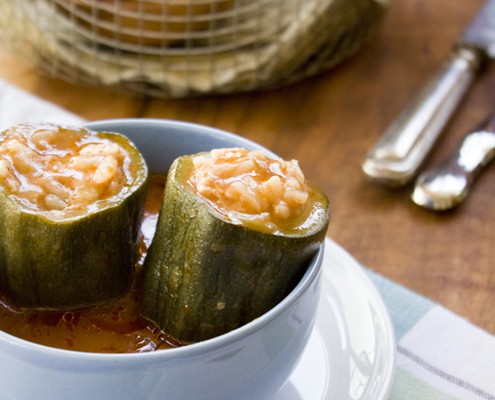 This is a version of a dish often made and enjoyed in Croatia-stuffed peppers cooked in tomato sauce. The thing is, I really don't like stuffed peppers. I'm not so fond of my childhood memories connected to that dish. I hated days when we has stuffed peppers for lunch, I had to force myself to eat several spoonfuls of it. As I grew up, I tried to dicompose the dish in my head and come to terms with what part of it I didn't like. The answer was quite simple-peppers. The entire dish assimilates their aroma, which I just don't like in that particular combination. Then one day mom cooked stuffed zucchini. No peppers. With ground turkey meat instead of pork and beef. And I fell in love. So ended my stuffed pepper torture.
Zucchini have nicer and more subtle aroma than the peppers. Ground turkey is also lighter than ground pork. But you can use pork or pork and beef meat combined. This dish is usually served with a lot of tomato sauce and mashed potatoes.
See Also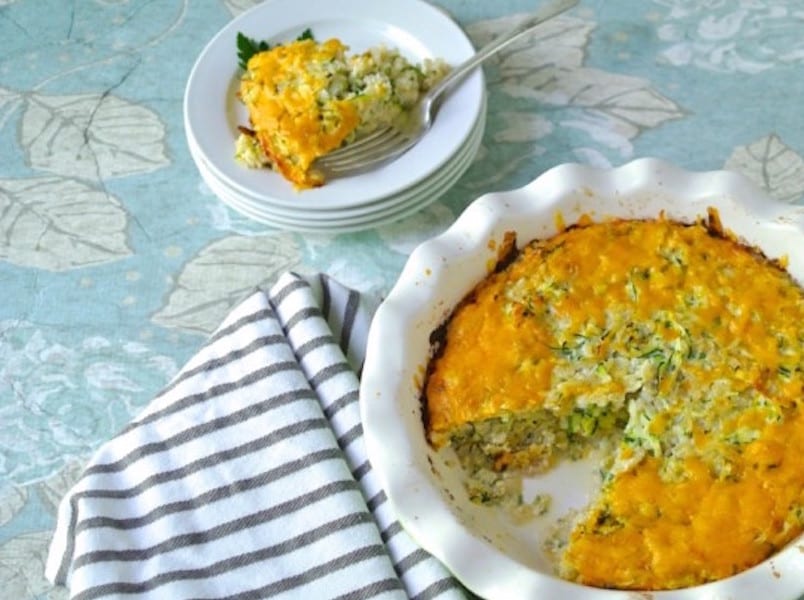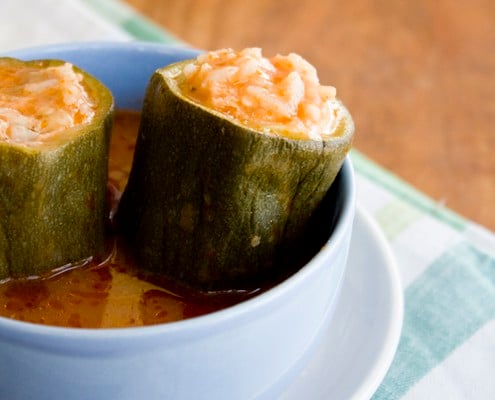 Stuffed zucchini in tomato sauce
Summer's almost here. This is a great way to use all those zucchini!
Ingredients
5 medium size zucchini
1 lb (500 g) ground turkey meat (or ground beef, pork)
some olive oil
1 onion
2 cloves garlic
a handful of rice
½ tsp basil
½ tsp smoked paprika
salt and pepper-to taste
¾ cups (150 ml) tomato puree (homemade, store bought...)
¾ cups (150 ml) water
2 tbsp flour
Instructions
Wash zucchini and cut in half. Use spoon to take out its meat and leave for later, set aside.
Heat some olive oil and add finely chopped onions. Then add finely chopped garlic and ground meat. Saute for several minutes. Add spices, rice, chopped zucchini meat and some water (enough to cover the ingredients) and let cook on low heat. When cooked, fill zucchini halves with it.
While it cooks, make the sauce: Take your tomato puree, combine it with water and whisk flour into it. Put everything into a large pot, add stuffed zucchini halves and let cook on low heat until zucchini are completely cooked-soft.
Serve with mashed potatoes.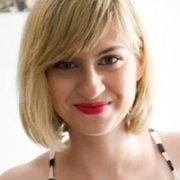 Tamara Novakoviç
Tamara Novakovic is a passionate self-taught cook, food blogger, freelance food writer and photographer behind bite-my-cake.blogspot.com. Her life journey has led her through Faculty of Humanities in Zagreb, Croatia to discovering passion for making cakes. She is currently a weekly food columnist for Croatian newspaper V magazine and food magazine Repete.