Stuffed Zucchini Blossoms are a dish that's uniquely Italian. Stuffed with the traditional mozzarella and anchovies, battered and then fried to perfection.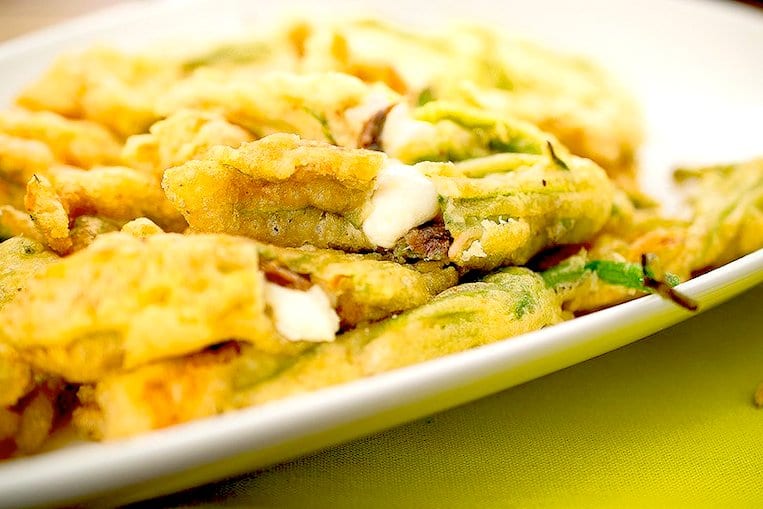 There are certain dishes that remind me of summertime in Rome…when certain vegetables are only in season and at their freshest. Zucchini blossoms hold a special place in my heart in the summer, because the are only available at this time, and that they are so delicious and uniquely Italian!
I make them with an extremely light and flavorful batter and flash fry them, no to disturb the delicate texture and interesting characteristics of these flowers. They are the perfect starter for your summer dinner party, or as a passed appetizer at a cocktail party. You can fill them with nothing, or almost anything you like, but traditionally, they are filled with mozzarella and anchovies, which is how I prepared them for this recipe.
If you don't see them available at your farmer's market or produce department, ask the manager to order them for you, and they will if they are available near you. If you've never tried them before, do it, I can promise you will not regret it and if you have had them before, this recipe will take you straight back to the Eternal City!
Buon Appetito!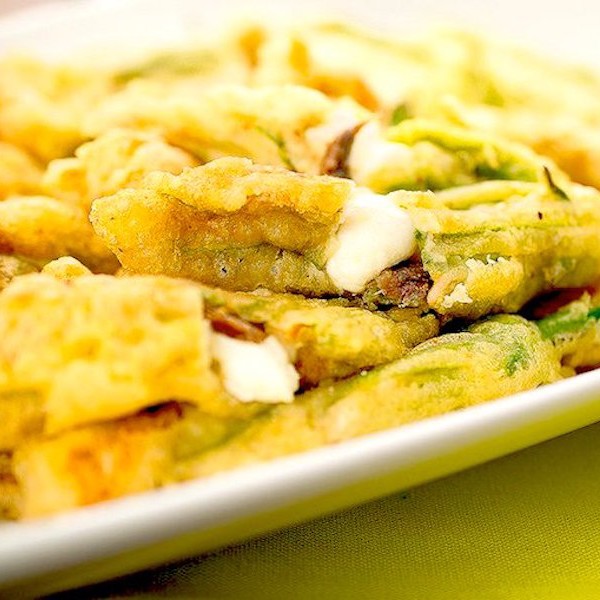 Francesco Romano
Ingredients
vegetable oil for frying

20

zucchini blossoms

1

large mozzarella ball

cubed

10

anchovies filets

packed in olive oil and halved

2

cups

all-purpose flour

1/2 to 2

cups

of iced sparkling water

1

teaspoon

salt

1/2

teaspoon

pepper

1/2

tablespoon

baking powder
Instructions
Cut the side of each blossom and stuff with one cube of mozzarella and a piece of anchovy, place on a large platter and set aside.

Pour 3 inches of oil in a large wok or large heavy pot and heat to 375 degrees F.

In a large mixing bowl, add the flour, baking powder, sparkling water and mix until the batter is the consistency of heavy cream.

Dip 2 zucchini flowers at a time in the batter to coat completely, and let the excess batter drip off.

Fry the flowers in the hot oil for 1 minute on each side gently rolling them with the help of a spatula, until crisp and golden brown.

Pull gently out of the oil and set them on a platter lined with paper towels, season with salt and pepper while they are still hot.

Repeat the steps with the remaining zucchini flowers.

Serve immediately.
Francesco Romano
Francesco Romano was born in Italy and has been living in America for 25 years. As he was growing up, he didn't realize how spoiled he was! He had two of the best chefs under one roof, his Grandmother Nonna Sara and his Mama Francesca, who made every meal from scratch and with love. As a kid, he would sit in the kitchen for hours while these women were hard at work, enjoying the smells, tasting when he was allowed to, and later being put to work to help make fresh pasta. It wasn't until he was a grown up, moved away from home, and later to America, that he understood how much of his heritage and family centered on food. It was always made from fresh seasonal ingredients and was a way of bringing the family together to savor, to bond and to enjoy. On his site you WILL find mouth-watering food that is fresh, easy and authentic Italian, straight from my Mama's kitchen to yours.