Strawberry-White Chocolate Cheesecake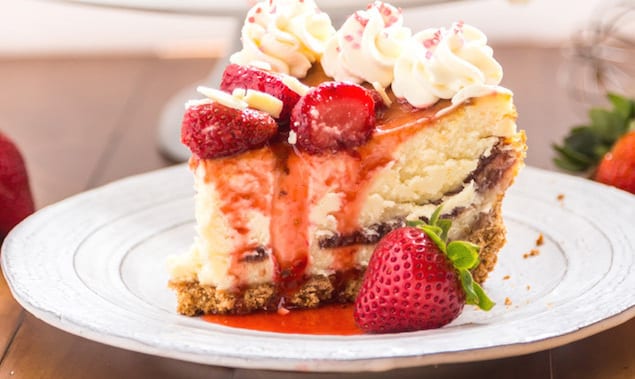 A perfect dessert for any summer celebration, this cheesecake is so easy to make. If cracks on the top appear, don't worry, the sweet strawberry sauce is there to cover it up and add great berry flavor.
By Manali Singh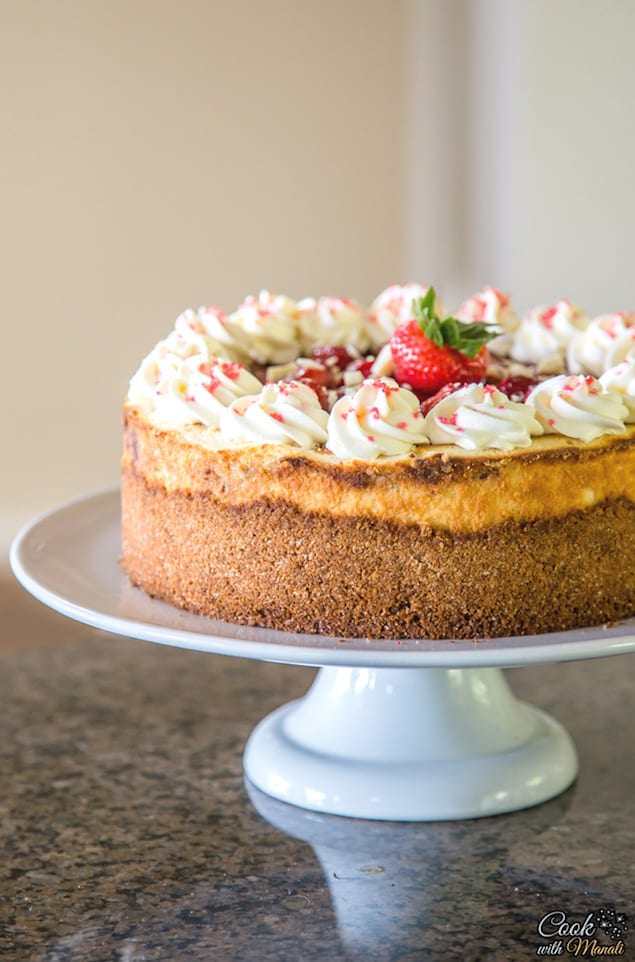 White chocolate and raspberry is the more popular combination in the baking world but since I had a big jar of strawberry jam and some fresh strawberries lying in my refrigerator I thought why not give this combination a try? And I must say it turned out delicious, actually anything with berries is always a winner in my book!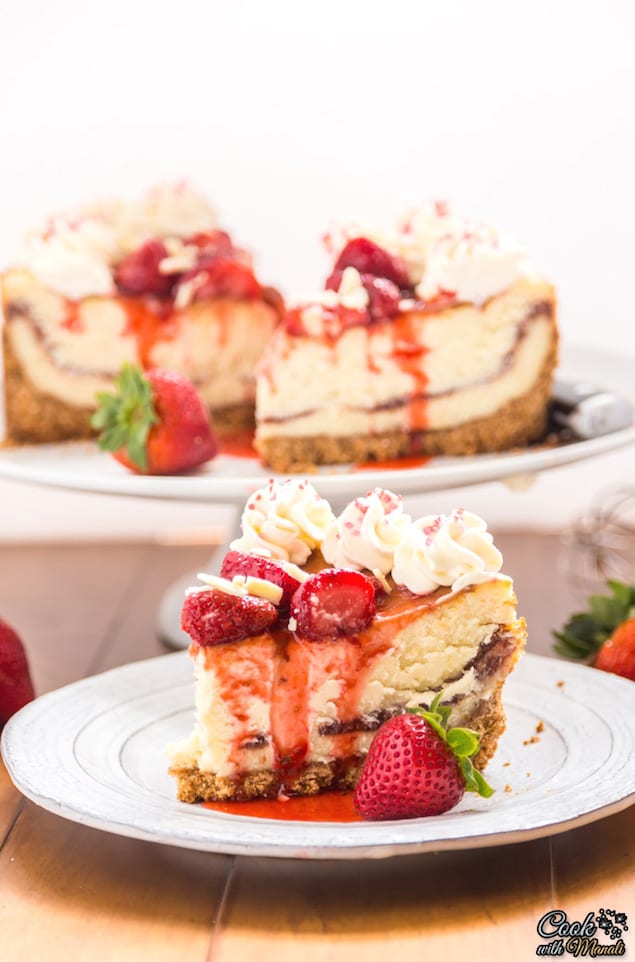 Making this white chocolate strawberry cheesecake is really simple. You just need to mix everything together and then bake. Once the cheesecake is baked, let it set in the refrigerator for 24 hours and then make the strawberry sauce and pour over it. I have noticed that people are little intimidated by cheesecakes, trust me they are not hard to bake at all. And don't worry about the top cracking as you are going to cover it with sauce anyway!

Strawberry-White Chocolate Cheesecake
A strawberry-white chocolate cheesecake is a perfect dessert for a summer party, complete with a berry sauce to cover any cracks that may occur while baking.
Recipe Type:
Dessert, Baking
Ingredients
Crust
3 cups graham cracker crumbs
10 tablespoons unsalted butter, melted
⅓ cup granulated white sugar
2 oz white chocolate chips
Filling
4 x 8 oz cream cheese
½ cup sour cream
1 teaspoon vanilla extract
8 oz white chocolate chips, melted
3 tablespoons all purpose flour
3 eggs, large, at room temperature
1 cup granulated white sugar
½ cup strawberry jam
strawberry sauce
2 cups strawberries, fresh
½ cup granulated white sugar
1 tablespoon water
¾ tablespoon cornstarch
¾ tablespoon lemon juice
for garnishing
whipped cream
white chocolate curls/shave
fresh strawberries
Instructions
Make the crust
Preheat oven to 350 F degrees.
Using a food processor, crush the graham crackers. You need 3 cups of graham cracker crumbs for this recipe. Transfer to a bowl and add granulated sugar to it and mix.
Add melted butter and and mix till crumb is moistened.
Transfer the crumbs to a 9 inch springform pan and press on the bottom and sides of the pan. Use the back of your measuring cup to press down the crumbs firmly.
Bake the crust at 350 F degrees for 7-8 minutes. Remove from oven and set aside.
Make the filling
Preheat oven to 325 F degrees
To make the filling, start by beating room temperature cream cheese using paddle attachment of your stand mixer or your hand mixer.
Add sour cream, granulated white sugar and vanilla and mix till well combined for around 2-3 minutes. Be sure to scrape down the sides and bottom of the bowl.
Add eggs, one at a time and mix after each addition.
Melt white chocolate chips in your microwave, stirring them after every 20-30 seconds. Let the chocolate cool down a bit and then add to the batter and mix.
Finally fold in the flour. Do not beat the batter too much at this point.
Sprinkle 2 oz of white chocolate chips on the bottom of the prepared crust.
Pour ½ of the cheesecake filling on the top of the crust.
Microwave strawberry jam for 30-45 seconds so that it's easier to spread. Pour the jam over the filling and make swirls using a knife.
Now pour the remaining cheesecake filling on top.
Bake at 325 F degrees for 55-60 minutes or until the top of cheesecake is light brown in color. The center of the cheesecake should still be little jiggly.
Once the cheesecake is baked, switch off the oven and let the cheesecake sit inside the oven for 1 hour [with the oven door slightly open].
After 1 hour take the cheesecake out of the oven and let it cool down.
Once the cheesecake has cooled down, keep in the refrigerator for 24 hours or for a minimum of 6 hours.
Strawberry sauce
Make the strawberry sauce by heating strawberries with 1 tablespoon water and granulated white sugar in a pan on medium heat.
Stir till the sugar melts and dissolves completely, around 2-3 minutes.
In a bowl, mix together fresh lemon juice and cornstarch.
Add the cornstarch liquid to the strawberry sauce and cook for another 3-4 minutes or till the sauce thickens.
Remove from heat. Let it cool down a bit.
Serve
Pour the prepared strawberry sauce on top of the cheesecake and garnish with white chocolate curls.
Cut the cheesecake into slices, top with some whipped cream and serve.
Manali Singh
Food lover, recipe developer, food photographer and a big time baking addict. I live in Seattle with my husband and share simple and delicious vegetarian recipes on my blog Cook With Manali.