These scones are sure to be a hit at your next brunch, light and flaky and flavorful but not too sweet.
By Deena Wachtel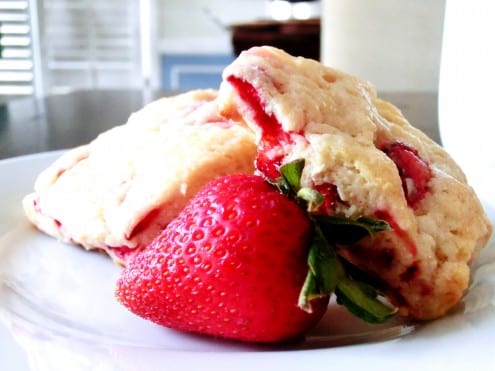 Strawberry Scones
These scones are sure to be a hit at your next brunch, light and flaky and flavorful but not too sweet.
Ingredients
2 cups AP flour + a bit more for dusting the strawberries
¼ cup sugar + more for dusting
2½ tsp. baking powder
¼ tsp. salt
4 oz. COLD butter, cut into small pieces
⅔ cup strawberries, sliced
1 teaspoon lemon zest
1 cup heavy cream + 1 tablespoon for brushing
Instructions
Preheat oven to 425 degrees.
Combine dry ingredients, including zest.
Cut butter into dry ingredients using your fingers until you get a "wet sand" consistency.
Add strawberries and stir to incorporate.
Add cream and bring together until the dough BARELY holds together.
Turn out onto a floured surface and gently press into a 1" thick rectangle.
Cut into 8 squares.
Brush each square with cream and then sprinkle with sugar.
Bake for approximately 14-16 minutes, until the scones are firm to the touch and golden brown.
Enjoy!
Deena Wachtel
Deena is a stay at home foodie, obsessed with food and intent on changing her finicky family into a foodie family. She lives by a set of FOODosophies and has pledged to get her kids into the kitchen to teach them how to cook and love good tasting food. It's not always pretty and there are nights when the kids go hungry. But, for her, it's all for the greater good. She blogs daily at stayathomeFOODIE.com.