Strawberry Rhubarb Mint Mojitos
These are zesty, refreshing, and go down smooth. The mint and rhubarb add great flavor and makes sure these cocktails aren't too sweet. Cheers.
By Julia Mueller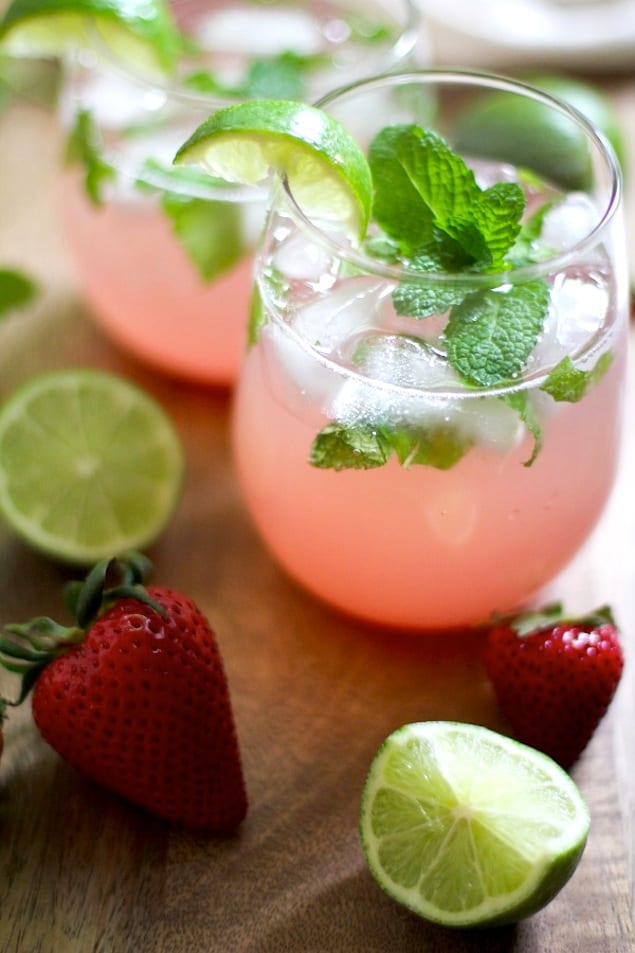 Cocktail recipes. Many of them call for simple syrup. Classic simple syrup is made by combining a 1:1 ratio of water to sugar in a pot, heating it until boiling, and allowing it to simmer until syrupy. I like to substitute cane sugar with a natural sweetener, such as pure maple syrup or agave. The result is a flavorful mixture that will make you feel less hurt in the morning. You're welcome.
These strawberry rhubarb mint mojitos aren't super sweet, which all of us ladies enjoyed. Gone are the days of the sugary Red Headed Slut, Surfers on Acid, and all them other Cosmopolitan-y drinks. These are zesty, refreshing, and go down real nice. They are perfect for cheers-ing the big and small things in life.
So to summarize: otherworldly cocktail = stellar homemade naturally sweetened fruit-infused simple syrup + da booze + da fizz. Mix it all up, cheers your friends and enjoy.

Strawberry Rhubarb Mint Mojitos
These are zesty, refreshing, and go down smooth. The mint and rhubarb add great flavor and makes sure these cocktails aren't too sweet. Cheers.
Ingredients
5 fresh mint, muddled or chopped
6 tablespoons of strawberry rhubarb mint simple syrup
½ lime, juiced
2 ounce white rum
7 ounces sparkling water
Strawberry rhubarb mint simple syrup
2 cups ripe strawberries, chopped
1 large stalk rhubarb, chopped into small pieces (about ⅔ cup)
⅓ cup mint leaves, chopped
1 cup water
3 tablespoons pure maple syrup, agave, or sweetener of choice
Instructions
Cocktail
Prepare the strawberry rhubarb mint simple syrup.
Fill 2 glasses with ice, and add 6 tablespoons of the syrup to each glass, followed by crushed mint leaves, lime juice, rum, and sparkling water.
Garnish with more mint and enjoy!
Simple Syrup
Add all ingredients to a medium-sized pot and bring to a full boil.
Reduce the heat to a simmer, cover the pot and cook for 20 to 25 minutes.
Remove from heat, mash the fruit with a fork, and allow mixture to cool for 15 minutes.
Using a small fine strainer, strain the juices into a cup. Press down on the fruit using a spoon or fork in order to get all of the juices out.
Discard the fruit pulp or use it in your baking recipes.
Allow simple syrup to chill in the refrigerator before adding it to your cocktails, lemonade, or iced tea!
Julia Mueller
As a fitness and nutrition enthusiast, Julia writes a food blog called The Roasted Root, where she share recipes that are mostly vegetable and meat based along with stories of her travels and day-to-day activities. Julia loves enjoying fresh home cooked meals with her friends and family, and the process of developing recipes, photographing, and sharing them.