Strawberry Lime Upside-down Muffins with Lavender Sugar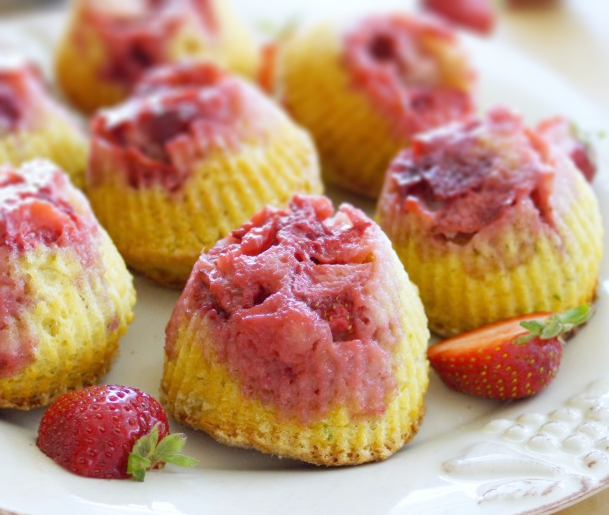 The lavender sugar topping comes out crunchy on the bottom and serves as a good contrast to the soft baked fruit on top of the upside-down muffins.
By Patty Price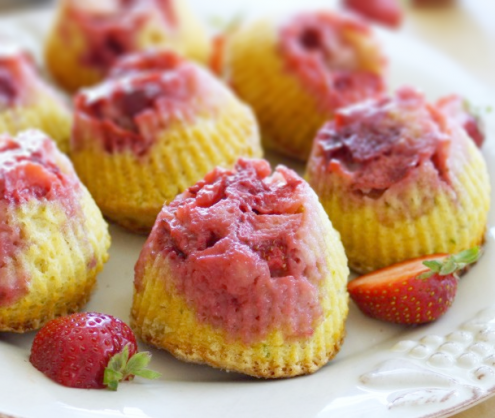 I had this idea for an upside-down strawberry muffin which could be served as an individual sized upside-down cake for breakfast. I sprinkled the lavender sugar, which is easy to make at home, on the chopped strawberries and over the top of the muffins before baking.
Strawberry Lime Upside-down Muffins with Lavender Sugar
The lavender sugar topping comes out crunchy on the bottom and serves as a good contrast to the soft baked fruit on top of the upside-down muffins.
Ingredients
2 cups all purpose flour
2 teaspoons baking powder
½ teaspoon baking soda
¼ teaspoon sea salt
2 large eggs
⅔ cup organic cane sugar
1 cup milk
6 tablespoons unsalted butter, melted and cooled
1 tablespoon lime zest
1 cup strawberries chopped into small pieces
!For the Lavender Sugar
1 tablespoon dried culinary lavender
4 tablespoons organic cane sugar
Instructions
Preheat the oven to 425F.
Spray 12 standard muffin silicone baking cups with baking spray and place on baking sheet.
Make the lavender sugar by pulverizing the lavender and sugar in a food processor, sift to remove pieces of lavender buds, set aside.
Sprinkle the strawberries with about 1 tablespoon lavender sugar, reserve the rest for the topping.
Stir together the flour, baking powder, baking soda and salt in a large bowl.
In a small bowl, whisk together the eggs, sugar and lime zest.
Whisk in the milk and butter.
Stir the wet ingredients into the dry ingredients with a rubber spatula, being careful not to over mix. The flour should just disappear.
Divide the strawberries into the baking cups, making sure they cover the bottom of each cup.
Spoon the batter over the strawberries, making sure some batter reaches the bottoms of the muffin cups.
Sprinkle the tops with the rest of the lavender sugar.
Place in the oven and bake until lightly browned and firm to the touch.
Cool the muffins on a metal rack, they should easily slide out of the cups.
Serve slightly warm.
Patty Price
Patty Price is a former assistant pastry chef at Bizou (currently CoCo500) who was previously recognized for her signature dessert by The New York Times. She also spent time learning classic French cooking techniques at a three-star Michelin restaurant in France which she incorporates into her personal food blog, Patty's Food. Inspired by the diversity of seasonal vegetables, fruits and herbs available locally in the San Francisco Bay Area, Patty hopes to inspire her readers to cook seasonally and try new recipes.