Ice cream cake would make a spectacular end to a Labor Day cookout and with store-bought ice cream, you won't be stuck cooking all day.
By Tamara Novacoviç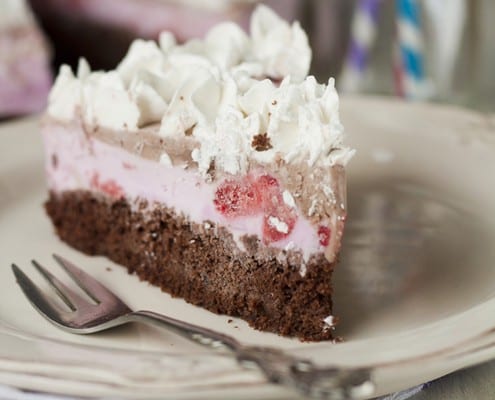 Ice cream and a cake all in one really sounds like a dreamy dessert, and it is. This cake is simple and easy to make, you just have to be patient and wait for it to freeze. You can use your own home made ice cream, but store bought works perfectly as well. Make sure to take it out of the freezer at least 15 minutes before, to soften it. It should be soft enough to spread over a sponge base, but not too runny. When you cut the cake, let it thaw for 15 minutes and run your knife under hot water.
I added strawberries to the strawberry ice cream, but you can use any other seasonal berries.
This cake is the perfect summer dessert!
Ingredients
For the sponge base
2 eggs
3.5 oz (100 g) sugar
0.2 cups (50 ml) oil
0.5 cups (140 ml) milk
0.7 oz (20 g) cocoa
2 tbsp sour cream
3.5 oz (100 g) all purpose flour
pinch of salt
1 tsp baking powder
For the ice cream filling
35.2 oz (1 kg) strawberry ice cream
17.6 oz (500 g) chocolate ice cream
7 oz (200 g) strawberries or raspberries
2 tbsp honey
Decoration
0.8 cups (200 ml) whipping cream
1 tsp vanilla extract
Instructions
For the sponge base: beat egg yolks with sugar until light and fluffy. Mix in oil, milk and sour cream. Sift flour with cocoa powder, salt and baking powder and add to the mixture. Beat egg whites until stiff peaks form and add to the mixture. Spread it over a lightly greased springform pan.
Preheat oven to 356 F (180 C) and bake it for 30-40 minutes (test with skewer). Let cool completely.
Line the sides of the springform pan with parchment paper. Put the sponge base back in. Let both ice creams thaw for 15 minutes.
Thinly slice strawberries. If you use raspberries, you don't have to slice them. Combine them with honey and add to the strawberry ice cream. Spread this over sponge base. Spread chocolate ice cream on top. Decorate with whipped cream and freeze.
Let the cake thaw for at least 15 minutes before cutting and serving it.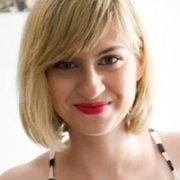 Tamara Novakoviç
Tamara Novakovic is a passionate self-taught cook, food blogger, freelance food writer and photographer behind bite-my-cake.blogspot.com. Her life journey has led her through Faculty of Humanities in Zagreb, Croatia to discovering passion for making cakes. She is currently a weekly food columnist for Croatian newspaper V magazine and food magazine Repete.