PARTNER POST: We've teamed up with Bonne Maman to bring you the best homemade breakfast and brunch recipes to show Mom you care this Mother's Day and all spring long.
Surprise Mom with fluffy strawberry preserve pancakes served with crunchy granola.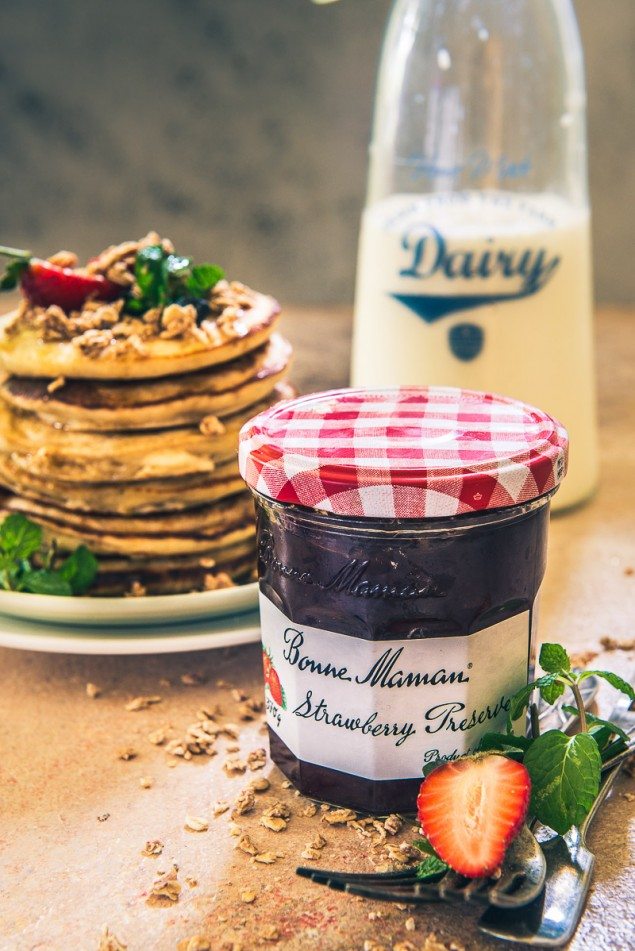 It is always a challenge to treat your Mom to something special. Mother's Day is just round the corner and this year I plan to surprise her with a specially made breakfast served in bed. What's better than homemade Pancakes? I've finally zeroed in on this amazing Strawberry Pancakes with Granola Recipe with all the right nutrition and taste. Pancakes topped with freshest of strawberries and granola and served along with delicious Bonne Maman Strawberry Preserves is what I plan to cook for my mom.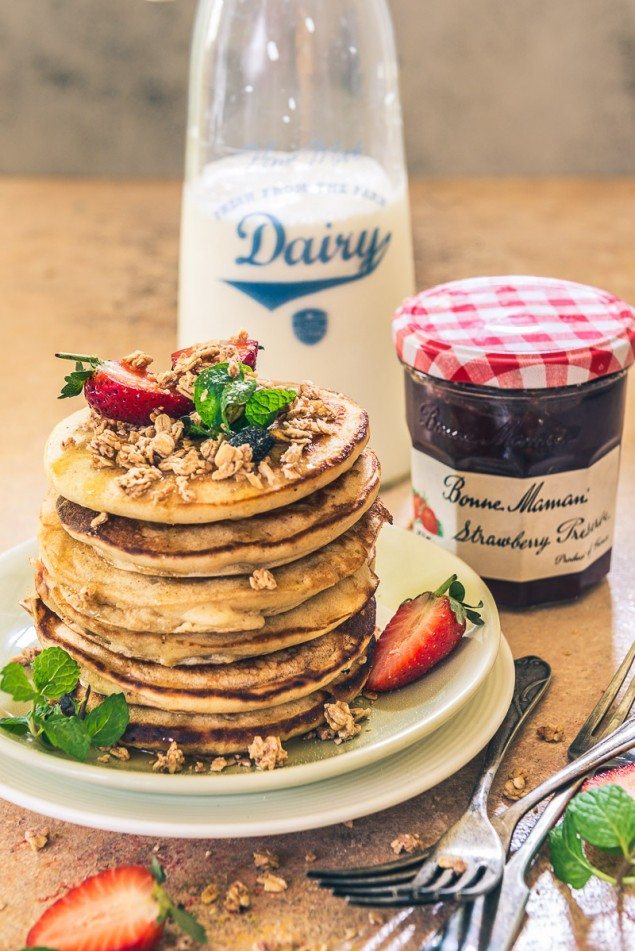 Why Bonne Maman Preserves for this recipe? Well few know this interesting fact that Bonne Maman means Grandmother or Granny. Bonne Maman preserves are also delicious and made from simple, wholesome ingredients. For me this is a great way of showing love to my mom. What are you making for your mom, this Mother's Day?
Fluffy, delightful and super finger-licking, this Strawberry Pancakes Recipe brings the choicest flavours of strawberries and the nutrition of granola to the table. Easily made using all purpose flour, baking powder, buttermilk, granola, Strawberry Pancakes with Granola Recipe is delicately cooked in butter. Trust me, gulp them warm with the garnishing of granola, fresh strawberry and maple syrup with strawberry preserve on the side and you would experience different level of flavors for sure. Here is to all the love for my mom!

Bonne Maman is giving away a gorgeous 12-piece set of Le Creuset cookware plus many other goodies (over 1,000 prizes!) on their website. Click below to enter! Who doesn't love beautiful cookware?!
For more recipe ideas, check out these fun toasts.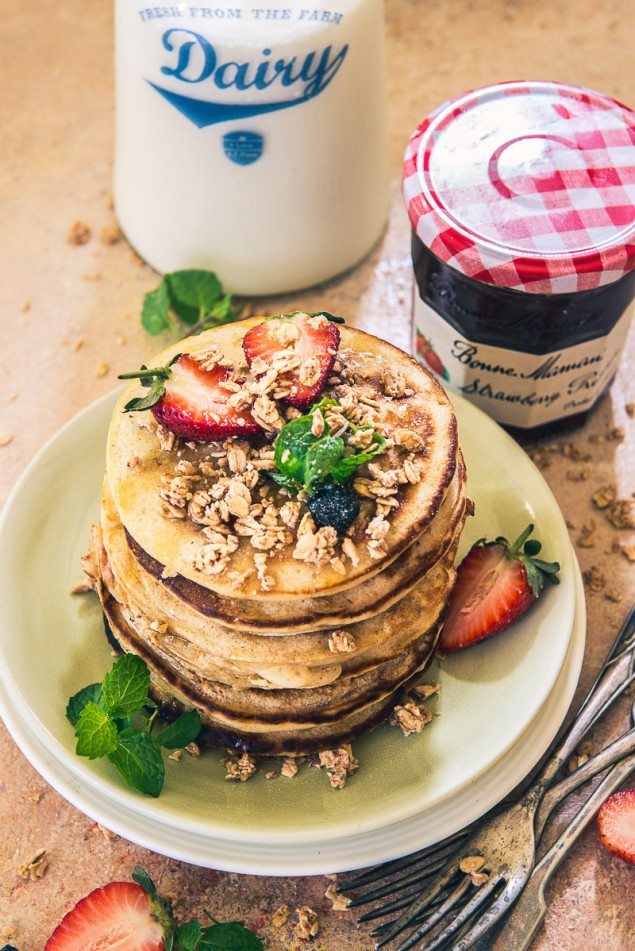 Strawberry Granola Pancakes
Ingredients
All purpose flour - 1 cup
Baking powder - 1 tsp
Honey - 1 tbsp
Salt - ¼ tsp
Egg - 1
Buttermilk - 1 cup ( If Buttermilk is not available, take 1 cup milk and add a few drops of lemon into it and keep aside for 5 minutes )
Vanilla extract - 1 tsp
Bonne Maman Strawberry Preserves - 2 tbsp ( Microwaved for 30 seconds )
Granola - ¼ cup
Butter for cooking
Granola
Fresh Strawberry and maple syrup for topping
Instructions
Add all the ingredients in a bowl and whisk well to make a lump free batter.
Take a small non stick pan and grease it with butter.
Heat the pan over medium flame.
Pour 2 ladle full batter into the pan and cover the pan.
Flip the pancake once it is slightly browned from the bottom.
Cook the other side as well.
Remove on a plate.
Make all the pancakes in the same manner.
Top with granola, fresh strawberries and maple syrup or any other sauce of your choice.
Serve warm with strawberry preserve on the side.