A perfect cake to show off these Dutch 'summer kings'.
by Ena Scheerstra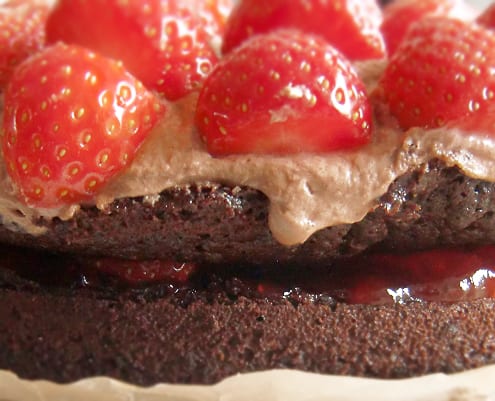 In the Netherlands, strawberries are also called 'summer kings', because of their deliciousness, because they grow outdoors only in the summer and because of their royal appearance (they have a green crown). The season lasts from June to the beginning of September, although you can get strawberries from greenhouses and other countries the whole year round… but that's not the real thing.
These beauties are delicious on their own, on bread or rusks (a typical Dutch way of eating strawberries) or with slightly sweetened whipped cream. But if you want to do something different with them, this cake is a winner! The combination strawberry and chocolate is delicious, it's a crowdpleaser and it is one of those cakes that seem quite difficult to make but isn't at all (the separate processes are all very easy and can be spread out over the day).
Print
Strawberry Chocolate Cake
A delicious chocolate cake, filled with strawberry jam, and garnished with chocolate chantilly cream and halved fresh strawberries.
Author:

Ena Scheerstra

Prep Time:

3 hours

Cook Time:

1 hour

Total Time:

4 hours

Yield:

10

-

1

2

1

x
Category:

Baking
Chocolate cake
1 3/4 cup

flour

1 1/2 cup

sugar

3/4 cup

cocoa powder

2 tsp

baking soda

1 tsp

baking powder

1/2 tsp

salt

2

eggs

1 cup

strong black coffee

1 cup

buttermilk (or

1 tbsp

lemon juice/vinegar and

1 cup

milk)

1/2

neutral tasting oil

1 tsp

vanilla extract
Chocolate chantilly cream
1 cup

heavy cream

60 gram

dark chocolate

1

packet of klopfix (whipped cream stabilizer)

1 tbsp

sugar
Garnishes
1

jar of strawberry jam (or make your own)

500 gram

fresh, ripe strawberries
Instructions
Chocolate cake
Start by making your 24 cm springform leak-proof: place the bottom on your counter, place a square of baking paper on top, then set the springform sides on top and close it.
Preheat the oven to 180C.
Mix all the dry ingredients in one bowl, and the wet ingredients in a separate bowl (or jug).
Combine the both and whisk.
Pour the batter in the tin and bake 40-50 min in the preheated oven.
Leave to cool a bit, take out of the tin and then let cool completely on a wire rack.
Chocolate chantilly cream
Mix the cream and chocolate.
Microwave the mixture for about 30 seconds on high and stir, then use as many intervals of 15 seconds in the microwave as you need to melt the chocolate completely (stir between each).
If the mixture is not completely smooth you can use a stick blender to re-establish the emulsion.
Refrigerate the mixture for at least 4 hours.
When ready to garnish the cake, pour in a large, cold bowl, add the sugar and start whipping with a hand mixer. Gradually add in the klopfix.
Whip to soft or stiff peaks, as you prefer, but take care not to overwhip (this is easier with chocolate chantilly than with the 'normal' chantilly).
Assembling the cake
Slice the chocolate cake in half, spread the bottom half with the jam, then place the upper half on top. When your cake is slightly domed you can fix it by turning the upper half upside down, if it is very domed you need to take a bit off the top to flatten it.
Spread the chantilly cream on top of the cake and garnish with the halved strawberries (cover the top completely.
Refrigerate for 30 minutes (to make sure the whipped cream sets), then serve.
Due to the fresh strawberries you cannot garnish the cake more than 2 hours in advance (they will weep and the whole thing will collapse).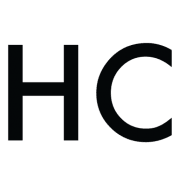 Ena Scheerstra
Ena Scheerstra has a lifelong love for food and cooking, starting to collect cookbooks at age 10. She spends most of her free time on cooking and everything food related. She is a strong believer of honest food, produced sustainable and sourced locally, and cultures her own vegetables on her balcony and in her small allotment. Her blog is very internationally orientated, reflecting the variety of food she cooks, but on Honest Cooking she is focusing on showing the world the wonders of Dutch food.