PARTNER POST: We've teamed up with Bonne Maman to bring you the best homemade breakfast and brunch recipes to show Mom you care this Mother's Day and all spring long.
This sweet and savory yogurt parfait is loaded with fresh strawberries, apricot preserves and bacon.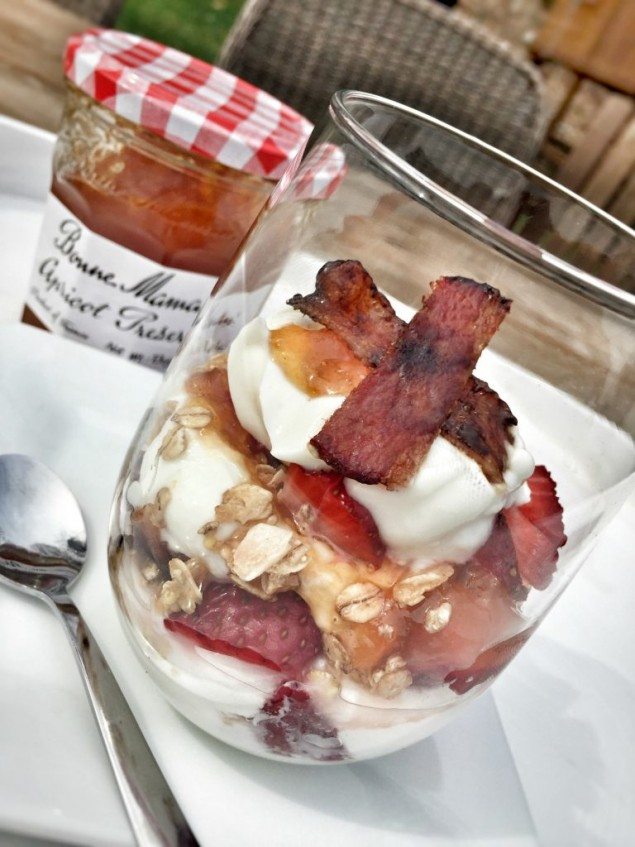 Mother's Day is just a few days away. One of my favorite things to do is share food with my family so I wanted to create a recipe that you can make to celebrate Mom. There is something memorable about a meal when you are surrounded by the ones you love.
Let's celebrate Mama with a delicious sweet and savory breakfast parfait that can easily be prepared, with the help of the kids! This parfait is a great way to get the day going – a healthy and filling meal to give Mom energy for all the days activities. I know as a Mom, I cannot skip breakfast – I need a good foundation of food to get me going through my marathon days.
I was thinking about what I like to eat for breakfast and came up with this recipe to hit the sweet and savory taste buds. I wanted a recipe that wasn't eggs and something that was gluten free. You can substitute any of these layers to your taste, but I think I hit a home run here.
For my sweet layers I wanted to use fruit. I chose strawberries (they looked good in the market that day – pick what you/Mom likes) and Bonne Maman Apricot preserve. The apricot preserve is going to have double duty in this recipe and can always be used another day on muffins or toast! I love the variety of flavors Bonne Maman offers and between the packaging and quality it really has that homemade taste and appeal! I also grabbed some of my favorite vanilla bean yogurt, granola and bacon! Bet you didn't expect me to end with bacon – got to have some salty crunch!
Bonne Maman is my go-to for the finest quality preserves when I want that just-like-homemade flavor. Bonne Maman is non-GMO, contains no high fructose corn syrup or additives, is made with natural ingredients, OU Kosher, and gluten-free (when applicable). I can enjoy it right from the jar by the spoonful! Simple ingredients – homemade taste.
I really love the flavor combination of this dish! The bacon is super crispy and has that sweet and savory taste from the Bonne Maman preserves. Apricot is a favorite of mine and it really pairs well with the salt in the bacon! Again, this dish is pretty simple to assemble so having a helper is totally doable!
Read more at http://www.thenewmodernmomma.com/2017/05/say-homemade-mothers-day-bonne-maman-recipe.html#cguhHWVxghleajyC.99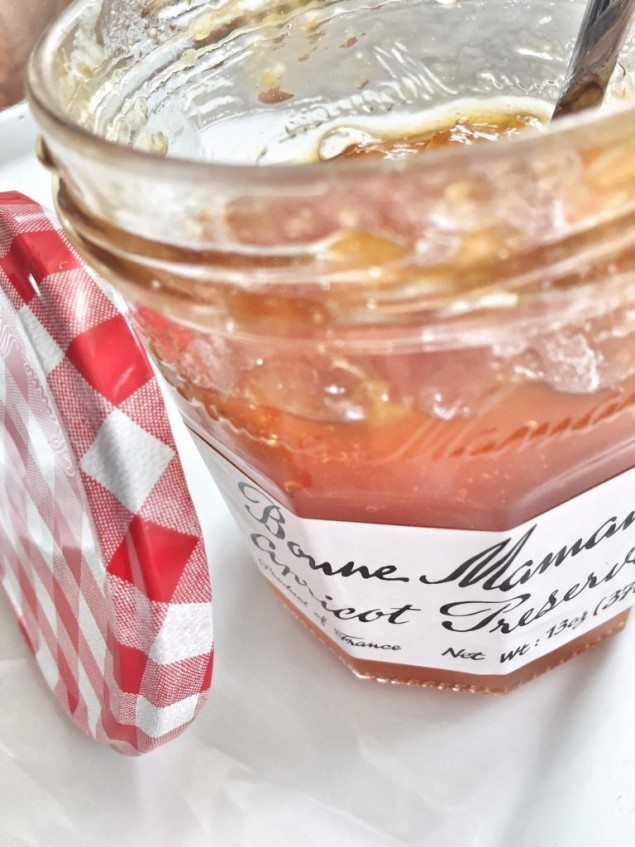 Bonne Maman is giving away a gorgeous 12-piece set of Le Creuset cookware plus many other goodies (over 1,000 prizes!) on their website. Click below to enter! Who doesn't love beautiful cookware?!
For more recipe ideas, check out these fun toasts.
Print
Strawberry and Apricot Yogurt Parfait
This sweet and savory yogurt parfait is loaded with fresh strawberries, apricot preserves and bacon.
Author:

Candice

Prep Time:

15 minutes

Cook Time:

5 minutes

Total Time:

20 minutes

Yield:

1 serving

Category:

Breakfast
Bonne Maman Apricot Preserves (¼ cup)
Fresh sliced strawberries or fruit of your choice (½ cup)
Granola (¼ cup)
Bacon (2-3 slices)
Yogurt (1 cup)
Instructions
Heat a small non stick skillet on the stovetop.
Place your uncooked bacon on a dish or cutting board and spread a coating of the Bonne Maman Apricot Preserves on one side.
Place the bacon in the skillet and cook until done. Set aside to cool.
Chop the bacon, and leave ½ slice for the garnish.
Get a glass to build your parfait.
In the glass, place a small bit of the vanilla yogurt as your first layer. Add a tablespoon of granola, a tablespoon of strawberries and a tablespoon of the preserves.
Add a layer of the apricot glazed – chopped bacon.
Repeat the layers until you have used all your ingredients.
Garnish the top with your apricot glazed bacon slice!
Serve immediately or refrigerate.
candicemoretti
Hi! I'm Candice! Welcome! I'm a native Rhode Islander transplanted to Connecticut where I'm raising my family. Most days you'll find me creating recipes in my kitchen while tackling a DIY project in a fabulous outfit, snapping pictures on Instagram and keeping my three kids happily entertained. Just another day right?!